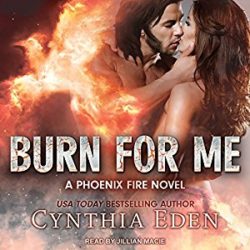 Burn For Me (Phoenix Fire, #1)
by
Cynthia Eden

Series:
Phoenix Fire #1
Published by
Tantor Audio
on April 18th 2017
Genres:
Paranormal/Urban Fantasy
Pages:
368
Format:
Audiobook
Narrator:
Jillian Macie
Length:
11 hrs 59 min



I received this book for free from in exchange for an honest review. This does not affect my opinion of the book or the content of my review.
This post contains affiliate links you can use to purchase the book. If you buy the book using that link, I will receive a small commission from the sale.
Under Fire

Eve Bradley was undercover looking for a story, not a cause. But something about the man they called Subject Thirteen got her involved. The scientists said he was a devil, and they had a decent case: Terrifying power. A bad attitude. And looks that could lead anyone to sin. . .

Cain O'Connor knows the minute he catches her candy scent that Eve could drive him wild. But she's a threat--in a way no one has been for him in years. She's safer away from him, too. But with a powerful conspiracy determined to shut Eve up for good, there's no time to argue. All they can do is trust their instincts--and their hearts. . .
---




Cynthia Edens adds an interesting new creature to her paranormal world, the phoenix.
Genesis is a laboratory under contract with the government working with paranormal volunteers to understand and help the paranormals find a cure. At least that is the propaganda that they are pushing on the public.
Except none of the "volunteers" there can leave, and let's face it, none of them did or would volunteer for what Genesis is doing to them.  One of the most dangerous subjects there is referred to as No. 13. Cain O'Connor is a very rare creature even among paranormals. He is a phoenix and every time he dies, he is reborn in a burst of flames, stronger and more deadly each time.   Cain has lost track of how many times and in how many ways the sadistic bastard who runs this lab has murdered him, but he wants payback very badly.
Reporter Eve Bradley goes undercover as a technician. She doesn't believe the hype that Genesis is spewing and she plans to shed light on the evil going on inside the compound.   Wyatt sends Eve into Cain's cell to give him an injection and notices that Cain has a reaction to Eve and tries to protect her from the guard.  This is the first emotion they have seen from Cain and Wyatt plans to take advantage of that adding the human woman to his list of torture devices to use against Cain.
Cain and Eve manage to get out of the complex and free others but escaping doesn't equal freedom.  Wyatt has plans for more tests and he won't give up until he gets his favorite test subjects back.
While this is an interesting new twist to the world Cynthia Eden has created, I did grow a bit bored with the fact that every time Eve and Cain got somewhere safe, Wyatt was one step behind them, or else it was the vampire Ryder who will be the focus of book 2.  I made the mistake of listening to book 2 first since I forgot I had a copy of Burn for Me, so I know that Wyatt or his cohorts were also one step behind Ryder and his lady for their whole story, and that one has more of an escape, recapture, repeat plot.
This story was enjoyable but it might have kept up the excitement without being so repetitive if it was a bit shorter.  It definitely doesn't go high on my list of favorite Cynthia Eden stories.  This one was quickly forgettable.
Related Posts