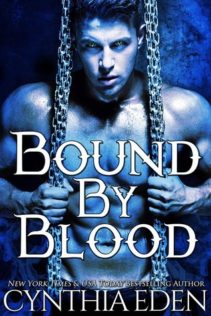 Bound by Blood (Bound, #1)
by
Cynthia Eden

Series:
Bound #1
Published by
Self-Published
on April 6th 2011
Genres:
Paranormal/Urban Fantasy
Pages:
89
Format:
eBook



This post contains affiliate links you can use to purchase the book. If you buy the book using that link, I will receive a small commission from the sale.
---
It's an Immortal War…

Vampires and werewolves have been blood enemies for centuries, but now a new threat is rising…demons are escaping from hell and those demons are intent on wiping out both the vamps and the werewolves.

In order to stop the demons, pureblood vampire princess Morgan LaBeaux agrees to the treaty offered by werewolf alpha Jace Vaughn. She'll mate with him, share her blood with him…and in return, the wolves will aid the vampires in this battle.

But Morgan doesn't realize just how dangerous the wolves can truly be. Jace has been waiting years to claim her. He's set a trap for his princess, and now that he has her, Jace doesn't plan to let her go. He'll send the demons back to hell, and he'll keep his vampiress—forever.
---
Jace is one sexy, alpha werewolf.  (Bite ME!  Bite ME! – who said that??)    He has been watching Morgan for years and now she has come into her full vampires powers.  This new demon threat has given him the opportunity he needs to bring her to him for an alliance — by way of a vampire/werewolf mating.  Jace is sexy (did I mention that already) and Morgan can't resist him.  They'll need to work together to close the door to hell before the demons take over…but not everyone wants them to succeed. 
You need to pick up this story.  Definitely worth the read.  Couldn't ask for a better bargain, great story for only $1.
---
Cynthia Eden blogs with us on Mon., November 21, 2011. Check it out.
---
Favorite Scene:
Her lips parted as she stared up at him.  He glimpsed her deceptively delicate fangs.
And he caught the scent of fear as it swept through her.
She was right to be afraid.  Now that she was there, within his grasp, and he'd never let her go.
Never.
"I'm Jace."  He let her see his own fangs.  "And you're mine."  A claim made before all the wolves in the room.  From now on, any wolf who touched her would face him – and death.
She swallowed and tilted her head back to better meet his stare.   "Hello, husband."
The wolf within growled…Mine.