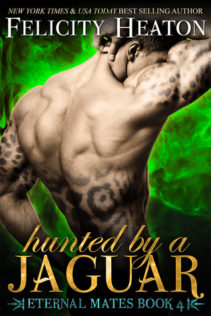 Hunted by a Jaguar: Eternal Mates Romance Series
by
Felicity Heaton

Series:
Eternal Mates #4
Published by
Self-Published
on January 4th 2015
Genres:
Paranormal/Urban Fantasy
Pages:
220
Format:
eBook



I received this book for free from in exchange for an honest review. This does not affect my opinion of the book or the content of my review.
This post contains affiliate links you can use to purchase the book. If you buy the book using that link, I will receive a small commission from the sale.
---
[box style="rounded" border="full"]A little slow to start. Once we got to the adventure and the race between Iolanthe and Kyter to find the key to pull the demon Barafnir from hell, it definitely was more exciting. [/box]
Kyter left his pride in the Amazon jungle years ago and made a new life for himself. He intended to convince his mother to come join him. She wasn't wanted by the pride anymore than he was. His mother had been seduced by a demon. Being a demon half blood, he was abused and unwanted by the pride and his mother was scorned. Now it's too late. His mother is dead — killed by his father. Kyter is determined to find the key to drag his father from Hell and take his revenge, but when he goes to the fae village to find out where to look, there is already someone else looking.
Iolanthe has been hired to find the key to call Barafnir from Hell. Her client will pay her a great reward for obtaining it within 10 days and her death is she fails.
Both need to get their hands on that key and neither Kyter nor Iolanthe is willing to trust the other. It is not long after they meet that they realize they have just met their fated mate. Fated mate or not, there is too much at stake to trust completely.
Kyter also proves that no matter how old you are or what species you are, there are elements in our past that set our expectations. No matter that Kyter has no love for the pride who beat him and told him that someone like him would never have a mate, he still keeps their ways. He also expects his mate to the willing docile mate that the females he grew up with always were. But Iolanthe has no intention of being collared by anyone. She is a fae, millennia old, and a successful treasure hunter. She has no intention of bowing down to any man, destined mate or not.
It doesn't take them long to determine that destiny aside, neither will find the key unless they work together. If they can successfully find the key, then they will worry about who gets it and if they agreed with fate that they are destined to remain together.
THOUGHTS:
This story started a little slow but once the adventure began it dragged me into the story. There were plenty of sexy scenes as Kyter first tries seduction to get Iolanthe to accept that she is his mate and of course, she will then give up the key to him and become the devoted mate to him. Iolanthe might have had her head swimming from the hormones, but she is smart enough to realize that there was no way she was falling for that B.S. Kyter is shocked by the ass-kicking he receives from his mate-to-be. It doesn't take him too long to figure out that he was being a dick and expecting Iolanthe to become someone he probably didn't even want, but that he believed she should be since that was how things were as he was growing up.
I was entertained by several things but I had to laugh when Kyter in his jaguar form starts scent marking and playing with Iolanthe's pick axe like it was a greatest toy he found and the next day Iolanthe's looking at the obvious marks and he gives her an embarrassed "cats will be cats" shrug.
I enjoyed this story and am looking forward to Craved by an Alpha.
Received an ARC from the author in exchange for an honest review.
---
Favorite Scene:
His mate.
"You felt it too," he murmured and rubbed her back, slowly lifting the hem of her silver top. He caressed the patch of bare skin he exposed and she trembled in his arms, the reaction drawing a rumbling growl of appreciation from him. His female was perfect. She reacted so sweetly to him. He dipped his head toward her. "I know you did. You're my mate. My fated female. We belong together."
In his dream, she had fallen into his arms like this, and he had awoken shortly after he had taken her home to his pride.
"Say I am your mate," she softly murmured, her voice teasing his ears and delighting them. "You believe that makes me belong to you?"
He nodded. Now she was getting it. She was his mate. She belonged to him. He dropped his head to kiss her.
Her left hook came out of nowhere, smashing into his jaw and snapping his head back. He lost his grip on her arm and she slammed a hard right uppercut into his gut, lifting him off the ground. He dropped to all fours and breathed hard, fighting for air as his side burned and he clutched at the grass.
Kyter coughed and wheezed as he pushed himself up. He lifted his head, catching sight of her boot a split-second before it crashed into the underside of his jaw, flipped him and sent him slamming onto his back.
The coppery tang of blood flooded his mouth and his vision swam. A couple more hits like that and she was going to have him down for the count.
He pushed onto his elbows, struggling to focus on her. She wobbled as she advanced.
A blade appeared in her hand.
Literally appeared.
What the fuck?
Either she had kicked him harder than he had thought or she could use magic.
She advanced on him, a dark vision of beauty as her eyes narrowed on him and her irises began to change colour.
Turning violet.
Kyter had the sinking feeling that he was about to get his arse handed to him.
Now he knew why she hadn't required bulky armour to protect her in the fae town.
Black scales rippled over her body, concealing her breasts just as her top disappeared, giving him a tantalising flash of creamy swells. Those scales swept downwards, covering her torso and arms and spreading over her legs. Her trousers and boots disappeared, revealing the armour to him. The scales crawled over ther delicate hands, turning her fingers into viscous serrated claws. She flexed them around the hilt of her blade and stood over him in her skin-tight armour, her black hair whipping around her shoulders, parting to reveal the pointed tips of her ears.
"I bow to no male," she snarled in a voice filled with venom and darkness. "I need no male. No master."
She swept her blade through the air between them and her eyes brightened blazing amethyst that entranced him.
She was beautiful and terrifying.
His.
"Will you persist in this nonsense?"
He didn't move, but she clearly read the answer to her question in his eyes. He would. She was his mate. He had only one in this world. He wouldn't give up until she belonged to him.
"Very well."
She raised her blade to her side, gripped it in both hands above her left shoulder and pointed it at him.
"I will kill you then."
Related Posts