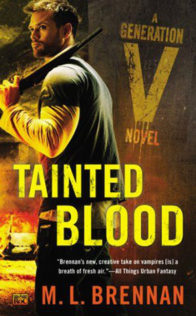 Tainted Blood (Generation V, #3)
by
M.L. Brennan

Series:
Generation V #3
Published by
Roc
on November 4th 2014
Genres:
Paranormal/Urban Fantasy
Pages:
306
Format:
Paperback



I received this book for free from in exchange for an honest review. This does not affect my opinion of the book or the content of my review.
This post contains affiliate links you can use to purchase the book. If you buy the book using that link, I will receive a small commission from the sale.
---
[box style="rounded" border="full"]I was asked to review this book which is the 3rd in the series. Whatever enjoyment I had with the characters was overshadowed by the fact that I stepped into a story with it's own world building and the author made little to no attempt to catch up late comers to the series.[/box]
In the third book of the Generation V series, Fortitude Scott is starting his transition to vampire and being dragged into the family business of running the New England territory. The Scott family controls most of New England up into Canada and the other supernaturals pay a hefty tithe to receive their protection.
Older brother, Chivalry runs more of the day to day business for their mother, Madeline, but he is currently in mourning for his wife, Bhumika. Bhumika's health had been failing the last few years, but of course, that is a side effect of being human and allowing your vampire husband to feed on you. Until Chivalry finishes mourning, finds a new wife and begins feeding again, he will be of no use to the family, leaving the running of the territory to Prudence and Fort for now. When the leader of the werebears turns of dead, the family sends Fort to look into his death. After his prior experiences, they feel he is the best choice to find the killer…or a scapegoat…whatever closes the matter faster.
Fort has no interest is railroading an innocent person into a death sentence so he grabs his friend and werefox, Suzume, to help him once again investigate the crime. As he tries to track down the killer, Fort is also learning that the supernatural community is aware of his mother's failing health and is holding their collective breath to see who will take over the Scott family territory. Several factions are willing to support the transitioning Fortitude to bring fresh blood and a new outlook to the leadership.
With his life twisting around so quickly, Fort isn't ready or interested in running the family business but he is starting to understand that no faction gets fair treatment under his mother's rule. Will he be able to stand up against Chivalry and Prudence, or can he get them to understand that the old ways don't work anymore?
THOUGHTS:
There were several things about this story/series that I enjoyed, but let's start with my biggest problem — M.L. Brennan made very little effort to bring me up to speed. Generation V is not a standard paranormal story. Like most Urban Fantasy, it has created its own world. I believe that Fort was a born vampire and vampires aren't created with a bite.  I understand that something happened in the second book which started Fort's transition from human into vampire. I understand that in this story, vampires don't feed from humans until they complete their transition so Fort needs to feed from his mother…which is a little creepy. A six month old feeding from his mother is a beautiful thing.  A 27 year old sucking on his Mom…not so much, even if it is from her wrist.
There is also talk about Fort's host father, who his sister Prudence tried to kill to kick start his transformation, but no blurb about what that means or how it happens. Fort also mentions his foster parents, but again no recap of why his mother didn't raise him or how the family dynamics work. We know he has two siblings who are much older, but again no blurb of how much older or what the age difference is between the older siblings. Vampires have a life cycle, which goes for centuries rather then decades, but nothing about why Fort is only 27 and has siblings centuries older but I don't believe he is any type of late in life-Oops baby.  I looked in the back of the book for a glossary and I even went to the website and checked out a few author interviews to see if any background information was available and didn't find anything helpful.
As far as what I liked about the series, Fort is an interesting character.  He is struggling financially — sharing an apartment, driving a crappy, unreliable car and doing odd jobs.  He doesn't want to take money from his rich family (again, nothing about why).  Fort is also a vegetarian/vampire.
His friend Suzume is a kitsune or werefox and she is quirky and a prankster.  She keeps pasting googly eyes to Fort's things for him to find at random.  In the last book, Fort apparently asked Suzume for more of a relationship from simply friends to a romance and he is still awaiting her decision. Fort's new roommate, Dan, is gay…and a ghoul, making it very important to mark leftovers in the fridge.
I am entertained by an Urban Fantasy or paranormal series when life as a supernatural is presented as being boring and same old, same old.  In Hannah Jayne's Underworld Detection Agency, Sophie worked for the DMV of the supernatural world filling out paperwork in triplicate and getting dental insurance for vampires. Here, Fort is sent to check out a complaint in their territory by a lake serpent who is complaining about the jet skiers in a if I can't eat them, then I need you to ban jet skies on my lake way.
Although I enjoyed certain aspects of this series, I was still very put off by all the things I didn't understand. There is also the fact that Fort's vampire family is dribbling information to him.  They wait until it is too late and yell at Fort rather than sharing with him the information they all know. Obviously this is good for storytelling purposes but annoying when you think about what might be important for Fort to know at the outset. For example, the witches are hoping to back Fort to succeed his mother since the Scotts won't allow more than two witches to live in one area. The witches want to start a union and keep families together. Fort understands the logic of what they want, but I can see that having witches ban together might not be such a great thing. I am sure Prudence will have a story to share about why they keep the witches separated, but I am certain we won't hear about it until after witches start attacking the Scotts with a group effort.
Generation V brought an interesting twist to an Urban Fantasy but not enough that I feel compelled to grab the first two books in the series to catch up. I thought the author should have made more of an effort to catch me up on some important aspects of the world building or to make me more interested in reading the other stories instead of leaving me in the dark and feeling rather annoyed by it.
Received an ARC from the author in exchange for an honest review.
---
Favorite Scene:
Dan let is drop. "Did you eat? I made too much, so there are still some leftovers in the pot."
I eyed him suspiciously. "Was it one of those meals?" Dan was a ghoul, which meant that a certain amount of his intake had to be human organs in order for him to maintain his health. The ghouls in my mother's territory had all orginated in Turkey and had acclimated well to America, most of them finding an easy source for their dietary needs by opening funeral homes or working in hospital sanitation. It had made me extremely cautious around Dan's cooking, though, and we'd had to have a few pretty serious conversations about dish cleanup, prompt post-preparation trash disposal, and the labeling of leftovers.
"Just the shepherd's pie. The sweet potatoes are safe." Dan snorted. "I can't believe that you're so squeamish about these things. It's not like I interrogate you about every beverage you store in the fridge."
"Really? What the hell was that soda discussion last week about, then?"
"You know my feelings about high-fructose corn syrup." Dan narrowed his eyes, and a very stubborn and lawyery look crossed his handsome face.
I shook my head, unwilling to reengage on this particular issue, even if it meant that I had to abide by Dan's new list of sodas that were banned in the apartment. I was also not entirely full after my partial dinner at my mother's, so I got up to investigate the sweet potatoes. There was still a full serving in the pot, looking extremely inviting, so I spooned it into a small dish. I carefully avoided looking at the partially empty casserole dish. Since Dan had moved in, I'd learned to my horror about how many sins dishes like shepherd's pie and meat loaf could conceal.
"Hey, can you put the last of the shepherd's pie in the microwave for me? I think I'll finish it off."
"I'm not touching that thing, even with a spatula." I put my bowl of sweet potatoes in the microwave and nuked it as Dan laughed incredulously at my statement.
Related Posts