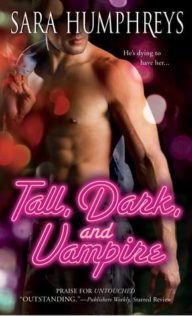 Tall, Dark, and Vampire (Dead in the City, #1)
by
Sara Humphreys

Series:
Dead in the City #1
Published by
Sourcebooks Casablanca
on August 6th 2013
Genres:
Paranormal/Urban Fantasy
Pages:
289
Format:
eBook



I received this book for free from in exchange for an honest review. This does not affect my opinion of the book or the content of my review.
This post contains affiliate links you can use to purchase the book. If you buy the book using that link, I will receive a small commission from the sale.
---
We're talking today with author Sara Humphreys about her new series, Dead in the City, her new Demon serials, and saying goodbye to the Amoveo Legend. Check it out.
---
The last person Olivia Hollingsworth expected to see at her Greenwich Village vampire club was her one true love, Doug Paxton—whom she believed to be dead for centuries. Olivia thought she had moved on, but when Doug reappears, her heart knows she'd rather die than lose him again.

Ever since Doug can remember, a red-haired siren has haunted his dreams. He never thought she could be real until he goes to investigate a murder at Olivia's night club. However, as the bodies keep piling up at her feet, he must fight to prove her innocence—even if it costs him his life.
---
Det. Douglas Paxton knew there was something off when he arrived at the nightclub known as The Coven and saw the redheaded beauty standing outside the club. The same beauty who has been haunting his dreams for years now. There was no possible way that she was real. But Doug also knew trouble when he saw it and this place was sending his cop-senses screaming that something was just not right. He had to get his head back into the game and stop focusing on her. People we dying and the killer's trail was leading right to her doorstep. She might look like his dreamscape beauty, but she was also a possible suspect in the brutal slayings.
Doug wasn't the only one reeling from their first meeting. To Doug, Olivia was simply a woman he met in vivid dreams. For Olivia, Doug looks just like her great love who she lost the night she was made vampire 300 years ago. As Olivia comes to realize that Doug doesn't just look like her true love, he is her love reincarnated. She also comes to realize that unless she is willing to turn him, she will be forced to someday watch him die once again.
Although forcing a vampire life on Doug is the last thing she wants to do, when the killer leaves Doug for dead behind her nightclub, Olivia knows she won't lose him again. When he wakes, Olivia finds that in fact Doug might never forgive her, especially when his turning is…off. He wakes too early from his turning, he has an older vamp's control of his bloodlust, and his new abilities fall to him naturally…too naturally. Is there such a thing as a naturally born vampire?
As Doug tries to adjust to what is happening to him, they still have a killer to find. A killer who seems to be bringing death right to Olivia's front door.
THOUGHTS:
A great start to a great new series. There are a few campy vampire abilities, like flying; not changing to a bat, but just flying. Overall, the story was well told and kept your attention, and the characters were well written.
Doug was a stand out character here: dedicated cop unaware of the supernatural, who drawn to the heroine through dreams. He was flawlessly turned into a vampire as if he had been turned hundreds of years ago and not just this morning. That alone kept you guessing as to what was up with Doug, let alone the whole "who is the killer" mystery.
We also met many other characters who I am sure will be the focus of future novels.
A great new paranormal series.
Received an ARC from netgalley.com, courtesy of the publisher. Thank you!
---
Favorite Scene:
"I need to know if you're real, or if I'm making it all up, like that kiss in the alley." His erection pressed against her lower back as his hands brushed down her bare arms. "Was that you, Olivia? Was it another dream or a hallucination from hitting my head?"
He didn't know what was real and what was imaginary and probably felt like he was going insane. Olivia wanted to tell him, but where would she begin? How could she explain something she was still trying to understand?
Doug licked the hypersensitive skin along her neck as he murmured, "Even if it is all just dreams, I don't care. It feels pretty fucking real."
He gripped her shoulders and nuzzled her curly red hair off her neck. She arched back, lifted her hands through his short hair, bathing in the feel of his masculine hands as they massaged her breasts. A lusty moan escaped her lips as Doug trailed hot kisses along her neck, and he pinched her nipples as they peaked in response. She pressed herself further into his grasp, desperate to get closer, while he nibbled on the exposed skin.
"I feel like I've been looking for you forever–my whole life," he murmured. "Every time you get closer, but no matter how much I get, it is't enough. I want more. I want it all."
His hands wandered to her waist and rested on the gentle curve of her hips. She pressed back and ground against him, which elicited a moan of pleasure as his lips pressed against the crook of her neck.
"Then what are you waiting for?" Olivia spun in his arms, grabbed his face with both hands, and whispered against his lips, "Take it."
He captured her mouth with his greedily, and she opened for him, letting him plunder. Devouring her as though she might vanish from his embrace at any moment, he scooped her up and carried her toward the abandoned taxi parked at the curb. Olivia kicked off her stilettos, wrapped her arms around his neck, and deepened the kiss–licking and nipping at his firm, warm lips–all the while wishing it were more than a dream.
He sat her down on the hood of the cab and stood between her legs, which she promptly wrapped around his waist, tugging him harder against her. Heat pressed enticingly against heat. Doug cradled her head in his hands and suckled on her lower lip before breaking the kiss. He rested his forehead on hers and brushed his thumb along the skin of her cheek as her hands rested on his ass.
He pulled back abruptly and lifted her chin, forcing her to look him in the face, and when their eyes met, all the breath rushed from his lungs. Familiar turquoise eyes stared at her beneath a furrowed brow, and she watched as the pieces came together.
"It's you," he said under his breath. "I'm not crazy, am I, Olivia? The second I laid eyes on you tonight outside the club, I knew you were mine. I've dreamt of you since I can remember, but I never though you could be real." He moved closer, brushing his lips along the corner of her mouth. "And then, there you were on a New York City sidewalk in living color.
Related Posts