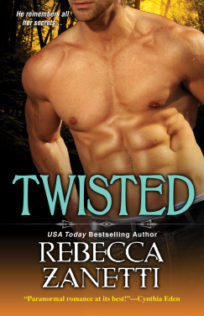 Twisted (Dark Protectors, #5.5)
by
Rebecca Zanetti

Series:
Dark Protectors #5.5
Published by
eKensington
on June 20th 2013
Genres:
Paranormal/Urban Fantasy
Pages:
124
Format:
eBook



I received this book for free from in exchange for an honest review. This does not affect my opinion of the book or the content of my review.
This post contains affiliate links you can use to purchase the book. If you buy the book using that link, I will receive a small commission from the sale.
---
Maggie is a wolf shifter who was captured and experimented on by the Kurjans. Now that a cure has finally been found for shifters (although not for vampire mates or witches), she can concentrate on creating a new life for herself and finally accepting that her memories are gone forever. Most memories, that is. Sometimes in the hazy world between dreams and dawn, she hears a Scottish voice, dark and deep, that sounds suspiciously like wolf-shifter Terrent Vilks. A man she happened to anger by kidnapping a few years back. Hey, it was for a good cause.

Terrent Vilks knows more than he's let on for the past several years. After digging for answers, he knows exactly why the demons want Maggie dead. And he remembers his past with Maggie…very well. She is finally where he wants her. Now all he has to do is discover what exactly the Kurjans did to her, beat the demons into so much submission they leave her alone, and get her to fall in love with him. Again. Good thing he's used to wrangling monsters.
---
We first meet Maggie in the book #1, Fated. When Talon breaks into the Kurjan's laboratory to save Cara, Maggie was also being held captive and experimented on by the Kurjans. Whereas Cara was a vampire mate, and their intent for her was to break her mating bond and steal her as a mate for a Kurjan; Maggie was a shifter and the Kurjans were trying to use their Virus-27 to turn shifters into mindless, slaves or werewolves. Kurjans had been using humans turned werewolves for centuries, but they only live for about a year before they go mad and need to be destroyed. An army of turned shifters would have more power and survive for decades.
With the help of the vampires, Maggie escapes their laboratory, and with the help of the mountain lion shifters, Jordan Pride and Katie Smith, they were able to help Maggie shift to her true form, that a wolf. Although she didn't turn into a werewolf that first full moon, the fear is that Maggie could lose the fight against the virus at any time. That concern is shared not only by the vampires, but of the Bane's council which was headed by Terrent Vilks. The job of the Bane's council is to hunt down werewolves and destroy them. When Terrent arrives to take over the care of Maggie since she is a shifter and not a vampire, the vampires will now allow Terrent to take her.
Thanks to the hard work of Kane and Emma, a cure has been created to help the shifters, and Maggie no longer has to fear succumbing to the draw of the virus, but she has not been able to shake off Terrent Vilks. He has been determined for the past 10 years to get Maggie to the wolf shifters, and now we finally know why.
While no one knows why the virus caused Maggie to lose her memory, the oddest thing about Maggie's memory loss is that no shifter clan has ever come forward to claim her. Shifters are large families that keep their members close, so why wouldn't they come forward to claim a lovely, young healthy shifter female like Maggie. Terrent not only knows what happened to Maggie's pack, but he knew Maggie before her abduction, a lot more intimately than he ever let on before. Not only were they lovers, but Maggie had agreed to become his mate before she disappeared.
Acting under the guidance of the vampire King, Dage, Maggie has agreed to go with Terrent to the Raze wolf pack to try and uncover who has been tampering with the shifter's inoculations, while Terrent's sole desire is to uncover Maggie and once again convince her to be his mate.
THOUGHTS:
You know I love Rebecca's Dark Protectors and I just loved Maggie's story. I have been waiting for this one for awhile now. Once we started getting some serious hints that Terrent wanted more than just a blood test from Maggie, and especially after Terrent started calling her "Little Wolf" with just enough sexual purr that you knew something was brewing.
Although there were still some unanswered questions at the end of the story, we finally learn more about Maggie and her missing pack as well as her previous life with Terrent. While Terrent does a very nice job of seducing Maggie back into his life.
Received an ARC through netgalley.com, courtesy of the publisher. Thank you.
---
Favorite Scene:
"I'm so sorry," Maggie whispered.
He lifted a shoulder. "I was only two years old and barely remember. Somebody hid me, and three days after the massacre, your grandpa found me."
Maggie blinked. "My people raised you?"
Terrent coughed out a laugh. "No. Your people don't mix well with other wolves because of their weird ability. Your grandpa brought me to Gerald, and I was raised with his pack until I was eight."
"What then?" Had the poor guy found a home?
"I had skills—fighting skills that were beyond the norm. Plus, I came from an Alpha bloodline but lacked a pack. So I trained to sit on the Bane's Council. All of the world, I trained with the best shifters, vampires, even a couple demons in order to fight." He checked the rearview mirror. "Since the age of eight, I was trained to kill."
The matter-of-fact tone chilled her more than the actual words. "Sounds lonely."
"It was." His dark eyes warmed as he glanced her way. "Then I found you, and I wasn't lonely any longer."
Her heart thumped. Hard. "I wish I remembered us."
"I wish you did, too." His hands tightened on the wheel. "You need to believe that even though we argued, and you took off for a bit, we didn't break up. You just needed to cool off."
Relying on somebody else to fill in her past flared her instincts into awareness. "I don't know many wolves, but it seems we're ruled by emotion. If we really wanted to mate, why didn't we?"
His upper lip quirked.
Cute. Way too cute.
"You wanted to get married first," he said, shaking his head. "Totally unorthodox, kind of silly, but you're a true romantic."
Well, yeah. The whole white dress, veil, walking down the aisle sounded sweet. She wanted sweet. "You agreed?"
He scratched his head. "I agreed to anything you wanted except allowing you to fight."
She'd ignore that word for now. "You didn't trust me."
"It wasn't about trust." His brow furrowed. "You have many fine skills, but you're, I mean, you're—"
"Clumsy?" she muttered.
He snorted. "Horribly clumsy. I tried to train you in blade fighting once, and you almost took off your own foot." He laughed, the sound deep and free. "God, you were a menace."
Related Posts