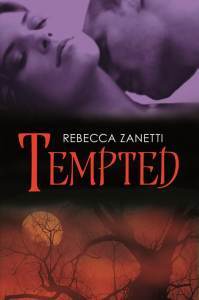 Tempted (Dark Protectors, #2.5)
by
Rebecca Zanetti

Published by
Kensington Publishing Corporation
on March 27th 2012
Genres:
Paranormal/Urban Fantasy
Pages:
118
Format:
eBook



I received this book for free from in exchange for an honest review. This does not affect my opinion of the book or the content of my review.
This post contains affiliate links you can use to purchase the book. If you buy the book using that link, I will receive a small commission from the sale.
---
CONSTANT DANGER…On the run from a mental institution and her vindictive half-brother, it's safe to say that Sarah Pringle's happy life as a schoolteacher is on hold. Too bad that as far as self-defense goes, "run and hide" is the best she's got. And with the monsters that started her escape hot on her heels, that's not going to cut it for long…

INSTANT LUST…That is, unless Sarah has a bigger, badder, hotter monster on her side. Max Petrovsky is right at the top of the list of alpha male ass-kickers. And he knows exactly what Sarah's up against. Good thing, because the minute he sees her something primal kicks in, turning everyday attraction into red-hot desire. As long as they're cooperating, why not mix some pleasure with business? Of course, Max should probably tell Sarah he's a vampire himself…
---
I love Max!! He was one of my favorite characters in this series since he first showed up in
Fated
(See my favorite scene) and this big, burly, dangerous vampire lets this tiny, little girl paint his fingernails for losing at Go Fish. How awesome is he!!
I only gave it four stars since the story was so short, we barely get to meet Sarah and we really only get a very brief story. It was enjoyable, but I would have liked more.
Although Rebecca does take the time to toss in another teaser (see below) about Janie's prediction that she will be taken by the Kurjans at some point. So that gives me something to worry about.
Check out my Interview with Rebecca Zanetti and our other Dark Protector Reviews:
Interview with Rebecca Zanetti
Fated
Claimed
Hunted
---
Favorite Scene:
She didn't look scared. And she smelled like baby powder. Maybe she was too young to be afraid of him. Or too innocent.
Was this what innocence looked like? He'd forgotten.
Her tiny nose crinkled and her curly brown hair bobbed. "I know that, silly. My new daddy is a vampire. You're good."
Good? He was a killing machine. A heart he'd forgotten about thumped. "Not really."
"Uh huh." She patted his knee. "I promise." Those deep blue eyes turned serious. "The bad guys want me."
Smart little thing—yet she had no idea how bad the bad guys really were. "You're safe here, Janie." He hoped that was true.
She shrugged a delicate shoulder. "Will you be my friend, Max?"
The world shifted. "Yes." He could probably show her some self-defense moves when she grew up.
—-
"I see stuff. Stuff that's gonna happen. The bad guys—the ones scared of the sun—they're gonna get me."
His spine straightened. Something foreign in him wanted to protect her, wanted to make sure nobody ever took that innocence out of her eyes. Wanted to shield her from the evil he knew so well. He met her gaze, abandoning any thoughts of heading to Russia. "They'll have to go through me, Janie." It was a vow, and he meant it to his soul.
Dage reappeared and asked him outside. Janie returned to playing with the stuffed animal.
Once he was in the hallway, Max studied the king. "Nicely done."
Dage shrugged. "You've spent two hundred years protecting the Realm, fighting for our people, ensuring my safety."
"So?"
Blue shot through the silver in the king's eyes. "If you had to make a choice, if it came down to it, if it came down to the death of your king—or the death of that child—who lives?"
Most people sacrificed everything for the king and the Realm. Max had done so for two centuries. He cocked his head to the side. "She lives."
"You're hired."
Related Posts