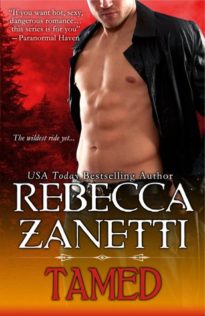 Tamed (Dark Protectors, #6.5)
by
Rebecca Zanetti

Series:
Dark Protectors #6.5
Published by
eKensington
on May 15th 2014
Genres:
Paranormal/Urban Fantasy
Pages:
95
Format:
eBook



I received this book for free from in exchange for an honest review. This does not affect my opinion of the book or the content of my review.
This post contains affiliate links you can use to purchase the book. If you buy the book using that link, I will receive a small commission from the sale.
---
Caleb Donovan was never meant to be a prophet. At heart he's a conqueror, his appetites far more carnal than spiritual. He's not inclined to repress his passions and surrender to fate. After all, that's what cost him Lily—three centuries ago. She married another, because it was ordained. Now that he's in the same benighted calling—and forced into proximity with her—all the old desires are roaring back to life. . .

After widowhood and centuries of celibacy, Lily is eager to explore the wild side of life, except now she's vulnerable to another forced relationship, with an enemy. But this time she's determined to choose her own path. And if hot, furious Caleb comes charging to the rescue, it might just change both their destinies.
---
Caleb Donovan has been hated by the demons for backing his relative who had forsaken an intended demon bride. When Dage Kayrs, the King of the Realm, decided he would no longer go along with the demon's demands that he shun Caleb, his decision drew the demons into the war which was already raging between the Realm and the kurjans. Dage needs the Realm Rebel on his side if he has any hope to ever win this war.
Fate has given Caleb the mark of a prophet but Caleb is a warrior, not a peacemaker. The kurjans and the demons are declaring that they want to sit down and discuss an end to the war. As one of the other prophets, Lily Sotheby is willing to do anything to broker peace between the nations, but Caleb and Dage are more wary of the olive branch being offered.
Caleb might believe that the offer for peace is just a ruse but he is happy to spend time with his lost love, Lily. Centuries ago Lily chose duty over love and mated with the prophet Miles, it was at his death that Lily received the mark of the prophet. Although her mate was dead, vampire mating bonds are forever and any male who tried to even kiss her would fall ill. That was before Lily was infected with the kurjan's weapon, Virus-27, which breaks the mating bond. Now for the first time in centuries, Caleb has hope that he can once again claim the only woman who has ever held his heart.
Except Caleb isn't the only one delighted by a chance to claim Lily. The kurjan leader has had his eye on Lily as well. To bring peace, he wants the one thing that Caleb is not willing to give…Lily.
THOUGHTS:
Caleb and Lily were great characters who have appeared throughout the series. Lily is a prophet but she is also a counselor who has helped Jase to work through his PTSD from the torture he received at the hands of the demons.
Caleb joined right in with the fighting with his men to protect the King and the Realm, and he has been a great help to the Kayrs in planning strategy and keeping our vampires and their mates safe.
Although this novella wasn't huge in pushing the Dark Protector storyline forward, it was a passionate story which gives Caleb and Lily a second chance at the love they didn't get to explore in their youth. Lily chose to follow duty rather than her heart and mated with Miles who is killed shortly thereafter. The mating bond in this series is very strong and is permanent, and as romantic as that is, it does pose a problem in cases like Lily who is a lonely widow. She has been alone and celibate for centuries because the bond keeps females safe from other males. Unlike the shifter Katie and Talon's mate Cara who were adversely effected by being infected with the Virus-27, to Lily being infected is a almost a blessing and it gives her a chance to be Caleb which would never have been able to occur without her broken bond.
This unexpected second chance is the reason I feel the characters are so exciting. Caleb is all in for a second chance from the beginning and Lily really doesn't need too much convincing. Lily just wants to be treated like a woman and not like a lady so Caleb shows her the difference between making love and hot sex. Sizzle!
These were great characters and I love putting them together for a HEA.
Received an ARC from the publisher in exchange for an honest review.
---
Favorite Scene:
They emerged into the chilly night. She shivered in the night air, and he quickly shrugged out of his jacket to drape it around her. The darn leather covered her almost to her knees.
The woman looked small, fragile, and definitely kissable.
He turned and pressed her against the worn brick building, startled yet again by the delicacy of her petite frame. He stood at least a foot and a half taller, but the woman had such a presence he often forgot her stature. Slowly, he slid his hand up to cup her chin. Curiosity and need glimmered in the depths of her mysterious eyes.
Even so, he allowed several seconds to pass in case she wanted to move away.
She didn't twitch.
Her chin held a delicate stubbornness that tempted him far more than he'd ever admit. Would she still taste like strawberries?
He lowered his head, giving her plenty of time to stop him. His lips met hers, and heat slid through his veins. The rightness of the connection clicked somewhere deep inside him.
Then she sighed, and his head spun.
He pressed harder, his tongue sweeping inside her mouth.  Fire, need, and strawberries became the center of his world. The leash he constantly kept on himself snapped. He stepped into her, his body caging her, his erection brushing against her warmth.
He tangled his hand in her silky hair, tethering her taking all he could. She sighed and kissed him back, a soft sound of surrender emerging with her breath. Fisting her hair, he angled her so he could go deeper, invading her mouth. Possessive and fierce, he wanted all of her.
A car alarm went off blocks away, dragging him back to the present.
The woman might kiss like the devil, but she was a lady, and he wasn't going to take her the first time on a street corner. So he broke the kiss and slowly released her.
Her perfect blond hair was mussed and her lips were swollen from his. Rosiness covered her cheeks, and desire burned bright in her eyes. He bit back a groan at the need to bury himself in her. Even so, he couldn't help running his knuckles across the breasts pushed high by the underclothing. The softness almost dropped him to his knees.
She breathed in, her entire body shuddering, a vulnerable look of surprise flashing across her face. "Caleb."
His body rioted with the need to finish what they'd started. But his brain kicked into gear. One kiss, and reality had slapped him upside the head. He'd never be able to walk away this time, and the last thing he wanted was a mate–even one who couldn't wear his mark because of the virus. Lily was a sweet, kind, gentle woman who deserved protection. Right now, he was needed on the front lines, peace talks or not.
Related Posts