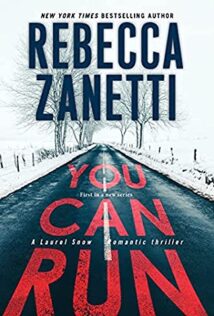 You Can Run (Laurel Snow #1)
by
Rebecca Zanetti

Series:
Laurel Snow #1
Published by
Zebra Books
on January 25, 2022
Genres:
Crime Drama
Pages:
400
Format:
eBook
Source:
Author



I received this book for free from Author in exchange for an honest review. This does not affect my opinion of the book or the content of my review.
This post contains affiliate links you can use to purchase the book. If you buy the book using that link, I will receive a small commission from the sale.
"Be prepared to stay up all night . . ."*
Suspense, danger, romance, and family drama converge as a rising star profiler strives to stay one step ahead of the criminal mind—and discovers that her own demons may be the hardest to outrun...
Laurel Snow wouldn't call hunting a serial killer a vacation, but with a pile of dead bodies unearthed near her Genesis Valley, WA, hometown, she'll take what she can get. Yet something about this case stirs her in unexpected ways. Like the startling connection she feels to Dr. Abigail Caine, a fiercely intelligent witness with a disturbing knack for making Laurel feel like she has something on her. Then there's Laurel's attraction to Huck Rivers, the fish and wildlife officer guiding her to the crime scene—and into the wilderness . . .
A former soldier and a trained sniper, Huck's thirst for blood is rivaled only by his fierce pursuit of Laurel. He's been burned by love, wounded by the government, and betrayed before, and to say he has trust issues is the ultimate understatement . Plus, he might be closer to this killer than anybody knows…
Once in the heart of darkness with Huck, Laurel must negotiate her distracting desire for him, her complex rapport with Abigail—and her mission to find a serial killer among a growing list of suspects and a danger that's far too close to home. So close in fact, Laurel fears she will never find her way back to the woman she once was . . .
*"Rebecca Zanetti takes you on a thrill-ride, pitting characters you love against impossible odds."—New York Times bestselling author Christine Feehan*
---
This series has a lot of promise.
There is a lot to like and a whole lot of interesting characters introduced in this first book and I can see this growing into a wonderful series.  But right now I have a few issues with Laurel Snow, our main characters.
Special Agent Laurel Snow is profiler and one of the FBI's shining stars.  Laurel is on her way back to DC from a case in Los Angeles when her mother asks her to come home to Washington.  Bodies of young women have been unearthed and one of Laurel's uncles is being investigated by the Sheriff.   Mostly because he is a quiet, loner who spends a lot of time in the woods.    Laurel asks a favor of her boss to look into the murders and she is given space in an old ice cream shop as her home base but she is making due and pulling in some interesting characters to help her out.    She is working against a local sheriff who just wants to close the case whether he has the right person or not and doesn't want to listen to a woman giving him advise.  Even the main possibly love interest  Fish and Wildlife Officer Huck Rivers doesn't know what to do with Laurel.  He doesn't even want to be dragged into the investigation himself.
Laurel is a child prodigy who went to college at 11.   She has studied psychology and has been a profiler for the FBI for several years.  Problem is, Laurel Snow, child prodigy and FBI superstar, didn't impress me with her profiler skills.   At one point she gives her profile and even the idiot Sheriff says "We all watch television, Agent Snow." And I would have to agree with him.   She ain't no Spencer Reed and  even I have watched enough Criminal Minds to have been able to pop out the same profile that Laurel gave.  Add to that the fact that Laurel often indicates that she isn't good with people. I can understand how attending college a decade younger than your peers would leave you an outcast and not really allow for making friends, but as a star Agent and profiler for the FBI, I was unimpressed with Laurel's skills.
Hell, she couldn't even take ten minutes to stop at the local general store and buy some weather appropriate clothes since she went to snowy Washington straight from LA.  She kept borrowing her mother's clothes.  Sorry.  That annoyed me the whole story.
One of the witnesses turns out to be a narcissistic sociopath and while Laurel can point that out, she doesn't seem to be able to match wits with with this person. When they turn almost stalkerish and obsessed with the fact that Laurel too was a child prodigy, Laurel seems very flustered by this person.   Laurel doesn't pick out the killer until they pretty much jump out and say "hey, it's me."  If Laurel is a prodigy/superstar, she should walk into any situation and start pointing around the room, 'you're a narcissist," "you have daddy issues," "you're a serial killer."   She might be socially awkward, but she should be able to pin down everyone else's issues within minutes.
That is the one sticking point for me.  I would have enjoyed this more if Laurel was a newbie profiler on her first solo case and in over her head.  I wouldn't have minded her being socially awkward.  I have a problem with being introduced to someone who is supposed to be Sherlock Holmes smart but never lives up to that promise.
The secondary characters to this series had a lot of promise and very worth expending on.  I just hope Laurel can live up to her hype in future stories.
Related Posts