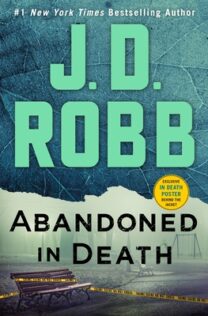 Abandoned in Death (In Death, #54)
by
J.D. Robb

Series:
In Death #54
Published by
St. Martin's Press
on February 8, 2022
Genres:
Crime Drama
Pages:
368
Format:
Audiobook
Narrator:
Susan Ericksen
Length:
13 hrs 15 min
Source:
Audible



This post contains affiliate links you can use to purchase the book. If you buy the book using that link, I will receive a small commission from the sale.
Homicide detective Eve Dallas must untangle a twisted family history while a hostage's life hangs in the balance—in the new In Death novel by #1 New York Times bestselling J. D. Robb.
The woman's body was found on a bench in a New York City playground. She was clean, her hair neatly arranged, her makeup carefully applied. But other things were very wrong—like the tattoo and piercings, clearly new. The clothes, decades out of date. The fatal wound hidden beneath a ribbon around her neck. And the note: Bad Mommy, written in crayon as if by a child.
It seems clear the killer's childhood was traumatic—a situation Eve is all too familiar with herself. Yet the clues point to a perpetrator who'd be around sixty, and there are no records of old crimes with a similar MO. What was the trigger that apparently reopened such an old wound and sent someone over the edge? When Eve learns that other young women have recently vanished, the case grows even more urgent—and to solve it she'll need to find her way into a hidden place of dim light and concrete, into the distant past, and into the depths of a shattered mind.
---
This unsub was creepy/crazy and I wasn't expecting the ending at all.  Nicely done!
Lt. Eve Dallas and her partner, Det. Delia Peabody, are called in the dead of night to a playground where a woman's body has been displayed holding a sign that says "Bad Mommy."   The victim is so well cared for that she looks like she is sleeping until you remove the ribbon hiding the viscous neck wound.   The oddest part of the crime scene is that the victim has been perfectly groomed but in a style seen 50 decades earlier.  Eve will use all the resources at the disposal of the NYPSD to try and track down the vintage clothes and the makeup, and even using her contacts in the media.   When another victim turns up, almost identical in looks to the first victim, dressed in similar clothing and makeup, Eve and Peabody start looking through missing persons and find more women who have disappeared that would perfectly meet this killer's idea of a potential mommy.  With the victims being styled in such a vintage style, they come to realize that their killer must be a man well in his sixties.   He has been planning this for some time and he is mature and meticulous.  Eve and Peabody are narrowing down the facts but will they find that one missing piece that will bring it all together before it is too late for his next victim.
For those who have been intimidated with the idea of jumping into such a well established series, this story could work as a stand alone.   This story was definitely more investigative-centric and less focused on the characters.  I fell like we barely saw Roarke in this one.   The story was also broken down a little differently than usual.  Here we have chapters dedicated to what happened to the missing mother who the killer is trying to "recreate."  Even knowing her name doesn't help us get any closer to finding our killer but when it finally comes together you can click those check boxes of everything we have learned so far about the unsub.
It was a good investigation and I didn't see all the twists and turns this one was going to take at the end until it was splayed out for me.  N.R. played this one close to the vest and gave us a great crime drama and exciting investigation.  I am a huge fan of this series so I love and have read them all but this story took me by surprise.
---
Favorite Scene:
Internally, she imagined whipping around the all-terrain in front of them, and skimming by the mini, snaking through the rapid cab and sedan.
"Have you noticed, I haven't brought up the work on the house all day?" Peabody asked. "Not once."
"Which causes me to assume you intend to do so now."
"Just for a minute. The drywalls going up so fast. It's like magic and our kitchen cabinets are coming in by the end of the week. My beautiful bright red cabinets."
"Red? I thought you went with…you said soft blue or green. Soft something."
"You paid attention. I wanted to see if you paid attention and you did. My sweet soft blue cabinets are on their way. Mavis's are going to take a few more days so their starting to install some of her studio equipment." As if she only had that single minute, Peabody spoke a lot faster than she drove. "Roarke said she could even try it out next week. Just test it in case she decides she wants to change anything. And since Leonardo wants to keep the exposed beams in his big attic studio, they're going to start installing there and McNab and I are absoposo going to nail down our decision on the powder room and guest bathroom tile tonight. We pinky swore."
"Well then. Roarke said you ordered a crap ton of rocks."
"Oh, the stone for the waterfall feature."
"He said it was a solid design."
"He did?" Peabody's face lit up like a candle, and she still failed to pass the AT. "He told me it was, but I thought he could have just been being nice, you know. But if he told you, he must mean it. I want it to be just mag. Mavis–I know she wants like a fairyland. The flowers and veg, the trees, all of it. I really want to help give it to her. She and Leonardo are doing so much for us. We're gonna have a house and a yard, gardens, space. Stuff it would have taken years, if ever, for us to manage, and–"
"Stop. Yeah, they're doing a lot for you. You're doing a lot for them. You're giving them security, and that means it all right there. You're giving them companionship, which for some reason all of you need on a constant basis. Mavis never planted anything in her life before you. Now she's all about it. They are about to have their second kid, and what have they got readily installed, a couple of people they trust absolutely who won't mind if Bella goes running around their space looking for a cookie."
"I'm always going to have cookies. Thanks." Peabody had to blink back the sheen in her eyes. "I get a little–a lot–overwhelmed sometimes with all this. Buzzed and overwhelmed and teary and everything at once. Like when I fell for McNab. It's all–is this really happening? I can really have this?"
"Looks like you can and you're stuck with McNab's skinny ass."
"Last night in bed–"
"Oh, no. No!" Grim, Eve flipped back her jacket, laid a hand on her weapon harness. "I will draw my weapon, place it between your eyes and fire. At the rate you're driving, no one's gonna notice when we come to a dead stop."
"Not that part. This was after that part. He said how he felt he'd rubbed a lamp and the jinni gave him three wishes. The first was the job, because he got that before me, so I was the second wish, and the best. And the third was happening now with the house. With the home we were making for each other." She sighed hugely. "Saying stuff like that's why I love his skinny ass."
Finally. Finally!  Peabody pulled into the garage. She parked meticulously, turned to Eve and smiled. "Then we had sex again. Slow yummy sex." She bolted from the car before Eve followed through on the threat.
Related Posts