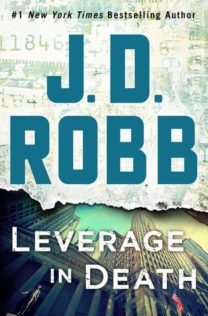 Leverage in Death (In Death, #47)
by
J.D. Robb

Series:
In Death #47
Published by
St. Martin's Press
on September 4th 2018
Genres:
Crime Drama
,
Paranormal/Urban Fantasy
,
Police
,
SciFi
Pages:
400
Format:
Audiobook
Narrator:
Susan Ericksen
Length:
13 hrs 49 min



This post contains affiliate links you can use to purchase the book. If you buy the book using that link, I will receive a small commission from the sale.
Lieutenant Eve Dallas puzzles over a bizarre suicide bombing in a Wall St. office building in the latest in the #1 New York Times bestselling series…

For the airline executives finalizing a merger that would make news in the business world, the nine a.m. meeting would be a major milestone. But after marketing VP Paul Rogan walked into the plush conference room, strapped with explosives, the headlines told of death and destruction instead. The NYPSD's Eve Dallas confirms that Rogan was cruelly coerced by two masked men holding his family hostage. His motive was saving his wife and daughter―but what was the motive of the masked men?

Despite the chaos and bad publicity, blowing up one meeting isn't going to put the brakes on the merger. All it's accomplished is shattering a lot of innocent lives. Now, with the help of her billionaire husband Roarke, Eve must untangle the reason for an inexplicable act of terror, look at suspects inside and outside both corporations, and determine whether the root of this crime lies in simple sabotage, or something far more complex and twisted.
---
We are up to 47 books in the series and various short-stories. With that said, they can't all be winners. This one didn't give us much in the way of character growth or in great investigation. Hopefully she isn't saving everything up for Book 50.
The most interesting part of Leverage is the fact that somehow The Icove Agenda is up for several Oscars, including Best Picture. I'm with Dallas in the I am tired of everyone she investigates talking about the book and the vid. And with Nadine planning on writing another book, that is just going to get more annoying.
Oscar fever is gearing up and no way in hell will Dallas attend the Hollywood fiasco, but she is hoping that she can free up Peabody to go with Nadine and Mavis to attend. But that might not be possible since someone decided to strap a bomb onto an innocent man and send him into a business meeting to stop the merger plans of two major airlines.
As the stock of both companies plummet, it at first looks like a disgruntled employee taking revenge but upon which company? But as Dallas investigates, we find find a very elaborate plan is in action which involves torturing a man, his wife and daughter until he agrees to wear a suicide bomb into the meeting on the big merger. "Leverage" in the title refers to leveraging stocks to make a profit. With all the fistfuls of cash N.R. makes from book sales, I am sure she knows lots about investments, and how to spend it all.
The attack causes the stock of both companies to plummet as people panic and sell and the killers buy up stock at rock bottom prices. Since the bombing only delayed the merger, within a few hours an announcement goes out that the merger is still planned and the stock rebounds. The killers make a giant profit. Luckily for Dallas's investigation, their plan worked so well, they quickly move on to their next scheme to blow up people for profit. It is different death for profit but still involves suicide vests and complex attacks against innocent family men to force them to wear these things to save their families.
It is all very elaborate and complex and although they apparently spent months trying to break into the first guy's house through his really good Roarke-made security system, they managed to pull it off in time for the big merger deal, and then they rapidly moved on to the next family and the next.
It was a very complicated way to make a profit. They start off with the airline merger because they had inside information about the merger. Why not just buy up stock and make a decent profit? Why the elaborate plan to find a dedicated family man who will kill his friends and co-workers with a suicide bomb to save his family, therefore plummiting the stock for a very short time while they buy it up cheap knowing the merger will continue? Same thing with their other plans.
If it was just this one scheme, I could see the time and trouble to pull together this elaborate detail. But they do it again and again. It wasn't a group putting this together. It was just a couple of guys and it was just too complicated a set up so that they jump from one to another and just happen to find the right guy that they can push the right button with? Dallas and the gang have to truly investigate in order to find the needle in the haystack but lucky for Dallas, the killers always make one mistake that narrows the field.
Overall, it wasn't the best story in the bunch. The crime was too elaborate to be a modus operandi for a killer. Usually, if the crime plot sucks, then I can enjoy the charachter growth. But there were no great moments between the characters this time and I was annoyed that she threw in a stupid argument between Eve and Roarke after we have come so far from the cop/former criminal b.s. of the last few years of marriage. There was no question that it was simply put in so they could have hot, angry sex. It just pissed me off since it felt trite, like how every once in awhile she will still throw in Eve getting angry and has a fight with the Pepsi machine.
For the last several years, I have read my Fall In Death ARC during my summer vacation. Sadly, I no longer have an insider at St. Martin's Press to get copies of the In Death ARC's. The only plus side to that is that I was kind of happy to pick up an audiobook version of Leverage since I haven't listened to Susan Eriksen's narration in a few years. But even the great presentation couldn't breathe life into an uninteresting story.
This is one of my favorite series and while I would hate to see the end of Dallas, Roarke, Peabody and the rest, if N.R. is running out of ideas, maybe Book 50 should be the magic number and go out on a high note rather than keep popping them out until even fans like myself walk away because they aren't worth the pricetag anymore.
Related Posts