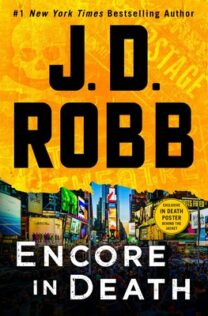 Encore in Death (In Death, #56)
by
J.D. Robb

Published by
St. Martin's Press
on February 7, 2023
Genres:
Crime Drama
Pages:
384
Format:
Audiobook
Narrator:
Susan Ericksen
Length:
13 hrs 47 min
Source:
Audible



This post contains affiliate links you can use to purchase the book. If you buy the book using that link, I will receive a small commission from the sale.
It was a glittering event full of A-listers, hosted by Eliza Lane and Brant Fitzhugh, a celebrity couple who'd conquered both Hollywood and Broadway. And now Eve Dallas has made her entrance—but not as a guest. After raising a toast, Fitzhugh fell to the floor and died, with physical symptoms pointing to cyanide, and the police have crashed the party.
From all accounts, he wasn't the kind of star who made enemies. Everyone loved him—even his ex-wife. And since the champagne cocktail that killed him was originally intended for Eliza, it's possible she was the real target, with a recently fired assistant, a bitter rival, and an obsessed fan in the picture. With so many attendees, staff, and servers, Eve has her work cut out determining who committed murder in the middle of the crowd—and what was their motivation. As one who's not fond of the spotlight herself, she dreads the media circus surrounding a case like this. All she wants is to figure out who's truly innocent, and who's only acting that way…
---
I love this series but this story was barely memorable.
This is one of my favorite series. I absolutely love the characters. Even after 56 books it is still going strong. But as you can imagine with a lengthy series, not every one is going to be amazing.
At this point in the series, I usually I break these into one of two categories: it is either an exciting investigation or it is character driven and focuses on Eve building her relationships either Roarke or the other characters. This one really didn't do either.
The story starts with a big party and someone drinking poisoned champagne. My first thought was "we've done the poisoned champagne thing already." (Reunion in Death #14) Obviously, we are going to get some repeats In Death but this isn't a stabbing or a body dumped in the park. Poisoned champagne at a big celebration is unique enough that it shouldn't have been repeated. She could have at least made it a martini. Nope, champagne. And we're back to where did it come from? Who poured it? Even before we finish the initial questioning, it looks like Brant drank the champagne cocktail that he had made for his wife, the equally beloved Eliza Lane. Who was the poison intended for-Brant or Elisa?
So Eve is called to the death of a big time celebrity Brant Fitzhugh so the pressure is on from the Mayor and the public to find the killer of is this beloved actor. Everything gets pushed to the front of the line since he was so popular and Eve isn't happy about this case getting special treatment but she goes along with all the media conferences because she is forced to.
Overall the investigation plodded along with nothing overly exciting. While I was surprised by the final reveal of our killer, even the time in the box where Eve gets the killer to confess all sins was blah.
And when I say it was barely memorable, I mean when I sat down to write this just a few weeks later, I had to pull up the description to even remember what the story was about.
No matter how blah a story, I am always happy to spend time in this world with Eve and Roarke as well as the rest of the gang, so of course, I want all the stories to be amazing. If you were hesitant to splurge on this next In Death book, I would say put yourself on the list for the library since these don't go on sale very often. It wasn't worth the $20 hardcover price. I used my audible credits since I prefer Susan Erikson's presentation but I doubt I will ever do a re-listen to this one.
Related Posts