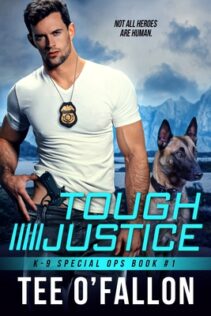 Tough Justice
by
Tee O'Fallon

Series:
K-9 Special Ops #1
Published by
Entangled: Amara
on March 29, 2022
Genres:
Action
,
Crime Drama
Pages:
368
Format:
eBook
Source:
Netgalley



I received this book for free from Netgalley in exchange for an honest review. This does not affect my opinion of the book or the content of my review.
This post contains affiliate links you can use to purchase the book. If you buy the book using that link, I will receive a small commission from the sale.
A thrilling, fast-paced romantic suspense perfect for fans of Piper J. Drake and Katie Ruggle from a former federal agent. When a DEA special agent and his K-9 companion team up with an ER doctor to investigate a public health crisis, chemistry sizzles. But the danger is far closer than they ever imagined…

It should have been a routine investigation. Instead, DEA K-9 agent Adam "Deck" Decker watches in horror as one Denver hospital seems to be Ground Zero for overdoses of a new drug. Now Deck can only hope a certain icy, green-eyed ER doctor will help him and his canine partner track down the deadly source.

Dr. Tori Sampson has her reasons for not trusting federal agents, especially ones working for the DEA. But the rash of overdoses—including a heartbreaking case involving a teen—is alarmingly high. And the new opioid is not only extremely dangerous, it defies all the usual medical treatments. So Tori has a choice: work with the big, brawny, and annoyingly hot DEA agent…or watch more innocent people die.

Tori's the only person who can help Deck break the case, and they'll need to trust each other, no matter how high the tension and attraction sizzling between them runs. But with every question answered, they realize there's something more behind these typical teen overdoses. There's a pattern here, and a pattern can only suggest one thing. There's a killer on the loose.
---
This is a very generous three stars.
Some spoilers ahead…
I grabbed a copy of this story as this author was compared to Katie Ruggle and I enjoyed her stories. While there were similarities in story type, that being K-9 unit and crime drama, the writing here just didn't excite me. I will give it three stars because it had moments but finishing it was more an assignment than an enjoyment.
The main characters of this story were Dr Tori Sampson, an ER doctor dealing with several overdose deaths and a K-9 DEA agent Adam "Deck" Decker. Deck wants Tori to give him a heads up whenever a surviving OD comes into the ER so we can talk them into giving up their dealers.
To start with it makes me crazy when writers repeat things ad nauseum. We learn from the get go that Deck doesn't trust doctors at all but eventually gives Tori a chance since she seems to care and seems to want to help. Doesn't hurt that she's pretty too. We also learn that Tori, doesn't trust DEA agents as something happened with her father many years ago involving enthusiastic DEA agents. But Deck, while pushy, seems to care about protecting people from this dangerous drug which hit the street. Again, Deck being a Double "H" (hottie hot) doesn't hurt his case. I know how Deck hates doctors and Tori hates DEA agents because we are told this over and over and over again for the first five chapters. Every time they think of the other, they remind themselves, and us, that they hate blah, blah, blah. I am a romance fan. I get that my doctor/DEA haters will eventually be sleeping with the enemy, I don't need to be constantly reminded of it. It was a bit over emphasized.
This just dragged down the character development and I had a hard time getting started. If I am focusing on laundry or TicTok videos, then the story is failing for me. I had to decide whether to dump it and move on or keep going, so I gave it a little longer. It started to pick up, but even the scene where Deck meets Tori's father, and we eventually get the story of why Tori hates DEA agents, was awkward in that Dad was annoyed that she brought a DEA agent home but tried being courteous but then suddenly stormed off for no reason. They weren't arguing.  Deck wasn't rude.  He just stormed out. When Deck went to confront him and the Dad tells his story, he admits that he was doing bad things…so why is he so hostile that the DEA finally caught up up with him and punished him?
At this point after Dad's reluctant blessing, the romance and the action start to pick up but of course, their original hates and distrusts come back breaking up Deck and Tori and slowed down any momentum we had gained.
Real spoilery here…
View Spoiler »Once Tori starts to question whether someone she knows is in the middle of this big drug issue, and once she starts opening her mouth,  she is, of course, abducted by the bad guy.  At this point she knows too much so why abduct her and not simply kill her, except that she is the heroine of the story. During the abduction, she loses the charm bracelet that Deck keeps mentioning (so we remember this plot point) but one he never asks her about even when she keeps it on during naked playtime. Of course this is so Deck knows for certain something happened to Tori, since they weren't together by this point. But the point I want to make to you all, and this is my life lesson for you all to remember, when you get abducted for knowing too much and a killer has no real reason to keep you alive, maybe it's not a good idea to keep being argumentative and mentioning what a shitty person they are and maybe stop mentioning that your DEA boyfriend will find you. Maybe, this is a good time to be meek and maybe wait for an opportunity to escape or play for time for said boyfriend to find you without pointing out that your ex-boyfriend is a DEA agent. Try that before pissing off the guy that should have simply killed you to being with. « Hide Spoiler
We do meet other agents who I presume will be part of this new series and their K-9 companions who show up to help Deck with his investigation, although they aren't DEA agents.   Yes, I like them but honestly instead of being intrigued, I was more confused. Do all K-9 law enforcement officers hang together more than just similar agents?   Deck's dog is trained for drug sniffing.   Deck's friends has canines trained for search and rescue and for sniffing out explosives. They kept showing up to help out Deck on his case.   Was this simply a plot point to have dogs with proper training available when necessary for the story?  Shouldn't Deck be hanging out with other DEA agents?
I was given a review copy of a Tee O'Fallon audiobook from the prior series which sounded interesting.  Since I was interested in checking out this author, I also grabbed this story when it became available. I had high hopes but don't know if it was this story, the characters or the author's writing style that I didn't click with.
I might still try the audiobook. That seemed to be a different type of story so maybe it will hold my interest more.
Related Posts