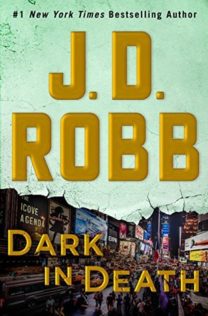 Dark in Death (In Death, #46)
by
J.D. Robb

Series:
In Death #46
Published by
St. Martin's Press
on January 30th 2018
Genres:
Crime Drama
Pages:
384
Format:
Hardcover



I received this book for free from in exchange for an honest review. This does not affect my opinion of the book or the content of my review.
This post contains affiliate links you can use to purchase the book. If you buy the book using that link, I will receive a small commission from the sale.
It was a stab in the dark.

On a chilly February night, during a screening of Psycho in midtown, someone sunk an ice pick into the back of Chanel Rylan's neck, then disappeared quietly into the crowds of drunks and tourists in Times Square. To Chanel's best friend, who had just slipped out of the theater for a moment to take a call, it felt as unreal as the ancient black-and-white movie up on the screen. But Chanel's blood ran red, and her death was anything but fictional.

Then, as Eve Dallas puzzles over a homicide that seems carefully planned and yet oddly personal, she receives a tip from an unexpected source: an author of police thrillers who recognizes the crime—from the pages of her own book. Dallas doesn't think it's coincidence, since a recent strangulation of a sex worker resembles a scene from her writing as well. Cops look for patterns of behavior: similar weapons, similar MOs. But this killer seems to find inspiration in someone else's imagination, and if the theory holds, this may be only the second of a long-running series.

The good news is that Eve and her billionaire husband Roarke have an excuse to curl up in front of the fireplace with their cat, Galahad, reading mystery stories for research. The bad news is that time is running out before the next victim plays an unwitting role in a murderer's deranged private drama—and only Eve can put a stop to a creative impulse gone horribly, destructively wrong.
---



One of the more interesting In Death books in quite a while. This investigation kept you on your toes.
Eve is all about the sexy times in this latest In Death novel.  The bane of her existance is on vacation and Eve is taking full advantage of the Summerset-free house, going as far as to suggest to Roarke that they need to have sex in as many rooms as possible before his return.  Roarke is alway ready to do what he must to make his wife happy so he takes one for the team to make the Lieutenant happy.
But not everything is lighthearted for our favorite murder cop.  The most recent murder to grace her board is quite unusual when a young woman is murdered during a recent vid release.  And gets more bizarre when a famous novelist steps forward to point out that her murder mirrored one of her earlier releases.
Eve understands that a fan has taken their obsession too far and is recreating the murders out of a series featuring P.I. Deanna Dark.   Now Eve knows what the murdering is planning, all she has to do is read the next book, but the problem is where the murderer will strike next or how they choose the victims.  In a city of several million people, that shouldn't be too hard, right?
I love this series.  I absolutely love all the characters and how even the secondary characters are fleshed out.  I love crime dramas, romance and scifi so this series was just perfect to me.    But I felt that the last few books relied on Eve lucking out and either stumbling one that one person who puts her on the killer's path or someone her tracks her down to give her that tiny piece of information that cracks the case. It was all a little too lucky.  And yes, while in this story the novelist shows up to declare that the murders were similar to her stories, knowing how the next murder is going to happen doesn't necessary give you the name of the next victim.
For the first time in a while, Eve and Peabody are working very hard to investigate this killer, and the killer isn't even important enough to warrant too much time either. We don't spend much time at all in the killer's head. Who the killer is is almost unimportant because this person is unimportant and that is why this person is recreating murders from a popular crime series.
The murders are what is important and they are quite random since the killer isn't getting revenge on anyone but the writer of the novels. The killer is recreating deaths from the stories so only setting the scene is important, not the person being murdered except to the the extent that they fit the part in the killer's mind.  With eight books in the series, Eve and Peabody know what the killer plans for the next several deaths, but trying to figure out who and where and when in a City as big as New York requires all their skills as detectives and bring in most of the homicide division and EDD as well, and of course, Roarke pops in here and there to help out a bit.
Overall, this was a well investigated case by Eve and Peabody with lost of sexy Roarke time and just about everything that makes the In Death series so popular.
Sadly, this will be my last advanced copy of the In Death series since I lost my connection at Heroes & Heartbreakers who would forward me copies when they were available.  I am sad about that, but  I started this series with the audiobooks narrated by Susan Erickson and really enjoyed her presentation.  So while I will no longer get a sneak peak, part of me is looking forward to having an excuse to grab an audiobook version of the next release.
---
Favorite Scene:
"Something's missing."
"If there is, you'll find it. But not tonight."
"No, not tonight." She drew back to shut down, and abruptly remembered. "We're Summerset-free."
"And, since I'm sure you're interested, he's very much enjoying his winter break."
"Yeah, great. We have to have sex."
"Well now, if you insist."
When he reached of her, she gave him a light shove back. "Not so fast, pal. I've got logistics to consider."
"It's all right. I remember how it's done very well, and can walk you through it."
"We'll see who walks who were. I've got it. Count to thirty."
He let out a laugh. "Seriously?"
"You want sex or not?"
Arching his eyebrows, his gaze locked on her, he said, "One."
She gave him a hot, noisy kiss, then jogged out of the room.
He counted it off as he shut down her machine, the fireplace, the lights, strolled into his own office to do the same.
When he hit thirty, he stepped into the hall, spotted one of her boots.
"Ha." He walked to it, picked it up, continued in that direction. He found the second boot after a turn to the right.
Amused, he picked that up as well. "So she's after a game."
He'd play. He could, of course, simply ask the house system where she was, or call up the monitors and see for himself.
But that would be cheating.
He followed the trail, found her jacket on a doorknob. Though he recognised a ploy, he also understood the double-bluff, so opened the door, ordered the lights.
No, they wouldn't be making good use of the big gel bed in that particular guest room.
He put her jacket and the boots on a bench in the hall, continued on.
When he'd worked with architects and engineers on the design of the house, when he'd watched it built layer by layer, he hadn't imagined himself wandering through it some night, following the trail of his wife's stripped off clothing.
And there a sock.
He paused to study a painting he'd stolen, oh six or seven years before. A lonely hooded figure crossing a windswept moor under brooding skies. He'd taken it for his own collection as it had pulled at him, that resolve, the loneliness, while his primary target of a small, exquisite Carot, he'd sold for a very tidy fee.
Then he'd met his cop, his mate, the love of his life, and he'd arranged for the painting of the lonely figure to be "found" and returned to its owner.
Then he'd bought it, legitimately.
He'd done the same with the other bits and bites he'd still had inside the plump pies baked on the shade side of the line. Divested of them, given up those dark little thrills.
A small price to pay, he thought, as he moved on, found the second sock, for the woman now leading him through the maze of his own home.
She never failed to fascinate, frustrate and fulfill.
Doubling back, was she, he mused, spotting some loose credits she'd likely pulled out of her pocket. And he spotted a door open an inch or so, to lure him.
Sliding the credits into his own pocket, he moved on as he knew the room to be linen storage for that section of the house.
Then doubled back himself, as he wouldn't put it past her to decide they'd have sex in a bloody linen closet.
Apparently not, he thought, when all he found inside were linens.
The game took on fresh interest when he found her trousers tossed over the banister of a stairway leading up to the next floor.
Ingrigued, he started up, mentally going over the floor plan.
Ballroom level. Sitting rooms, baths, a staging area for catering, storage, a small, efficient kitchen and butler's pantry–again for catering–another storage area, a game room.
The ballroom, of course.
He found her shirt hanging over the door of one of the sitting rooms, considered, and decided that after the hunt, a sitting room ranked very low on the scale.
Then turned the other way.
He found her pocket debris–the lockpicks he'd given her, her pocketknife, her communicator, the 'link, even her badge, all together on the hunt table outside the wide doorway, he stepped inside the ballroom.
She sat in the shadowy light, perched on the arm of one of the sofas.
"I wasn't wearing enough to cover the house," she said. "Next time I'll have to gear up."
Related Posts