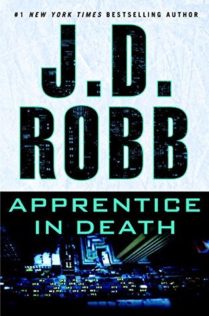 Apprentice in Death (In Death, #43)
by
J.D. Robb

Series:
In Death #43
Published by
Berkley
on September 6th 2016
Genres:
Crime Drama
Pages:
384
Format:
Hardcover



I received this book for free from in exchange for an honest review. This does not affect my opinion of the book or the content of my review.
This post contains affiliate links you can use to purchase the book. If you buy the book using that link, I will receive a small commission from the sale.
---



[box style="rounded" border="full"]J.D. Robb's In Death series is a must read for me. Even after 43 books, I still can't wait to see how the relationships continue to build. [/box]
While the crime drama aspect of this series is always exciting. For me this series is all about the building of the relationships, whether it be between Roarke and Eve, or Eve and Peabody, etc. In Apprentice, we see the changing of the marriage relationship in the remodeling of Eve's office and the master bedroom. Both of these changes are reflective of the blending of the individuals that Eve and Roarke were into the married couple they are now. Eve no longer works alone in her office, often working side by side with Roarke or with Peabody and her team and the redesign of the room is being made to reflect that change in her life. While the more obvious change in the bedroom is reflective that the room is no longer just Roarke's master bedroom, but their retreat from the world.
The other relationships which are almost as important, are the ones between the trainor and trainee. Even though Eve is now a Lieutenant of the Homicide Department, she still goes to her mentor, Feeney, when she needs guidance. While Peabody is now a detective, she still learns something new from Eve with each case. And we have recently seen young Trueheart receive his detective badge after learning from Baxter.
The police often assign a young rookie to work with a seasoned veteran and it is the influence of that veteran that determines what type of cop the rookie will become. But in Apprentice, it is not just the police who needs a mentor to learn their trade.
A sniper has set up shop in New York City and is playing with the lives of its citizens. Eve and Peabody need to figure out if the killer is targeting random victims or if one of the dead was a specific kill. With each venue, the kill shots rise, but Eve has to wonder why if the sniper is so precise, why aren't there more victims at each site? As if the horror of this act isn't enough, it quickly becomes clear that there are more than one killer at work here, and it looks like someone is being trained to use human beings are target practice.
If there is a specific victim in the crowd, Eve and Peabody have a chance to take down this killer, but if this team is just killing for kicks, the death toll might get out of hand.
THOUGHTS:
I do love the relationships in this series. Even though there is less time for the personal in this story, we still see how the bonds between the characters keeps growing stronger with each story.
There is a lot of investigation in this story and it will keep you reading but simply put, this story won't make anyone's top ten list.
---
Favorite Scene:
After a long moment, after they both lay limp, like survivors of some brutal wreck, he turned his head enough to graze her throat with his lips.
"Nice, was it?"
"Worked for me. Appreciation?"
"Paid in full."
"Huh. And no costumes or props."
"You're still wearing your clutch piece."
Her eyes blinked open. "What?"
"That worked for me." On a half groan, he rolled off her, sat up. Letting his gaze wander over her as she sprawled, naked but for the fat diamond around her neck and the weapon at her ankle. "And would again."
"Men are just twisted."
He only smiled, then got up and fetched a bottle of water. After he drank, he held it out. "Hydrate."
She propped up on an elbow and did just that. but when she started to reach for her clutch piece, he took her hands.
"Not quite yet."
"I'm not going to sleep wearing it."
"Not sleep." Stretching out, he picked up her weapon harness. As he began to put it on her, she shoved out at him.
"What the hell?"
"Indulge my curiosity." Quick and efficient, he hooked it on her, then pushed off the bed again to take a good long look.
Propped on her elbows, a wonderfully baffled expression on her face, her eyes still glazed from sex, she stirred his heart.
And propped on her elbows, a weapon on her ankle, another hitched over the shoulders of that lean and naked warrior's body, she stirred something else entirely.
"Yes, I've imagined that."
"You've imagined me wearing my weapons without a shirt? Or pants?"
"I see now that even my exceptional imagination fell short. So, Lieutenant."
Her bafflement went to shock as he straddled her. "You've got to be kidding."
"Not even remotely." He gripped her hands again, pinned her.
"You can't possibly…" She glanced down, saw he absolutely could. "How did you do that?"
"It's something to do with being twisted, I suppose."
Related Posts