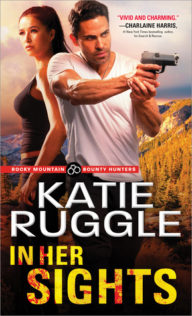 In Her Sights
by
Katie Ruggle

Series:
Rocky Mountain Bounty Hunters #1
Published by
Tantor Audio
on March 26, 2019
Genres:
Crime Drama
,
Small Town
Format:
Audiobook
Narrator:
Callie Beaulieu



I received this book for free from in exchange for an honest review. This does not affect my opinion of the book or the content of my review.
This post contains affiliate links you can use to purchase the book. If you buy the book using that link, I will receive a small commission from the sale.
Bounty hunter Molly Pax fought hard for everything she has, turning the bail recovery business she shares with her sisters into an unqualified success. So when their sticky-fingered mother jumps bail and puts the childhood home up as collateral, Molly's horrified. To make matters worse, every two-bit criminal in the Rockies now sees her family's misfortune as their next big break. She needs help, stat. Enter rival bounty hunter John Carmondy: six feet of pure trouble, with a cocky grin to match. John's the most cheerfully, annoyingly gorgeous frenemy Molly's ever had the pleasure of defeating . . . and he may be her only hope of making it out of this mess alive.
---
I really enjoyed Katie Ruggle's stories, but this new series brings a fresh, new twist.
In Her Sights is the first of a new series which features five sisters who, despite their criminal (and criminally negligent) mother are in the bounty hunter business. Molly Pax is the oldest and the one who actually takes down the criminals. Her sisters support her with research and stake outs but most of the fence jumping and criminal tackling comes down to Molly herself.
Molly's mother goes from one husband to the next until they get tired of her lies and manipulation. If she is between husbands, she manages to get caught for petty crimes so much so that she has gone through most of the lawyers and public defenders in town. Regardless, the girls have managed to pay off the mortgage themselves to keep a roof over their heads.
John Carmondy is the bane of Molly's existence. He's a hot, sexy competitor of Molly's and she likes nothing more than to grab John's skips out from under him. She is especially annoyed to find John always hanging around trying to grab her skips. No matter how much teasing she gets from her sisters, Molly doesn't seem to get that John's interest has less to do with grabbing skips than protecting Molly from getting hurt.
One of the local bail bondman is trying to get Molly to pick up a rather dangerous felon, a guy with a love of explosives. Molly and her sisters keep hanging up on him because they know better than to tangle with the likes of Sonny Zarver.
Things are going well for the sisters and their growing business until once again, Jane, gets arrested but this time for trying to steal a multi-million dollar necklace. Jane is going to face some real jail time over this offense and Molly can't imagine how her mother could have gotten herself bailed out of jail. Until she gets an offer she can't refuse, chase down Sonny Zarver and bring him in or the sleazy bail bondsman is going to have Jane's trial date moved up and it looks like Jane is already in the wind. Molly wouldn't care except that Jane put up the house they worked so hard to payoff as collateral and if Jane doesn't show for her next court appearance, they lose everything they have been working so hard for.
While Molly has not idea why John is insisting on helping her track down Sonny, she won't argue since her chance of surviving to bring Sonny in on her own is not very good. She needs all the help she can get, since her sisters are slip between helping her and finding their mom.
It also appears that John isn't such a jerk after all and the longer they work together, the more interested Molly is in getting to know John and his perfect physique better.
It took me awhile to get over my anger of why anyone would payoff a mortgage for a house they didn't own. In fact, I was almost surprised that the mother didn't sell the house out from under them when she had the chance. The property abuts a national park and she would probably net more money selling the house than her cut from the heist.
I was entertained by how dense Molly was to John's very clear interest in her and even her sister's constant comments didn't get through.
This was a fun group of characters. We were mostly focused on catching Sonny and finding Jane will be part of the remainder of the series I am certain. It was nice to get out of the snow trapped mountains of her previous stories. I was starting to get frostbite from the constant snowfall. It is not surprising that the characters in her other books had a touch of snow madness from being quite literally trapped in those small towns when the roads out became impassible.
This is the first Katie Ruggle series that I listened to rather than read, and the narrator did a nice job keep the characters exciting.
---
Favorite Scene:
She plopped down onto John's couch. All of her frustration was shoved to the back burner as she fell instantly in love. Pulling up her socked feet, she wriggled around to get even more comfortable. "Oh, John…"
He'd been headed to the kitchen, but at those two words he whipped around.
Molly didn't even care that she'd basically purred at him–and used his first name at that. She was in too much bliss to worry about anything. "Your couch is incredible. Can I have it?"
"Can I have a time-share on your room?"
"Are you trading your couch for occasional access to my bedroom?" Despite her preoccupation with wallowing in her newfound squishy paradise, she was still amused.
"You're right. Put it that way, and you're getting a much better deal." He prowled back over, sinking down next to her. "My couch for full bedroom privileges."
Somehow, the conversation had taken an unexpected right-hand turn, but Molly didn't think she had the willpower to bring things to a halt. Instead, she tilted her head to study him, rubbing her cheek along the silky-soft fabric of his magic sofa as she did so. "Full bedroom privileges? What does that entail?"
He leaned closer, stretching his arm across the back of the couch until she felt surrounded–cushions of heaven on one side and John Carmondy on the other. Her heart rate, which had already accelerated, now beat so fast it felt like a hummingbird was hovering inside her rib cage. "Whatever you'd like it to…entail."
Suddenly, she wanted it to entail all sorts of things, but a small part of her brain was still squawking indignantly that this was John Carmondy she was ever so slowly leaning toward, and he was her nemesis–or at least he used to be. Now, he felt an awful lot like a partner…a very hot partner with a great body and adorable dimples and a habit of watching her back and trying to keep her safe.
She realized that she'd forgotten to breathe, too caught up in his closeness to do anything but feel. As she sucked in a breath, her lips fell open just a little, and John's gaze instantly locked onto her mouth.
His pupils were dilated wide with desire, turning his eyes almost black. She couldn't look away. It felt like they were locked in position, turned toward each other on the couch, so close but not yet touching. This was the moment they had to decide: Leap over the cliff or back away.
John exhaled, and the stream of warm air brushed her lips, making her viscerally aware of how close they were, that the slightest shift of weight by either of them would bring them together. She wanted that, to touch him, to be touched by him, even more than she'd wanted his couch just seconds ago.
She just wasn't brave enough to take that final step, and she wanted to smack herself for her cowardice. Chasing criminals over fences and tackling them to the ground?  Sure, no problem. Kiss a guy who clearly–unless she was reading all the signals very wrong–wanted her?  Runaway! Girl you're messed up, her brain scolded, and she could only agree. "John?" she managed to say, needing to do something to break the tension that had wrapped around them like whole roll of barbed wire.
"Yeah?"  The problem was that it hadn't worked–the tension was still there, the wire pulling even tauter, dragging them closer together through sheer desire and, she had to admit, a huge, heaping load of affection that had sprung up completely unexpectedly over the past harrowing days.
Now she'd stared a conversation, though, so she had to finish it. "What are we doing?"
"What do you want to do?"
Very dirty things to you.
Related Posts