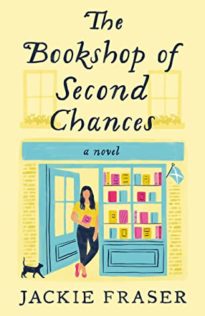 Published by
Ballantine Books
Genres:
Contemporary
,
Small Town
Pages:
448
Format:
eBook



I received this book for free from in exchange for an honest review. This does not affect my opinion of the book or the content of my review.
This post contains affiliate links you can use to purchase the book. If you buy the book using that link, I will receive a small commission from the sale.
A woman desperate to turn a new page heads to the Scottish coast and finds herself locked in a battle of wills with an infuriatingly handsome bookseller in this utterly heartwarming debut, perfect for readers of Evvie Drake Starts Over.

Thea Mottram is having a bad month. Her husband of nearly twenty years has just left her for one of her friends, and she is let go from her office job--on Valentine's Day, of all days. Bewildered and completely lost, Thea doesn't know what to do. But when she learns that a distant great uncle in Scotland has passed away, leaving her his home and a hefty antique book collection, she decides to leave Sussex for a few weeks. Escaping to a small coastal town where no one knows her seems to be exactly what she needs.

Almost instantly, Thea becomes enamored with the quaint cottage, comforted by its cozy rooms and shaggy, tulip-covered lawn. The locals in nearby Baldochrie are just as warm, quirky, and inviting. The only person she can't seem to win over is bookshop owner Edward Maltravers, to whom she hopes to sell her uncle's antique novel collection. His gruff attitude--fueled by an infamous, long-standing feud with his brother, a local lord--tests Thea's patience. But bickering with Edward proves oddly refreshing and exciting, leading Thea to develop feelings she hasn't felt in a long time. As she follows a thrilling yet terrifying impulse to stay in Scotland indefinitely, Thea realizes that her new life may quickly become just as complicated as the one she was running from.
---
I found the story slow-moving. There were moments of brilliance but not enough to make me recommend this one.
There are some plot spoilers in this review.
Life is full of the good and the bad so the question is how you handle the twists that life hands you.   Althea Mottram finds out that she inherited some money and a small cottage in Northern Scotland from a great uncle.  Good thing because this gives her somewhere to go after she finds out that her husband of twenty years has been having an affair with one of her friends, and he decides he wants to move his girlfriend into their house. Thea doesn't have any desire to move up to the tiny and rather desolate town of Baldochrie but since she just lost her job as well, she decides to at least spend the summer there while trying to figure out what she wants to do next.
The property was formerly a caretaker's house on the property of the local Lord, Charles Maltravers. He has been trying to re-purchase all of the houses on his land which were sold off after the war, and he will make her decent offer if she decides to sell the cottage, or she can simply rent it out herself as a vacation rental.   Thea's great uncle was also a collector of rare books which she also inherited along with the cottage. So she goes to speak to her uncle's friend, Edward Maltravers, who owns a second hand book shop and who deals with rare books. Edward is willing to purchase some and help her sell several others.
When Thea decides she is going to stay at the cottage, at least for now, she applies of the opening at Edward's bookstore. Edward is a curmudgeon but Thea likes his brutal honesty and generally ignores his unpleasantness and they play well off each other.
Where Much Ado About You by Samantha Young had a similar going off to somewhere new and work at a bookstore premise, that story had a much more lighthearted feel to it. The Bookshop of Second Chances had a dreary feel, just like the constant grey weather of Northern Scotland, and I found myself walking away from it several times to do mundane chores like load the dishwasher or sweep up the leaves off the deck, which is never a good sign for any story.
At almost 500 pages, there were some slow moving moments in the story, but I think I was most shocked about our hero Edward. Edward and his brother Charles never got along and pretty much hate each other. Edward was to inherit the title but relinquished it to his younger brother, Charles. There was definitely a woman involved somewhere and I anticipated hearing a standard plot of Edward giving up the title to either marry a woman who wasn't good enough or to prove that she loved him more than his title, but than his much more charming brother swooping in and stealing Edward's love away.   Well…not so much. Edward apparently gives up the title because he wasn't interested in all the B.S. that goes with being the Lord of the manor and lifestyle and pressure that would be forced upon him.  (This story does take the shine off the glamorously life of the aristocracy.)  And the romance clash between brothers comes down to the fact that because they always disliked each other, Edward made it his mission to sleep with all of Charles girlfriends and both of his ex-wives.
Now, how the grumpy and brash Edward managed to seduce all of his charming brother's woman, is amazing. And even Thea notes that the world of the lesser lords is like a soap opera. So it takes us half the story to find out that Edward is not only a cold jerk to everyone but he's a self-serving dick and he was complete unrepentant about his treatment of these women for his own petty revenge.  At this point,  while I was still amused by his banter with Thea, I was pretty turned off by Edward.
Now there was some moments of brilliance to this story but that mostly focused on Thea herself. I liked this older characters romance. I don't want to say second chance romance, since that usually references characters meeting again later in life and Thea and Edward have never met previously. But this is definitely a later in life romance as Thea is 44 and Edward is approximately 50, and you can see how you look at the world and the people around you differently at this point in life.
Obviously after being tossed away by her husband of twenty years, Thea begins this story in a bad emotional state of depression but as time goes by Thea because more of a say what I feel kind of person. She isn't as harsh or off-putting as Edward but she is no longer meek. I think this is a change of personality for Thea although I cannot be 100 percent certain. At the beginning of the story she is shocked and depressed, but I can't imagine her husband would have been off having an affair on the Thea we get to know later in the story. For example, Charles asks Thea out to dinner and she goes, not because she is interested in Charles because she says many times that the more charming brother leaves her cold. No, Thea wants to know that Charles is all about by asking her out in the first place and figures she can get dinner at a fancy restaurant in the bargain, because why not? She's not under some false impression that he is romantically interested in her and she'll have her heart broken. Then she blurts out her question as soon as dinner is served asking why would Charles asked her out, since there is no way she meets the standards of beauty or breeding for the next Lady of the house, so either he is trying to seduce her to get her property or to get back as his brother. While Charles sits there gaping like a fish, Thea is asking for the dessert menu.
Thea is sweet enough to make several friends in the town but she is also strong enough to ignore Edward whenever he grumbles at her, which is all the time.
It takes about 70 percent of the story before we actually get to a romance in this story. The problem is that once Edward admits to his strong feelings for Thea, he is all in and wants her to move in with him immediately. This throws Thea off balance since they are suddenly moving very fast and Edward's background with women is shaky at best and Thea's not ready to put her future happiness in the hands of one man again when she isn't sure he won't get bored with her. It appears that strong Thea was just a protective façade for a woman who's self worth plummeted after her husband tossed her aside and she isn't ready for the suddenly intense Edward.
As much as I liked Thea and this later in life romance, I can't really recommend slogging through the rest of this story.
Related Posts