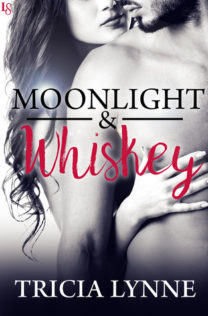 Moonlight & Whiskey
by
Tricia Lynne

Published by
Loveswept
on March 12, 2019
Genres:
Contemporary
Pages:
291
Format:
eBook



I received this book for free from in exchange for an honest review. This does not affect my opinion of the book or the content of my review.
This post contains affiliate links you can use to purchase the book. If you buy the book using that link, I will receive a small commission from the sale.
When life gives you curves, you gotta learn how to rock them.

Successful businesswoman Avery Barrows likes her dips and curves, but she's sick of the haters telling her that she should be ashamed of her body instead of embracing it. Determined to send them a big f*** you, Avery resolves to cut loose during a girls' trip, hightailing her quick-mouthed, plus-sized self to New Orleans. So, what's a smart woman with a little extra gotta do to get laid in this town?

Not much if you ask Declan McGinn, the lead singer of BlackSmith. Tall, dark, and tattooed, with a body made for sin, Declan prefers his women as curvy as his guitars. Avery's sharp tongue and keen mind makes him want her even more.

As they burn up the sheets, Avery and Declan realize this is no one-night (or even one-week) stand. But for all of her bluster, Avery isn't sure she can handle any more rejection. Besides, Declan has demons of his own. Now Avery has a choice to make: play it safe, or place her trust in the hands of a man who's as tempting as the devil himself.

This ebook includes an excerpt from another Loveswept title.
---
A great debut novel by Tricia Lynne. Great characters, some plot issues but a good read.
Avery Barrows and her best friend Kat go on a vacation to New Orleans. As an engineer, Avery has to appear straight-laced and almost non-sexual to compete in the male-centric profession.
Avery has the skills and the experience to be a partner but the boobs which hold her back. So this trip to N.O. is a "let your hair down and go wild" girls vacay. There is an inner Avery who likes to come out now and then who makes up for straight-laced Avery.   I didn't like that this Avery surpassed my usual enjoyable level of snarky heroine and went straight to crude trucker. While our hero liked when feisty Avery came out to play rough, I felt some of it was over the top from feisty to downright bitchy. Playful sniping is enjoyable, but there were a few lines that went overboard and drew blood.
Upon arriving at their hotel, Avery is knocked over by Declan McGinn, a tall, hot tattooed local. Rude Avery makes an appearance but Declan seems to like the fire and he invites her to dinner as an apology. They have a nice dinner and enjoy each others company, but Avery, who is a shapely, plus-sized girl, presumes Declan is just being polite and couldn't possibly be interested in her. When he tells her that he has to leave because he has a gig, Avery believes she has gotten blown off until she and Kat stumble upon the bar that Declan and his band are playing at.
Once Avery comes to realize that Declan does in fact like her curves, as he said, they embark on lots of hot vacation sex but as the week passes and the time comes to say goodbye, are either of them brave enough to confess their feelings and take a chance?
As a plus-sized heroine, Avery has had the usual baggage of user boyfriends. Some of these men just used Avery to get close to her best friend Kat, who is a former model. I liked how both Declan and Kat worked on boosting Avery's confidence during the story. Declan had to work hard to make Avery trust that he truly liked her as she was, curves, foul-mouth and all; and Kat as a former model who put on some weight after retiring (like size 6 vs. size 0) works to make Avery understand that she was the "perfect" size but that didn't make her life perfect.  Kat points out to Avery that she has been happier since she stopped being perfect and started enjoying life.
Some spoilers ahead.
Avery's insecurity over her body was a major blockade to her overall happiness. Dealing with it was a major part of the story. This whole vacation turned from wild weekend into building Avery's confidence in her figure and accepting herself as she was. We even have one of Declan's band mates who keeps declaring that he saw Avery first and if he didn't stop for a shower, she would be with him rather than Declan. So we have two men desperate to put their hands all over Avery's ample curves. That is why I was disappointed that the author added a conflict of Declan being caught in a compromising position with a skinny fan, and her suddenly believing that Declan couldn't really like fat Avery. Of course, it wasn't what it looked like but instead of standing up and confronting them like the newly confident Avery should have, Avery runs away. This is exacerbated by the fact that Avery then puts herself into what looks like a compromising position, now making Declan feel hurt and betrayed. I was a bit angry that Avery didn't use more of her very impressive brain at this point in the story. The amount of eye-rolling started to hurt. There was enough hurtles to Declan and Avery having a HEA that this felt so trite and simply romance trope B.S.
What started out as fun-vacation sex was building into something more. That is a pretty big hurdle since Declan has a life in New Orleans with his band and the club that he owns. He might have hired a manager for the club, but finding the right magic with another band would not be so easy.
Avery lived in Dallas, and while she didn't even like her company, she spent a decade gaining the begrudging respect of the partners and was working to gain her own partnership in the firm. Avery's company had big projects and Avery specialized in sports arenas and those types of large projects. Quitting and uprooting herself to New Orleans to start her own firm or start from the bottom of a new firm, was asking a lot for what might have been a week of hot sex.
Both Avery and Declan had parent issues growing up which screwed with them as adults. Declan's father drank himself to death after his wife left him, so Declan never wanted to be that attached to a woman. So much so that he announced, was too early in the story, that he didn't want a relationship. Since Avery wasn't a new girl in town but a woman on vacation looking for a good time, it seemed a little silly for him to announce at the very beginning that he didn't do relationships. Avery was just looking to use Declan for hot sex, she wasn't looking for a ring first. But his declaration stayed in her head while their relationship built. So we have Declan declaring how much he liked Avery, like her curved, like being with her, but she also knew he didn't do relationships so Avery wasn't thinking long-term and should I quit my job thoughts, and then Declan is hurt that Avery isn't thinking about what happens with them after she leaves. Declan also starts to wonder if Avery is too smart for him and we find Declan has some issues of self-worth himself.
For a first publication, I think this was a great story.   All the characters here–Declan, Avery, Kat, the band members, and everyone they met in New Orleans–were well presented and even secondary characters were fleshed-out enough to make them feel real.  Avery crossed the line a few times from fun and snarky to cruel and bitchy, but not enough to make the reader dislike her. And while Avery and Declan's declarations of their feelings crossed the line into romance-novel flowery, rather than true life, we can forgive that a bit since Declan was also a song writer.
The romance had a nice build and Avery and Declan had good chemistry. The building of Avery's self-confidence grew nicely and wasn't instantaneous. The sex scenes (which were plentiful) where sexy and fun and not awkward or over the top. My only complaint is the ruining of all that great build up with the awkward conflict which screams "publisher guidelines" to me.
I am going to look out for what Tricia Lynne publishes next.
---
Favorite Scene:
I watched him from behind, waiting for him to lift his drink, and as he put the glass to his lips, I shouldered him in the back. Dark liquor splashed on the bar in front of him.
"What the–" He swiped his T-shirt as he kicked his stool back and turned on me with a dangerous scowl.
'We'll call it payback." I let a slow smile play over my lips.
The scowl softened; his eyes warmed. Hands on his hips, he looked down at the wet spot on his shirt and turned hooded eyes on me with a sinful smirk.
"Well, if it isn't bust-my-balls Avery." His voice poured over me like whiskey down my throat, burning me from the inside out. Green eyes roamed over me lazily, lingered at my chest, my hips, and then back up to my face. "Looks like you found trouble after all." He swiped a hand up the back of his head.
"Oh, I'd say trouble found you."
He tilted his head to the side, gaze flashing with heat I'd seen earlier. "I wondered if you'd find your way here."
"We wandered in, but it's pretty great. The band isn't too shabby either." I winked while doing a body-roll in my head–I was flirting and doing it well. Hell, maybe it was the talking rum.
He chuckled and the hair on my arms stood up. "Still bustin' my balls. Looks like Jamie's into her." He nodded at our friends.
"All men are into Kat."
Emerald green eyes cut back to me, and the scent of whiskey mingled with clean male sweat became a potent combo. "I'm not into Kat." The intention was unmistakable. His brow lifted with a hint of challenge and my nipples pearled, chaffed at the fabric of my bra as he let a slow grin creep over his face.
My thigh muscles tightened, my center rubbing together with a tortured ache. Declan was definitely flirting back.
"You cold?"
"No. Why?" Shit, can he see my nipples?
"You've got goose bumps on your arms." He skimmed a finger over my forearm. I jolted and he bit down on his lip. "So, you owe me a drink, Avery." He said my name as if it was the most important word in the sentence and he savored it in his mouth. Wrapping a muscled arm around my waist, Declan ushered me to his empty stool. When his warm palm splayed across my lower back, I fumbled for purchase, the ache in my belly growing more depraved as chills raced up my spine.
I was in so much trouble.
"I guess I do." I caught the bartender's eye and she started working toward me as I savored the feel of Declan's body heat close to my back. I struggled not to arch, to feel him pressed up against me while I rode that jolt of whatever it was each time he touched me.
"Another for me and a refill for him. And another beer for the bassist down there. Give it to him with my thanks."
"Usual, Declan?" She looked over my head.
"Yeah." His breath tickled my ear and I realized how close he was, tried to cover the shiver by shifting on the stool but well-muscled and beautifully tattooed arms caged me in.
I looked down the bar to see the big guy tipping his fresh beer to me and I winked in returned.
"A bit of gratitude. Couple guys were hassling us earlier."
The bartender slid the glasses over. "Two Jamesons. One neat. One on the rocks."
I looked at her wide-eyed and tried to pay, but she shook her head, looking passed me. "Band's on the house tonight," she said with a sly smile before moving on. Declan scooped up his glass; his chest brushed my shoulder.
Jesus, there was that jolt again. Like the arc of static electricity followed by the brush of faux fur against sensitized skin.
I turned watched as he put the glass to his mouth and sipped, sucked an ice cube between his lips, let it fall back into the glass as Joss Stone sang "I Put a Spell on You" through a nearby speaker. Damn, I bet that mouth was talented with more than a mic.
His sexy half grin returned. He knew it, too. "A woman who takes her whiskey neat…Damn, Avery. That's not the polite woman I had dinner with."
I lifted my own drink and sipped. "So, Jamie said you guys were the house band?"
"Something like that."
"What's the band's name?"
"BlackSmith."
"Why didn't you tell me you were in a band earlier?"
"I wasn't thinking about the band then. I was preoccupied with the way you looked every time your little pink tongue slipped out to lick the corner of your mouth. Frankly, I wasn't thinking of much other than your mouth." Declan pushed stray hair behind my ear, waited for me to respond.
I felt the blush creep up my cheeks. "The band is local, then?"
"Yeah. The drummer is from Louisiana and the bassist's wife has roots here, but we play elsewhere now and then. This was a warm-up show for a gig we've got coming up. We're heading over to Austin for South by Southwest next month."
"Oh, I live in Dallas, but I've never gone down for that. It's all people talk about when it's happening." I'd always wanted to get to Austin for one of the biggest music festivals in the country. Work, however, always got in the way.
"You should go down, Avery." he met my eyes with a hint of amusement. "I'm sure you'd see why it's such a big deal." My blush intensified as I realized what I'd said, and Declan's grin was full on wicked. Damn, if my undies had been soaked in gasoline, my ass would've been on fire.
He chuckled, eyes crinkling at the corners. Then he let me off the hook. "We've played South by Southwest a couple of time. It's a good time, but we're getting older. Shaun has a kid." He pointed to the bassist. "We're not looking to be famous, but we still love to play." he sipped his drink, sucked in an ice cube, let it fall back into the glass.
Fuck. I had a hard time forming structured thoughts when he did that. My hand drifted of its own accord to the damp spot on his chest. "Still wet." I bit the inside of my lip.
Declan exhaled in a small parting of lips, with the promise of unfulfilled fantasies swirling in his eyes. He glanced at my hand, then met my gaze. "Yeah," he said, voice gone husky.
I was seriously itching to wrap my fingers around his nape. To feel his whiskey-laced breath against my lips, his guitar-calloused fingers scraping over my breasts, my ribs…much, much lower. And he held my eyes, read every wicked thought I had. His palm came to rest on my thigh as he leaned forward, pushing against my hand on his chest as he inched his way closer, eyes on my mouth.
Maybe I had put myself in the friend zone too fast when Declan hadn't had me there at all. Perhaps if I'd worried less about what he thought of me at dinner, and more about what I wanted, unfiltered Avery would have put in more of an appearance. Instead, the bitch had been relatively silent. Had he though I was the one who wasn't interested?
Related Posts