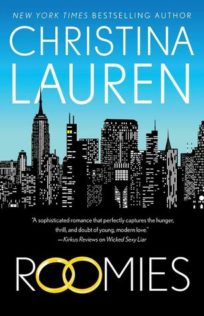 Roomies
by
Christina Lauren

Published by
Gallery Books
on December 5th 2017
Genres:
Contemporary
Pages:
368
Format:
eBook



I received this book for free from in exchange for an honest review. This does not affect my opinion of the book or the content of my review.
This post contains affiliate links you can use to purchase the book. If you buy the book using that link, I will receive a small commission from the sale.
Marriages of convenience are so…inconvenient.

Rescued by Calvin McLoughlin from a would-be subway attacker, Holland Bakker pays the brilliant musician back by pulling some of her errand-girl strings and getting him an audition with a big-time musical director. When the tryout goes better than even Holland could have imagined, Calvin is set for a great entry into Broadway—until he admits his student visa has expired and he's in the country illegally.

Holland impulsively offers to wed the Irishman to keep him in New York, her growing infatuation a secret only to him. As their relationship evolves from awkward roommates to besotted lovers, Calvin becomes the darling of Broadway. In the middle of the theatrics and the acting-not-acting, what will it take for Holland and Calvin to realise that they both stopped pretending a long time ago?
---



Roomies was my first Christina Lauren novel. Something drew me to this one and I am happy it did. I enjoyed these characters and storyline immensely.
Holland is obsessed with a subway musician who plays classical guitar. She call him "Jack" knows his schedule and although she can walk the few blocks to work, she takes a train well out of her way just to hear him play.   It is just a harmless infatuation until her uncle's hit broadway show is about to lose their main musician just as a new lead is about to take the stage.
It is Holland who thinks that the new lead has a voice that would be better suited to a guiter soloist than their former violinist.  She convinces her uncle to come listen to her "Jack" play and while he is reluctant, he goes.  As soon as he hears the music drifting up the stairs, he understands what Holland is thinking and is introduced to Calvin McLaughlin.   Calvin comes to the theater to perform for the cast and the producers and everyone agrees that Calvin is the perfect replacement.
But when they offer Calvin the position, one which has been his dream since he came to New York, he is forced to turn them down.  Calvin stayed passed the expiration of his student visa, four years past his expiration.  He is in the United States illegally and can't take the job which was one of the reasons he wanted to stay in New York.
What starts off as a joke that Holland can marry Calvin for the good of the production becomes Holland's decision for the good of the show.  She goes to Calvin and offers to marry him.  This would save the show and allow Calvin to fulfill his dream. She just needs to make sure the Calvin doesn't know about her bizarre and slightly obsessive crush.
It was a nice story of two stranges who come to care for each other and dealing with issues of getting to know each other and the odd issues which come up with suddenly putting their prior lives on hold.   As the production comes together, so do Holland and Calvin as their own feelings toward each other develop.
I was a little put off by Holland constantly berating herself that she just graduated with a Master of Fine Arts degree but hasn't begun writing anything yet.  I mean, really, she is barely 25 years old and has no life experience but she sucks because she hasn't written, or even started, the great american novel yet.   I understand being nervous about her life choices but she spent more time berating herself on not writing than on what is she doing marrying a stranger.
I also believe that Calvin makes a choice near the end of the story that is one of those big, clueless guy mistakes where he can't understand the problem until someone all but draws him a diagram, but it is one that I would think would be really hard to get past.  View Spoiler » He wants her to hide something from his family who live in Ireland. It is one thing to hide a big issue with a woman you intend to walk away from after your time's up, but at this point they were already thinking they might make something of their marriage. Can he really expect Holland to fool his family for the rest of their lives? « Hide Spoiler
That whole twist was kind of flimsy and over the top even in a story where a girl marries a man she met in the subway to keep in him the country, but overall I did enjoy this story and the romance between Calvin and Holland and how their fake marriage turns into a real relationship.
Since this is my first Christina Lauren novel, I don't know if this was a plot twist that we would normally see, but on its own it was very delightful story.
---
I find Calvin leaning against a wall backstage, talking to Ethan–a member of the ensemble who I'm sure would love to pull my husband even father into the shadows for a far more private interaction. The fact that Calvin is straight seems to cause acute physical pain to many of our male coworkers.
He immediately spots me, expression relaxing as he steps around Ethan to come to my side.
Ethan gives me an annoyingly fake smile. "Hey, Holland."
I mimic the expression. "Hey, Ethan."
I nearly jump out of my shoes when Calin pulls me back to his front, and presses his mouth to my jaw. "I'm going to take my beautiful wife to dinner."
I can't even look at him over my shoulder because he's so close: We'd nearly be kissing.
"Take me to dinner?" I step back, putting a little distance between me and he who is my husband, he who smells like the woods and fresh air, he who sleeps practically naked only a room away from me every night.
"A proper date."
Imaginary Holland stands up and waves the That Means Sex! flag, but I tell her to have a seat until we obtain clarification. "Proper?" I say faux-demurely.
He seems to get the meaning the same time I do, and with a little cough pulls his lip balm out of his pocket, smoothing it over those lips I really, really like. "Proper." He snaps the cap back on with a grin. "Food. Drinks. Fun."
Did he lean into the word fun? Did he growl it a little? I look to Ethan, wishing there was a way I could ask him to corroborate this, but in our surprising moment of flirtation, I don't think either Calvin or I noticed that Ethan has already disappeared.
"I'm always down for food and drinks and fun."
"It's why I like you." Calvin threads his arm through mine, and I catch a longing, droopy look from another one of the stagehands. tugging, he leads me toward the side exit. "You need to put on a proper dress, with proper heels, and put your hair up."
My brain is still trying to compute all this, to decide whether I love or hate that he's telling me what to wear, but then his hand slides around to cup the back of my neck, and his lips land on my cheek, lingering there, warm and soft. When he speaks, he speaks against my skin. "Your neck is my kryptonite," he says, and I feel his smile curve against me. "I suppose I should text you more about that."
Related Posts