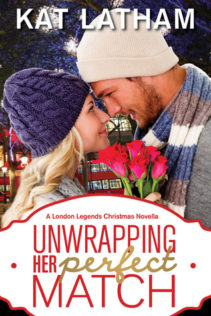 Unwrapping Her Perfect Match (London Legends, #3.5)
by
Kat Latham

Published by
Kat Latham
on November 11, 2014
Genres:
Contemporary
Pages:
152
Format:
eBook



This post contains affiliate links you can use to purchase the book. If you buy the book using that link, I will receive a small commission from the sale.
'Twas a week before Christmas, and at the auction house…

At six foot one, Gwen Chambers has felt like a giant her whole life. She's a calm, capable nurse saving lives in a busy London hospital, but healthy men give her heart palpitations. When larger-than-life rugby player "Little" John Sheldon convinces her to bid on him in his team's fundraising auction, she discovers how pleasurable heart palpitations can be.

A rugby player was stirring, with desire no one could douse…

John has wanted Gwen since he first saw her, but when he's injured in a match just before Christmas he suddenly needs her too. Not only can the sexy nurse help him recover, but she might be able to help him look after his daughter—a shy ten-year-old who speaks only French.

But will it be a Happy Christmas for all, and for all a good night?From decorating the Christmas tree to ice skating at the Tower of London, Gwen helps father and daughter open up and bond with each other—and she bonds right along with them. But when John's agent calls with a life-changing offer, Gwen has to decide how far she's willing to go for her perfect match. Will their first Noël also be their last?
---
A quick, sweet Christmas romance.
At over six feet, Gwen isn't used to looking up to a man, literally and figuratively. Gwen is still carrying around the humuliation of being a high school bet. She was so desperate for attention as a teenager she allowed herself believe she was accepted for who she was.
Meeting 6′ 9″ John Sheldon at an auction for the rugby team players might be the best thing to happen to her. They get along so well and John is so much fun to be around. He is also large enough to make her feel dainty. But their first date doesn't end smoothly and Gwen fears that she might have misinterpreted a fun time for true romance.
John ends up with a concusion just before Christmas and with no one to watch over him, nurse Gwen steps up. Actually she steps up for more than she bargained for since John's 10-year-old daughter will be visiting London for the first time and John refuses to let her first Christmas here pass while he naps on the couch.
Unfortunately when John gets an offer he can't refuse to a team closer to his daughter, will this be the one and only magical holiday John and Gwen get to spend together.
Gwen is tall and broad shouldered for a woman and feels awkward around men but John is a big, burly rugby player and to him Gwen is "just right" as most women and so short and make him feel like they are going to break if he touches them.    There was good chemistry between Gwen and John and Gwen helps bridge the gap between John and the daughter he rarely sees. While this was part of a series, it worked as a stand-alone.
John, Gwen and Agnes spend a lovely, family holiday together with skating, holiday cooking and presents to get you in the Christmas spirit.  This Christmas short-story was very enjoyable.  It is a quick romance to help get you in the Christmas spirit.
---
Favorite Scene:
Heat rushed through her, but she couldn't do anything about it because at that moment Agnes returned, her hands behind her back, her shoulders hunched and her gait much more subdued than when she'd left. John immediately stepped forward. "Angel, what's wrong?"
She beckoned him closer, and he crouched to her level. She whispered something Gwen couldn't hear. The only word she caught was her name.
"What's that, love?" John said. "I didn't undertand."
She brought her hands forward and showed him something, but John's broad back blocked Gwen's view. John took whatever it was from her and was quiet for several long, tense moments. Then he wrapped his arms around his daughter and gave her a massive bear hug. "God, I love you. You're the sweetest thing that's ever happened to me."
Gwen's eyes filled with stinging tears. She could fall for this man, fall so hard. His unashamed emotions and the trouble he'd taken to create a magical Christmas for Agnes made Gwen want him badly. Not just physically but in every way. She wanted him in her life, wanted to be someone special to him. Wanted to be another of the sweetest things about his life.
When he finally stood again, he put his arms around Agnes's shoulders and they both approached Gwen. The whites of John eyes had pinkened. "She brought stockings. Two stockings."
He held them up, and Gwen gasped. They were gorgeous. Stunning. Simple and elegant, they'd been cut from taupe velvet and had a delicate cream lace that resembled icicles sewn around the top. And just below the lace, someone had embroidered a name on each one: Agnes and Papa.
"Oh, they're gorgeous. Who made them?"
"Moi," Agnes whispered, her voice breaking. "Mais je n'en ai pas pour toi."
Gwen pressed her fist to her chest. "Is that why you're upset? Oh, sweetheart." She gave Agnes a big hug and kissed her cheek. "Please don't feel bad. I don't need a stocking."
John snapped his fingers. "Yes you do, and I've got one for you. Be right back."
He disappaered up the stairs, and when he came back he held something behind his back, just the way Agnes had a few moments ago. He was grinning though. "Okay, I've had to improvise, and it's not nearly as nice as Agnes's, but hopefully it'll work."
He brought his hand around and held up…a sock. A very long, green sock. Gwen laughed. "Seriously?"
"Yeah, seriously. It's part of my kit–but I swear it's clean."
Gwen took it from him. It probably came to his knee when he wore it. It would be thigh high on her. But it was his, and it was thoughtful. "It's perfect. Thank you."
He gave her a look like he wanted to kiss her, but his gaze shot briefly to Agnes and he said instead. "Right. Let's find a place to hang these."
Related Posts