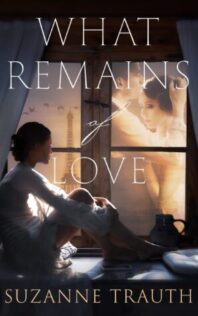 What Remains of Love
by
Suzanne Trauth

Published by
Self Published
on July 18 2022
Genres:
Contemporary
Format:
eBook
Source:
Amazon



This post contains affiliate links you can use to purchase the book. If you buy the book using that link, I will receive a small commission from the sale.
---
A lovely story of love, sacrifice and family.
Kate Whitman was still grieving the death of her father when at the reading of his will, their father's long-time friend and lawyer announces that a quarter of his personal Estate would go to a French woman none of the siblings ever heard their father speak of before.
While her oldest brother was determined to fight this bequest, Kate wanted to know more about this mystery woman and her connection to her father. Unfortunately they soon receive a letter from her daughter advising that her mother, Emilie Renault, died a year ago. Kate is determined to find out more and after further letters to Yvonne, she forwards a box to Kate. Written on the box is "Mementos – D. Whitman." The odd items: a handkerchief, two stones, a train ticket and a pressed flower don't really provide the answers that Kate was looking for, only more mystery.
It isn't until Kate encounters a locked drawer while cleaning out her father's desk and finds a diary of one Emilie Caronne Renault that Kate learns of the love story between am American soldier during WW II and a beautiful, young French girl.
Their story is both delightful and tragic and Kate realizes just how much she really didn't know the man she looked up to all these years.
Thought:
I was pulled into this story right away as the family dynamics unfold. We have the usual issues between siblings, who was closer to mom and who was closer to Dad.  The 10 year age gap between Kate and her oldest brother.  The issue with their drunken uncle, a black sheep of the family. There is also reference to a middle brother who moved to Alaska but as he never appears, he wasn't really needed for this story.
Of course, the whole story becomes even more engrossing as we dive into Emilie's diary. It begins in the height of the war while the Germans are occupying Nice. We feel the dread as food, money and jobs become scarce. Then the growing fear as more of the gestapo arrive in town to deal with the growing French resistance and who is hiding secrets as more and more of the young people disappear off the streets. And finally the giddy joy as the allies push out the Germans and liberate France.
Emilie and Daniel meet by accident and are drawn into a whirlwind romance.  We enjoy their growing love story, even if it is bittersweet knowing from the start that Daniel will eventually return to New Jersey and his fiancé, Kate's mother, leaving his heart behind forever with Emilie.
Kate gets the story she has been dying to know but learning the truth shifts her entire family dynamic in ways she could never anticipate, even bringing her closer to the parents she really never truly knew.
My one complaint is that the author should have noted the date we start the story.  It was only released in 2022 but the timeline wasn't working until I figured out that the current time was supposed to be 2006.  We knew DJ celebrated his 56th birthday and that Kate was about 10 years younger.  She also said she was 13 in 1973.  If she was older than me in 1973, then she can't be 46 in the story if is taking place in 2022.   It wasn't a big issue but when we are trying to understand statements like they corresponded for 40 years, I don't want stop and bring out my calculator to figure out why those numbers aren't working.
This author was recommended to me and I thought this story was going to be outside of my normal book choices, but it was full of romance, albeit not a Happily Ever After.  This was an enjoyable story filled with historical references, family secrets, and quickly draws the reader in. Suzanne Trauth also has a mystery series that I will have to look into. This is currently listed as a Kindle Unlimited selection and  I picked it up my own copy for only $.99.
Related Posts