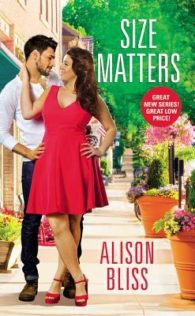 Size Matters (A Perfect Fit #1)
by
Alison Bliss

Series:
A Perfect Fit #1
Published by
Forever
on November 29th 2016
Genres:
Contemporary
Pages:
336
Format:
eBook



I received this book for free from in exchange for an honest review. This does not affect my opinion of the book or the content of my review.
This post contains affiliate links you can use to purchase the book. If you buy the book using that link, I will receive a small commission from the sale.
The rules of (fake) engagement . . .

Leah Martin has spent her life trying to avoid temptation. But she's sick of low-fat snacks, counting calories, and her hyper-critical mom. Fortunately, her popular new bakery keeps her good and distracted. But there aren't enough éclairs in the world to distract Leah from the hotness that is Sam Cooper - or the fact that he just told her mother that they're engaged . . . which is a big, fat lie.

Sam sometime speaks before he thinks. So what started out as defending Leah's date-ability to her judgmental mother soon turned into having a fiancee! Now the plan is to keep up the fake engagement, stay "just friends," and make Leah's family loathe him enough to just call the whole thing off . But Sam has an insatiable sweet tooth, not only for Leah's decadent desserts but her decadent curves. Her full lips. Her bright green eyes. Yep, things aren't going quite according to plan. Now Sam has to convince Leah that he's for real . . . before their little lie turns into one big, sweet disaster.
---
I had moments of love for this story, but I think in the end we should just be friends.
This story had moments which were really great, but the flaws in the characters themselves ruined any book love I might have had.
Leah is a confident business woman and the owner of a very popular bakery. She is also a literary standard of a plus-sized heroine. She grew up with a mother who was constantly making snide remarks about her weight. Her ex-fiance wanted her to lose weight and broke up with her because she didn't. Leah was a sweet, lovely woman but her defensive default was self-deprecating jokes about her size. She also interpreted every statement by Sam as being how he couldn't be attracted to a fat girl.
While anyone who doesn't considered themselves perfect will quickly deem any statement as an attack of that flaw, Leah has such low self-esteem that we feel sorry for her rather than sympathize with her pain. It takes way too long for Leah to finally stand up for herself and it was too little, too late.
The major problem with Sam is that he can't keep his foot out of his mouth and can't keep get his head on straight. Sam has been attracted to Leah since he first laid eyes on her across the bar, but after a failed marriage and a crazy ex-girlfriend, he is suddenly commitment phobic. He keeps chanting to himself "I don't want a relationship" but a man with all his bad experiences should have realized right away that Leah was completely opposite of the prior women in his life and instead of fighting a relationship with her like it was a death sentence, he should have latched tight to the one women who engaged his brain and his nether regions before she got away.
Sam never explains to Leah any of his thinking and never lets her know that he is attracted to her but isn't ready to step into a relationship right now. He leaves his thoughts hanging which Leah always interprets as Sam doesn't find me attractive. He gets to a point where he realizes he doesn't want to lose her and suggests that they become friends…with benefits. He even has that moment where he realizes he doesn't like the idea of Leah dating other men if they are just friends, but Sam still can't make the leap to she needs to be my girlfriend.
The basic premise is that Sam hates hearing Leah and other people talk down about her, so he introduces himself to her ex-fiance as her new fiance. Unfortunately, he also does this to Leah's mom. They now have to pretend to be engaged until they can figure out how to break it off so Leah doesn't look like she is being dumped once again.
I loved the section of the story where they go off for the weekend with Leah's family and it is almost a reverse Meet the Parents story.   Instead of having Ben Still trying so hard to impress the family and failing, here Sam is trying to be a jerk so that her family will hate him and be happy with they break it off. This fails because Sam either forgets himself and does something nice or his rudeness is seen as a joke and the family ends up thinking he is a fun guy with a quirky sense of humor.
The close quarters leads to a stronger connection between Sam and Leah, especially since Sam constantly comes to her defense when her mom tries to made a rude comment.  Some of those romantic moments were incredibly sweet, but unfortunately their own issues keep rising up to ruin all these great romantic moments.
While I would have liked to have seen Leah have a little more self-confidence, I had more of an issue with Sam not manning up and realizing that his feelings for Leah should have been acted on fully and not looking like he was using her for sex.
The ending was well done but I would have enjoyed this story much more if we saw growth and change in these characters from the beginning of the weekend with the parents to the end, and not have to wait until the bitter end for them both to make that leap.
---
Favorite Scene:
Sam reached her within seconds and effortlessly lifted her to her feet, impressing her with his manliness. Boy, he was strong. "I tried to warn you about the coming wave," he said, checking her over for injuries. "Are you okay?"
Before she managed to speak, another large wave struck, following the path of the first one with almost the same amount of force. Sam positioned her back against the large round piling and placed his hands on both sides of her body, trapping her between his well-muscled biceps to keep her safely in place. She didn't mind.
His direct, unwavering gaze held hers. "Damn it, Leah. Answer me. Are you all right?"
"Yes," she whispered breathlessly, though her lack of oxygen had little to do with the ordeal she'd just experienced.
His eyes darkened. "Are you sure? You hit the piling pretty hard."
Yeah, no kidding. Leah blew out a slow, calming breath. "I'm fine," she said, though she winced as she rubbed one hand low across her abdomen where it still ached. "I'm pretty sure I took out an ovary though."
"But you didn't hit your head or anything important, did you?"
Anything important? She scowled at him. "I have news for you. I consider my ovaries very important, thank you very much."
Sam grinned. "Well, if you lose one, it's not necessarily considered life-threatening."
"Oh really? Do you want to be the one to tell my grandma I can't conceive your children? Trust me, it could be life-threatening."
He chuckled. "Okay, point taken. But you still have one good ovary left, don't ya?"
"What if that one doesn't work right?"
The corners of Sam's mouth lifted. "Then we'll get you an egg donor or talk to an in vitro specialist."
"What?" Leah shook her head furiously. "No way. That's way too expensive. We can't afford those types of medical procedures."
"Fine, then I'll knock you up the old-fashioned way."
"Not with a bum ovary, you won't."
Sam sighed with frustration. "Trust me, you'll live to ovulate another day. If my sperm has to send out a search party for your damn egg, I can guarantee you that one day you will be knocked up with my kid. Count on it."
Her mouth dropped open, and her eyes widened. "I, uh…" She didn't have a clue what to say to that.
Sam must've realized how it sounded though. "Oh. Sorry. I didn't mean…I was just playing along."
Of course he was. "Uh, yeah. I know." She fake-smiled so he wouldn't think she took his words to heart…even though she had. Damn.
He shook his head. "No, you really don't know," he said, his tone thickening with something that sounded much like anger.
Related Posts