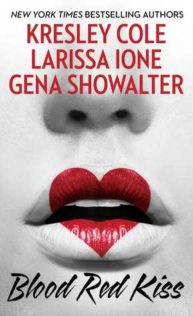 Blood Red Kiss (Immortals After Dark, #1; MoonBound Clan Vampires, #2.5; Otherworld Assassin, #2.5)
by
Kresley Cole
,
Larissa Ione
,
Gena Showalter

Series:
Immortals After Dark #0.5
,
Moonbound Clan Vampires #2.5
,
Otherworld Assassin #2.5
Published by
Pocket Books
on September 20th 2016
Genres:
Paranormal/Urban Fantasy
Pages:
544
Format:
eBook



I received this book for free from in exchange for an honest review. This does not affect my opinion of the book or the content of my review.
This post contains affiliate links you can use to purchase the book. If you buy the book using that link, I will receive a small commission from the sale.
In Kresley Cole's celebrated story "The Warlord Wants Forever," the first in her scorching Immortals After Dark series, vampire warlord Nikolai Wroth will stop at nothing to claim his Bride, the one woman who can make his heart beat again. But can beautiful Myst the Coveted accept an enemy vampire as her own?

Tehya has spent the last twelve years as an accidental wolf, but is truly a vampire at heart. When she gets injured, Lobo sneaks her inside MoonBound's headquarters and nurses her back to health…with potentially deadly consequences. Desire collides with danger in "Forsaken by Night," a MoonBound Clan novella from Larissa Ione!

In Gena Showalter's Otherworld Assassins novella, Dark Swan, Lilica Swan isn't quite human or otherworlder; she is the best—and worst—of both. She is willing to do whatever proves necessary to save her sister from the seductive and deadly Alien Investigation and Removal agent, Dallas Gutierrez, even bond her life to his…effectively wedding him. But without consummation, the bond will fade. Can Dallas resist his insatiable desire for the powerful beauty? Or will she lead to his ultimate downfall?
---
[box style="rounded" border="full"]I was surprised to find that the reboot of Kresley Cole's the Warlord Wants Forever was my favorite of the three stories and Gena Showalter's story on Dallas from the Alien Huntress series was completely disappointing. [/box]
The Warlord Wants Forever – I held off on reading The Warlord Wants Forever for weeks after I finished the other two stories. Nikolai and Myst were my two least favorite characters from this series and I have often said that if I had read this novella first, I might not have read the rest of the series. But Kresley Cole took the basic story of these two characters and gave it a complete reboot. It fits in better with the rest of the series and there is a better build up of the relationship of these two. While they will never be my favorites, this new presentation of Warlord Wants Forever is much more enjoyable.
Forsaken by Night – I had a chance to read the first two books in the Moonbound Clan Vampires series by Larissa Ione when the second book, Chained by Night, was released. I really enjoyed the series and was looking forward to book three. I enjoyed this novella and the very interesting twist of Teyha changing from Lobo's pet wolf to the woman he dreams about. The problem is that since the last book was published in 2014 and I have read about 200 books since then, it took me a bit to remember all the main characters and by the time I finally was getting back into the flow of the series, the story was over. There was simply too much of a gap between the stories. If you have time to and it is certainly worth it, re-read Chained by Night and get back into the flow of the series and you will get much more out of this story.
Dark Swan – Gena Showalter's story was the biggest disappointment to me. My friend and I both read the Alien Huntress series and whenever one of us mentioned Gena Showalter, we would ultimately get to grumbling that she's releasing a new book or series and never finished the Alien Huntress series. We constantly complained "What about Dallas?" So I was very excited to finally get a chance to read this story. Unfortunately, the biggest problem that I felt here was the fact that she ended the series and put a big red bow on it.
I don't want to give away too much, but the Alien Huntress series had a continuing villain. This villain even caused the demise of the Rakan world (Deep Kiss of Winter), among many others. You can't try to spin a happy ending where all the aliens hold hands and forgive. Dallas and boss, Mia, might be willing to forgive and forget, but there are plenty of Rakan that probably won't.
It just felt wrong. Wrong! Wrong! Wrong! This left me disappointed and I would rather still be left hanging then this forced happily ever after.
Related Posts