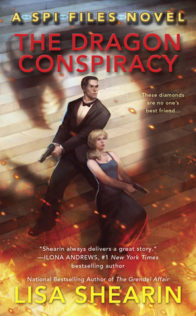 The Dragon Conspiracy (SPI Files, #2)
by
Lisa Shearin

Series:
SPI #2
Published by
Ace
on January 27th 2015
Genres:
Paranormal/Urban Fantasy
Pages:
292
Format:
eBook



I received this book for free from in exchange for an honest review. This does not affect my opinion of the book or the content of my review.
This post contains affiliate links you can use to purchase the book. If you buy the book using that link, I will receive a small commission from the sale.
---
[box style="rounded" border="full"]Although this story was enjoyable, it was missing a little of the fun of the prior stories.  Mac isn't a kick ass agent yet, but she is losing her new agent awkwardness which was part of her quirky personality which made her so entertaining. [/box]
Makena Fraser is the newest seer for SPI (Supernatural Protection & Investigations).  Mac isn't a supernatural, but she can see through the glamours to the supernaturals hiding beneath.  Teamed with her  partner/babysitter, Agent Ian Byrne, Makena help keeps NYC safe and unaware of the others dwelling in the city that never sleeps.
Halloween brings out the fake vampires and witches and allows the real ones to spend the day without their glamour. It also is bringing another dragon into Vivienne Sagadraco's territory. Russian dragon Viktor Kain has brought the cursed Dragon Egg diamonds to the NY Metropolitan Museum of Art for an exhibit on Myths.  SPI is on hand to prevent anyone from stealing the diamonds, especially since the collection flaunts the diamonds stolen from the Elf and Goblin Courts. Diamonds which hold other-dimensional magic.
Rich goblin club owner Rake Moreau makes a reappearance in this story. Unlike most stories, in this series goblins are gorgeous, sexy and can bewitch a human. Rake tried to do this to Mac in the Night Shift anthology. He is still interested in taking the SPI seer home with him and when he shows up at the Met just before someone releases harpies to steal the diamonds, Rake makes the SPI short list of suspects.
When an unsuspecting human suddenly shows an ability to release the magic of the diamonds, Ian and Mac have to give him the short version of Supernaturals for Dummies and keep him safe from the real supernatural baddies who want to use his untamed and uncontrolled power to "cure" all the supernaturals in Manhattan.
With time ticking down to midnight on Halloween, when the separation of the dimensions are at their thinnest, SPI needs to find the diamonds before every supernatural looses their glamour and every turned human over 100 will turn to dust — including their 98 year old werewolf friend Yasha.
THOUGHTS:
This second SPI series novel was missing a little of the magic from the prior novel and novella. Mac is no longer a brand new agent and while she isn't a super-spy yet, she isn't the awkward new guy either. It still had good humor, it just wasn't as good as the prior stories.
There is specific discussion that Mac and Ian are making sure to pursue outside romances since they are partners and a bad romance would make things awkward. Unlike most Urban Fantasy which seem to tease at a romance with the main characters but frustrates us by never getting there, I didn't care either way. There is no real spark between them making me root for a romance.
Future stories are going to need Mac to reach higher to be a real agent since this awkward period in between newbie and full agent isn't as funny or as exciting.
---
Favorite Scene:
"How did you know it was us?" I asked. "You don't have any of those little rearview mirrors on your monitor."
Kenji spun his chair to face us, smiling, quite obviously pleased with himself. "I have something infinitely more effective. I got tired of having The Shining twins over there sneaking up on me."
Agents Calri and Gormi Dorgan looked up from their desks and grinned evilly. Oh jeez. Dwarves and elves had never gotten along. It was a cruel twist of fate–or boneheaded mistake of HSR (Human and Supernatural Resources)–that put twin dwarves directly across the aisle and just out of an elf's peripheral vision. The twins kind of reminded me of Shrek's pint-sized, ugly cousin after a weekend bender. Most agent didn't both to use any spells to hide what they were while they were in the office. Calri and Gormi, in particular, had always enjoyed strolling up beside people and then just standing there, staring at them. It didn't matter what species you were; glancing up to find a pair of identical and identically dressed twins staring at you was creepy as hell. We all have Stephen King to thank for that.
That being said, they were the best at what they did. The Drogan family–in their human disguises–were involved in just about every city excavation project, going back to when the first sewer and subway lines were carved out under Manhattan. The twins knew the eight hundred miles of subway tracks and the thousand of miles of sewer tunnels running under the city like the backs of their hands. More than a few of the supernatural baddie SPI ended up going after took to the darkness under the city in an attempt to elude capture. The twin Dorgan agents were our bloodhounds, bloodhounds that had a tendency to become annoying when they were bored. And when dwarves were bored, any elf in their immediate vicinity was going to get a double dose of obnoxious.
I had news for the boys; they were messing with the wrong elf.
"I wrote a little program," Kenji was saying, "installed some sensors under the floor tiles, and rigged a few of the security cameras to scroll across the bottom of my monitor the name of anyone who comes inside my perimeter."
"Perimeter?" Ian asked. "That sounds paranoid."
Kenji raised a finger in dispute. "Sounds smart. Keeps Agents Fun 'n' Games over there from shaving five years off my life twice a day. I'm running out of years, and I've long been out of patience." He shot the twins a dirty look. "And if that doesn't work, I'll put collars on their little bastards and install one of those invisible fences–right after I tweak the system to quadruple the voltage."
Related Posts