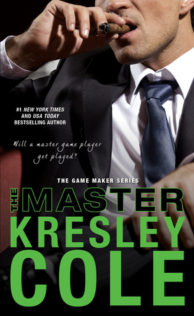 The Master (The Game Maker, #2)
by
Kresley Cole

Series:
The Game Maker #2
Published by
Gallery Books
on February 17th 2015
Genres:
Contemporary
,
Erotic
Pages:
448
Format:
eBook



I received this book for free from in exchange for an honest review. This does not affect my opinion of the book or the content of my review.
This post contains affiliate links you can use to purchase the book. If you buy the book using that link, I will receive a small commission from the sale.
---
[box style="rounded" border="full"]Kresley Cole proves that erotica doesn't need whips and ball-gags.  Simple blazing hot passion between two people is hotter than any red room.[/box]
When Kresley Cole took a stab at erotica last year, she definitely piqued our…interest. The Professional gave us Sevastyan, Enforcer for the Russian Mafia with a proclivity for spankings and bondage. His brother Máxim at first seems to have the same interest in tying up his lovers but as we will find out it is more that Máxim doesn't like to be touched–that is, until he meets Cat.
Catarina Marin (not her real name) is a woman on the run. If her husband finds her, she's dead. That was his plan from the very beginning, marry the young, naive girl, kill her and take her family's millions. But Cat overheard his plans and took off running. She has kept ahead of him for three years, and it is time to move on. She has been in Miami too long. Cleaning houses has not given her enough savings to run so when one of her customers, a high priced call girl is sick, she convinces Cat to take her place. One night will get Cat a decent start somewhere new.
And when the customer looks like Maksimilian Sevastyan, it won't be such a hardship. Just a big knock to her pride. Cat believes she can do it until she gets Máxim's instructions. He wants her face down on the bed, hands behind her back. Then he will tie her up, use a crop, and have sex with her in that position, then she can go.
Cat doesn't trust any man enough to let him tie her up. She shocks Máxim by refusing to submit to his bondage and by telling him she know what he really needs. This is the first of the Máximo shockeado that Cat keeps throwing at him. He is so surprised by her denial of his instructions and curious as to what she thinks he needs, that he gives in. Super hot sex scene follows, yet Máxim sends her on her way — dismissing her after he's done.
Although she really doesn't want to be a prostitute, Cat is hurt by the dismissal, and declares that Máxim will be calling her again. It is not just the off the charts orgasm that has Máxim seeking her out after a few days pass. It is Cat's fiery spirit that catches his attention. She doesn't fear calling him an asshole which is a first for the Russian politician/mobster.
But Cat doesn't realize the danger of becoming the obsession of a dangerous man like Maksimilian. He not only has her brought back to his room but then he decides to keep her locked in the penthouse with him until he has to leave for his brother's wedding at the end of the month. Blocked from escape by his bodyguards, she has no choice to submit to Máxim's desires. Her gilded cage might still be a prison but is it also keeping her safe from the man who is truly a danger to her.
THOUGHTS:
Warning: This book is going to burn your fingertips. I really liked The Professional, but I loved The Master. This story is leaps and bounds above Book #1. Personally, I am not one for the bondage, whips and spankings which have become so popular in erotica books. The Master has all the heat without the need for the toys. This kind of heat really pulls me into a story.
Cat's mistake in falling for her husband's false charm has forged her into a strong woman. She is wildly attracted to Máxim but won't let him walk all over her. He finds her beautiful but it is her fiery spirit and her intelligence that attract him most. He is not used to people telling him no and Cat has no fear telling him to go kiss her ass and he will very willing to do just that.
The only time toys get involved is when Máxim decides to sexually torment Cat in order to get her to agree to go to the wedding after she refuses to accompany him. He makes her safe word "yes" — tricky mobster.
The bachelorette party including a drunk Natalie, Jess and Cat is priceless. As well as how Cat makes Máxim a Christmas dinner, which moves Máxim deeply and we start to see that he no longer plans to let Cat go when it is time for him to return to Russia.
There is, of course, the usual trust issues and hidden back stories which keeps the friction going between the two of them.
I presume the next book will feature youngest brother Dmitri who is one messed up guy. I am wondering if he will be paired up with Natalie's friend, Jess. I have a feeling that her "crazy, sex-starved, party girl" persona is hiding some deep dark pain of her own.
Received an ARC from the publisher in exchange for an honest review.
---
Favorite Scene:
This is the first time Cat has seen snow in person.
I trailed off when a flake wafted right in front of my face.
At the edge of the courtyard was a snowy yard, beyond that a vast leafless forest. White drifts piled up against trunks and blanketed limbs. The sun was coming out, but I forgave it; icicles in sunlight were spellbinding, like diamonds on the ocean. "Oh!" I hurried into the yard, and my boots crunched!
Máxim followed me, retrieving black gloves from his pocket.
"It's…it's so amazing." It was a winter wonderland.
He frowned, as if we were looking at two different scenes. "If you say so." His phone rang.
"Dmitri?" I asked.
"Da. Look around for a bit. I'll try to keep this short." He turned from me to take the call.
His shoulders tensed up, all relaxation gone. As he would say: unacceptable. Scooping up a big handful of snow, I made my very first snowball and beaned him in the back of the head.
He stiffened even more, as if his body disbelieved. A couple of barked words ended his call. He shook out his hair as he turned to me. "Run."
With a laugh, I did, sprinting toward the trees. My heart raced when his footsteps crunched behind me.
I'd just made the tree line when he seized my waist, swinging me up, and we went tumbling into a snowdrift.
"Is that any way to treat your man?" He maneuvered on top of me, pinning my wrists about my head. As I caught my breath, he gazed down at me. "You are so bloody beautiful."
I grinned. "I've seen less handsome men." Amid all this white, the blue of his eyes was even more piercing, his smile even more glorious.
"Have you, then?" He used his free hand to tickle me, making me squeal with laughter.
"I should never have mentioned tickling to you!" I squirmed, trapped.
"As if I wouldn't have found out eventually."
Eventually? How long, how long, how long?
Soon his touches turned less playful. His lips slanted over mine. He slipped his tongue into my mouth, deepening the kiss into a thorough taking…
Yet then he broke away.
"Why'd you stop?"
He levered himself to his feet, helping me up. "We have an appointment." He brushed snow off my back, then adjusted his jacket to conceal his erection.
Hand in hand, we started on a path that meandered along the forest's edge. "Where are we going?" We were heading away from the lodge, cresting a small rise.
"Patience, solnyshko."
"What does sol-neesh-kah mean?"
"An endearment. You need to start learning Russian."
I parted my lips. Why would I? Unless? Cool yo jets! Still, I was about to ask him to expand on his comment when I spotted a stable down the hill. The building was enormous, with red painted walls. Corrals flanked it. "Oh! Can we stop at the stable?"
"I suppose."
As we neared, I said, "Am I going to get to pet a horse?" My eyes went wide. "I–can–hear–them, Máxim. I want to pet all the horses!"
He chuckled as he ushered me inside. "You heard them, did you?" The air smelled like oats and leather. "We're going riding."
"En serio?" I clapped my mittens.
"Look at your excitment. For my Katya, snow trumps a private jet. Horseback riding trumps jewelry. Singular creature."
Pleasure still coursed through me whenever he called me his Katya.
"I don't know how to ride, but I don't care." Laughing, I said, "Shove a helmet on me, Ruso–let's do this."
He was grinning. "We will go together. They ride Western here, so I'll put you in my saddle."
"Where are we headed? To an igloo? To the North Pole? To a place where St. Bernards serve brandy?"
He laughed, looping an arm around my waist. "Not far. I'll give you a taste, or else your thighs will be sore all weekend.
I quirked my brows. "Don't hold back on my account. I've been riding you like Seabiscuit at least twice a day for over a week."
Related Posts