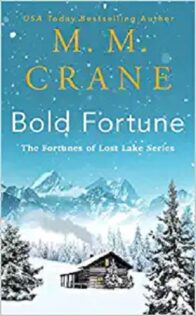 Bold Fortune
by
M. M. Crane

Series:
The Fortunes of Lost Lake #1
Published by
Berkley Books
on December 28, 2021
Genres:
Contemporary
,
Small Town
Pages:
288
Source:
Netgalley



I received this book for free from Netgalley in exchange for an honest review. This does not affect my opinion of the book or the content of my review.
This post contains affiliate links you can use to purchase the book. If you buy the book using that link, I will receive a small commission from the sale.
Opposites burn hot enough to melt the snow and ice of an Alaskan winter in this all-new series from USA Today bestselling author Megan Crane.
Quinn Fortune is the official protector of all the unspoiled beauty in Lost Lake, Alaska, as the head of the community trust. A rugged frontiersman through and through, he doesn't do soft. But he can't help his fascination with the pink-clad professor who shows up in Lost Lake seeking his approval for her cheerful outsider's proposal about land that isn't hers. Still, he agrees to consider it--if she can handle a month of good old-fashioned Alaska living. He's betting she'll head back to the safety of the Lower 48 within the week.
Violet Parrish is a thinker, not a doer, but desperate times call for extraordinary measures--like taking on the Alaskan wilderness. In January. Off the grid. With a mountain man hot enough to melt a glacier. The frozen Alaskan tundra should be no match for Violet's determination, but the sheer immensity of the Last Frontier takes her by surprise--as does her attraction to gruff, impossibly handsome Quinn, and the unexpected heat that burns between them during the freezing Alaska nights...
---
I love Violet!
Violet Parrish didn't consider herself to be stupid. She was a scientist. With degrees. Plural. But maybe she was a little lonely which is how she fell for Stuart's charming lies and talked all about her Institutions big research project and how he ended up posting all their findings as his own.    Violet needs to redeem herself before the annual conference.  Desperate times call for desperate measures.
And that's how she ended up standing in the remote (really remote) Lost Lake, Alaska looking into the hard eyes of Quinn Fortune. She wanted to discuss preserving the surrounding lands with a conservation trust but he wouldn't talk about it unless it was over a beer in his favorite bar.  In Lost Lake, Alaska.   Challenge accepted!   But while Quinn looks at Violet all wrapped up in her bright pink snow gear  like he wants to toss her back out into the snow, Violet wonders if she might have been a tad too hasty in booking her flight.
Now that she is here, Quinn ups the challenge.  If Violet can last a week with him in the Alaskan wilderness, he will discuss her proposal. Whether or not he is really amenable, she will need to wait and see but Violet can't resist a challenge and stays.   Except Violet never imagined how moved she would be by the beauty of the land, and  it is not only the draw of the man challenging her that makes her want to make Lost Lake her new home.  Now if only she can convince Quinn that she wants to stay.
I really loved Violet and her there's-no-stopping-me attitude. Spending a week in the wilderness with the mountain man hermit sort of person?  Just smile. Freezing outhouses in the middle of the night.  No problem.  No running water.  She's ready.   Needing the melt and heat snow to take a bath.  Pure spa-like luxury.  Quinn figured he would scare off the city girl by taking her to a rough cabin with no running water and an outhouse.  Violet was determined to excel at anything Quinn tossed her way but it turned out that Violet was so excited to live out her Little House on the Prairie fantasy. Every challenge Quinn throws her way, she meets with her intelligence and a smile, and each smile frazzled the stoic Quinn more and more.  Quinn couldn't figure out why his family, who usually threw out the un-welcome mat for strangers, was being so welcoming to Violet until he realized his own attitude towards Violet showed that he was hoping to keep her.
While I personally would never enjoy this wilderness life, it was fun to see Violet blossoming and falling for the harsh beauty of Alaska and taming the grouchy mountain man.
---
Favorite Scene:
He'd hiked the the mile back to his real cabin and had reminded himself, the way he always did, who he was. What he was doing. That he was lucky to have a purpose to his life the way his ancestors had before him. He was a fortune.
Not only a Fortune, but as his brother had said, the unofficial mayor of Lost Lake with the law degree to prove it.
It didn't matter that Violet was pretty. That she listened to him and seemed fascinated by the smallest things, like every last mundane detail of life here. He liked all of that about her, sure. But that didn't make her suited for Alaskan frontier life.
And he shouldn't have been considering that train of thought in the first place when he knew she wasn't here to stay.
He'd seen his brother's plane fly overhead, and he'd known his time with Violet was coming to an end. Because they all lived out this way because they liked the peace and the ability to do as they pleased. Except when they could meddle in each other's lives.
He'd known exactly what Bowie was going to do.
What he hadn't anticipated was Violet's reaction.
As he watched, she began to dance around the cabin, fists in the air again.
Everything about her was soft and ridiculous. And he wanted her bad, all the same. Beneath him. Above him. However she wanted his hands on her would do. "Looks a lot like a premature victory dance to me, darlin'."
"Nothing premature about it," she replied, almost like she was singing. "I'm an Alaska natural. Just like I told you I would be."
"It hasn't been a week, Violet. This is the interior. When the weather changes, it changes fast."
And the same went for people's feelings about the place, particularly when they weren't from here. He knew about that firsthand.
Violet stopped her little dance, and that was too bad. He could have watched her do that all night. He would have like to watch her do it naked. She faced him then, flushed and happy and pretty clearly drunk on her own success.
She made his chest hurt.
She made him want her in more ways than one, and that was nothing short of dangerous.
"It seems to me the primary barrier to spending time here is the weather," she told him, readjusting her glasses before they slid off her nose. And she sounded like who she was. An uppity professor who spent far too much time with her nose in a book. "Obviously, I have that handled. Up to and including trips to the outhouse in the middle of the night when I don't even want to know how far below zero it is. My hypothesis is that it could be a week, it could be a month. Hell, it could be a whole season. I'm not afraid of Alaska, the end."
"You thought my brother was a bear, Violet."
"Bears have teeth and claws and consider humans food. Or they could. Weather is just weather. It doesn't want to eat you, it just doesn't care if you die." She waved a hand. "Totally different."
"I think this is another example of your mouth writing checks your body can't cash."
"Says the man who's afraid to go to his mother's house for dinner."
Related Posts