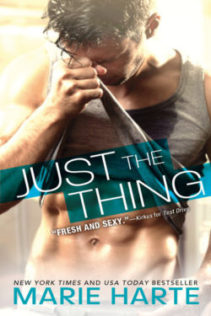 Just the Thing (The Donnigans, #2)
by
Marie Harte

Series:
The Donnigans #2
Published by
Sourcebooks Casablanca
on July 4th 2017
Genres:
Contemporary
Pages:
352
Format:
eBook



I received this book for free from in exchange for an honest review. This does not affect my opinion of the book or the content of my review.
This post contains affiliate links you can use to purchase the book. If you buy the book using that link, I will receive a small commission from the sale.
A FLING MIGHT BE JUST THE THING... Gavin Donnigan left the Marine Corps a shell of a man, hounded by guilt for deaths he couldn't prevent. But teaching a self-defense class at the local gym brings some stability to his life--along with a gorgeous leggy blonde who won't give him the time of day.

Zoe York lost her twin sister to a freak car accident a few months ago. She's been struggling to bury her grief, but it isn't until she signs up for a self-defense class with its distractingly hot instructor that she begins to come out of her shell again. With the memory of her sister telling her to live a little, Zoe decides a fling with buns-of-steel Gavin Donnigan might be just the thing.

Soon they're sparring both in and out of the gym. And for the first time in a long time, each is looking forward to tomorrow.
---



If you are a fan of Marie Harte's various series, this will be a special bonus for you.
Gavin Donnigan has returned from the war with more scars on the inside.  He was wounded and being treated at the hospital when his buddies were killed by a road bomb.  They were more than just army buddies, these were his friends growing up.   Once home, he was sinking into booze and women to forget his pain, but his future sister-in-law convinced him to get counseling.  Working at the gym helps as well, except now he is surrounded by some of those mistakes he was making.
He wants to get to know Zoe a little better, but after one too many brush offs, he realizes he might have pushed over the line from flirty to stalker and he backs off.
Zoe is also working through her own grief at the loss of her twin sister.  And just when she decides to be more adventurous, like her sister would, and take a chance on the hot, funny instructor, he backs off.   But Zoe is now determined to take that chance and she goes after Gavin and hopes that doesn't put her into the category of all the other notches on his weight bench.
Zoe has nothing to worry about because Gavin wants her to know that he wants more from her than just one night and goes above and beyond to make a first date she will remember.
Zoe and Gavin work hard to try and build something between them, and while Zoe is mastering her grief, Gavin tries to tackle his past to quickly and starts to slide back into the depression.  He can only hope to recover himself before he looses something special with Zoe.
The best part of this story was the continuing prank wars between the Donnigan siblings which starts to spread out to include the parents.   They all get pretty creative.
After a slow start, Zoe and Gavin are sweet together but they don't have an exciting buzz.  Gavin's issues make him pull away for days at a time leaving Zoe feeling a bit stressed, not knowing his feelings or where they stand long-term.
If you are a fan of Marie Harte's other series, the McCauley Brothers and Body Shop Bad Boys,  we have a crossover of all three series at the wedding of Del and Mike.  All of the McCauley's are there and the boy from Del's shop are there to celebrate.
---
Favorite Scene:
He held out a small padded shirt.
"What's this?"
"This is called payback. And a chance for utter annihilation against the enemy."
"I thought we were going to dinner with your parents."
"Oh, we are. All of us are. You, me and Zoe Jr."
She stared at the padded shirt, realizing it was actually a shirt with a fake pregnant belly. "Huh? Oh no. No way. I can't meet your parents pretending to be pregnant!"
"Sure you can. Look. I have to win this thing. It's a point of honor. Besides, they can take a joke. Trust me."
"No."
"Honey, you do this, I'll give you so many orgasms tonight, your legs will fall off."
She laughed. "Um, I need those legs." Then she realized she'd have an excuse to spend more time with him without seeming desperate. "Hmm. Well, there's one thing. If you promise to go with me tomorrow and help, I'm in."
The guarded expression on his face she'd expected. "Go where? Help with what?"
"A blind yes or no, Smoky. What's it going to be?"
He narrowed his yes, but she refused to budge. "Fine. I"m in."
"Great." She gave him a wide smile. "We can't be up too late tonight. We have to be there early tomorrow morning. And I'll need you for most of the day. Until at least four."
"Fine. Sure. Put this on. We get one over on my mother, and you will have achieved legendary status. Oh, Theo and Hope will be there tonight too. They're in on it."
"Great. How is it I'm the last to know?"
"Come on. Let's do this."
Related Posts