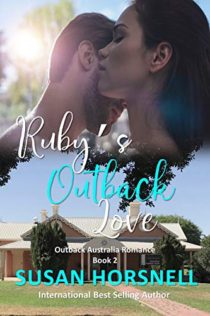 Ruby's Outback Love
by
Susan Horsnell

Series:
Outback Australia #2
Published by
Self Published
on July 12, 2019
Genres:
Contemporary
Pages:
210
Format:
eBook


I received this book for free from in exchange for an honest review. This does not affect my opinion of the book or the content of my review.
This post contains affiliate links you can use to purchase the book. If you buy the book using that link, I will receive a small commission from the sale.
Bourke, a small country town. The gateway to outback Australia.

Where skies are bluer than blue, flies and mozzies abound and wide open spaces and fresh country air regenerate the spirit.

It was this small town her heart led her back to after fifteen long years away. The place where Ruby's heart had always belonged.

Securing a position with the Flying Doctor Service and working for a local doctor was like a dream come true - she was ready to give back to the people who had done so much to help her.

Her own home, jobs she loved, a family and friends she adored. Life was good, until.....

Phil was a man who had grown up with Ruby and he'd had his eye on her for years.

He'd intended to marry her as soon as he had qualified as a cop and she had qualified as a nurse.

So, what caused everything to go so horribly wrong?

Will a disaster bring them together? Or will they forever be separated by mistakes from the past?
---
More romance than Book 1, less doctoring.
I loved Ruby when we met her in Book 1. She is no nonsense and dedicated, not only to nursing, but to her people. Once she earned her master's degree, she walked into the offices of the Flying Doctor Service and demanded a job so she could help the indigenous people of Australia, who are usually located far outside of the cities and who usually don't trust the doctors. Ruby is amazingly refreshing character and I was excited to see how her story unfolded.
My complaint with Book 1 was that, because it was such a short story, there was not enough build on the romance. In Ruby's story, she and Phil grew up together. They were neighbors, they went to school together and their families hung out together. So we understand that Phil admired young, smart Ruby and fell in love with her. Before she left for college and he returned to Police training, they had a night of passion where Phil confessed his love and intended to marry her once they both finished their education.
Everything is wonderful until Phil's ex-girlfriend shows up and tells him she got pregnant from their night of passion before he went to see Ruby. Phil is devastated because he wants a life with Ruby and his parents tell him he has to "do the right thing" and marry the pregnant ex-girlfriend. Unfortunately, Phil is too much of a chicken to call Ruby and tell her what happened because he know she'll be hurt so Ruby finds out by accident when she calls looking for Phil and is told he is at his engagement party. Yikes! Ruby being the no nonsense girls that she is, she let's Phil know very firmly that he can go drop dead.
Now, might I suggest that although Phil is young and stupid, and having sex with your ex-girlfriend, who has been sleeping with other people and not using a condom is the height of stupidity, but he kind of deserved everything he got because what kind of man is sleeping with your ex-girlfriend just before you go home to tell the woman you love that you want to have a future with her. That goes under the same dumbass principle of having sex at your bachelor party because you aren't yet married, and it really isn't okay to do that. If he knows he loves Ruby and wants to have a life with her, then he shouldn't have fell into bed with the ex-girlfriend. That wasn't a weak moment, that was simply listening to the little brain. So I kind of lost my sympathy for Phil, while feeling for Ruby's eventual heartbreak.
Fifteen years later, When Phil transfers to Burke where Ruby lives, she tells him quite clearly with a fist to the face, that he isn't wanted around town and to never, ever speak to her. Go Ruby!
This story focuses mostly on the history between Ruby and Phil and we have very little time for any real Flying Doctor Service stories. Also since we also spend a lot of time on their history, we only get a very short, "life is short, let's not waste anymore time" make up between Ruby and Phil. After giving us all that backstory, there really is very little romance as Phil tries to win Ruby back.
Overall this story was a let down and it all keeps coming back to the fact that these stories are so short that their isn't enough pages to give us a fulfilling romance as well as dedicate time to the FDS and traveling the Outback. Sadly, it is a waste of a really good premise.
Related Posts