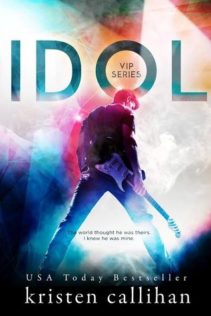 Idol (VIP, #1)
by
Kristen Callihan
,
Anika Klüver

Series:
VIP #1
Published by
Tantor Audio
on September 29th 2020
Genres:
Contemporary
,
Rock & Roll
Format:
Audiobook
Narrator:
Jeremy York
,
Lynn Barrington
Length:
9 hrs 59 min



I received this book for free from in exchange for an honest review. This does not affect my opinion of the book or the content of my review.
This post contains affiliate links you can use to purchase the book. If you buy the book using that link, I will receive a small commission from the sale.
Libby
I found Killian drunk and sprawled out on my lawn like some lost prince. With the face of a god and the arrogance to match, the pest won't leave. Sexy, charming, and just a little bit dirty, he's slowly wearing me down, making me crave more.
He could be mine if I dare to claim him. Problem is, the world thinks he's theirs. How do you keep an idol when everyone is intent on taking him away?
Killian
As lead singer for the biggest rock band in the world, I lived a life of dreams. It all fell apart with one fateful decision. Now everything is in shambles.
Until Liberty. She's grouchy, a recluse—and kind of cute. Scratch that. When I get my hands on her, she is scorching hot and more addictive than all the fans who've screamed my name.
The world is clamoring for me to get back on stage, but I'm not willing to leave her. I've got to find a way to coax the hermit from her shell and keep her with me. Because, with Libby, everything has changed. Everything.
---
I am glad I was finally able to check this off my TBR list.
Killian James is the lead singer for Kill John, one of the biggest rock bands ever. He and his best friends were on top of the world or so he believed until Jackson tried to commit suicide a year ago. Nothing has been right since, and there hasn't been any music in Killian's life. Killian and Jackson wrote most of their songs together, and no one wants to look too closely at what pushed Jackson to make his attempt and everyone fears doing or saying the wrong thing.
That's what leads Killian to get a little too drunk and crash his bike on the lawn of the woman across the street from his summer rental property.  Killian wants to get away from everything. The band is supposed to go on tour again soon but he just isn't feeling the music anymore.
Liberty Belle feels like she should be excused for not having recognized one of the biggest rock stars around. First of all, they never put their pictures on their albums and she should know because she has them all, and two, because nothing about the drunk, stinky, bedraggled bum who tore up her front lawn screams major rock star. Killian loves that Libby doesn't recognize him. It has been so long since he has lived without the spotlight, it is so nice not to be catered to, or treated like he is something special and Libby definitely lets Killian know just how unspecial she thinks he is.
He might have kept things that way between them but when he hears Liberty singing on her porch, he just can't stop himself from joining in.  It's the first time in what feels like forever that music has lit his soul and of course, it is Libby who would be the muse to bring it back to him.
Killian needs to leave soon to join his band, but he doesn't want to walk away from Libby. He needs to convince his favorite wallflower that she deserves her turn in the spotlight and he will be happy to share it with her.
THOUGHTS:
I have had a copy of this on my TBR list for awhile now along with Book 2. When I was offered a review copy of the new audiobook release, I jumped at a chance to finally check  this one off my TBR list.  I enjoyed the quiet time that Killian and Libby spent together getting to know each other and pulling Killian out of his funk. The story made it easy to understand that life as a rock star looses its shine all too quickly and how normal and boring sudden has an appeal.
You also understand how hard it is for Libby to believe that a big rock star would find anything interesting about plain old her, especially when Killian wants her to come on tour with Kill John and play with them.  No matter how frustrated Killian is about it, it is quite understandable that she doesn't want to show up as Killian new girlfriend.    She know that it will be hard enough for his bandmates to accept that she just happened to meet Killian who was impressed by her singing but new girlfriend being dragged into the band brings up thought of Yoko Ono and she doesn't want to step into the middle of Kill John's success.  Even I as the reader had a hard time with Libby being such a great unknown performer who can write her own songs who Killian just happens upon by accident.  Yes, her mother was a backup singer and her father played studio guitar in his day, but the 1 in a million shot of Killian and Liberty meeting and Liberty shooting up to her own stardom was the stuff of romance novels.
Regardless of this meet-cute and the band of all nice guys, it was an enjoyable story and I am glad I was finally able to enjoy it.
---
Favorite Scene:
Her disembodied voice comes from the bedroom. "You know what sucks?"
"When cable networks decided to split TV seasons in half?" I peel my shirt off and toss it aside, heading her way. "I mean what is that shit? Don't make us pay just because you have a slow-as-fuck production schedule."
"Don't really watch TV."
Halting in the doorway, I press a hand to my heart with a pained groan. "That's it; we can't be together anymore. And what the hell are you doing?"
Liberty stands on her tiptoes at the top of the bed, her sweet ass peeking out from under the edge of one of my T-shirts while she tries to reach something on the ceiling. "What I wouldn't give for a broom. I'm trying to get this moth–"
My yelp effectively cuts her off. I scramble back to the edge of the door. "Moth? Where is the fucking moth!"
Liberty turns, her mouth hanging open. "What on Earth?"
A cold sweat breaks out over my skin as I eye the tiny hell devil fluttering around the pot light over the bed. Jesus, did I miss that? It makes a move my way, and I shout, jumping further back. "Kill it, woman! Kill. It!"
Libby sputters out a laugh then does a double-take when I fall onto the arm chair. "You're serious."
I don't take my eyes off Mothra."Are you going to kill it, or am I calling security?"
Snickering, she picks up a pillow.
Horror arcs through my gut. "Not the pillow–" She smashes it into the moth. And I shudder. "Damn it, I'm not using that pillow. Ever again."
"We'll wash the case."
"Not good enough. Put the pillow in the hall."
Libby gives me a side-long look as she grabs a tissue and cleans up the little moth carcass. Or I think that's what she's doing. I can't watch.
"Is it gone?"
Libby's warm thighs slide over mine, and her weight settles on me. Even though I'm still creeped out by the moth previously hanging out above my bed–just fucking waiting for me while I slept–my hands immediately seek her, smoothing over the soft skin and grabbing hold of her ass. God, I love her ass, plump yet tone. I could squeeze all day.
She makes a little throaty noise, her arms coming up to wrap around my neck, and heat flares up my thighs. I tug her closer, wanting her over my dick. She doesn't resist, but she's definitely distracted.
"What's with the moths?" she asked, placing a soft kiss at the corner of my eye.
It's weird to shiver with both the pleasure of her kiss and revulsion for the moth. As good as she feels, an intruder moth has the power to send me running. I grimace and concentrate on her scent, her warm skin. "I hate them."
Libby makes a soft sound. "I got that. Why?" Her fingers trace patterns through my shorn hair.
"It's stupid." I kiss my way up her neck. "I was nine. At summer camp. A moth flew in my ear, started fluttering around…" A full-body shudder threatens to dislodge Libby from my lap, and I squeeze her tight, pressing my face into her hair. "Let's not talk about it."
She chuckles, her hands roaming over my shoulders, my nape. "Poor Killian. Don't worry; you're safe now."
I grunt, nudging her with my hips. "I'm not convinced. Kiss it and make it better, Libs."
I can almost feel her smile. "Where does it hurt, baby?"
"The tip of my dick."
Libby hums, rocking against said dick. "Hmm…So a moth crawled up your–"
With a yell, I leap up, sending her butt to the floor, where she cracks up as I jump away. I glare as my chest lifts and falls. "You are fucking evil. Evil."
Related Posts