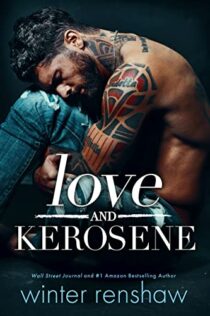 Love and Kerosene
by
Winter Renshaw

Published by
Montlake
on October 11, 2022
Genres:
Contemporary
Pages:
254
Format:
eBook
Source:
Author



I received this book for free from Author in exchange for an honest review. This does not affect my opinion of the book or the content of my review.
This post contains affiliate links you can use to purchase the book. If you buy the book using that link, I will receive a small commission from the sale.
Two people find love in the embers of their painful pasts in this slow-burn romance from Wall Street Journal and #1 Amazon bestselling author Winter Renshaw.
For me, family is a curse. My father and brother made my life hell. My mother's untimely death still keeps me up at night. Now that my brother, Donovan, has been killed in an accident, I can forget the past.
The last remnant is the childhood home I've inherited—and which I intend to burn to the ground. The only obstacle? Anneliese Nielsen, Donovan's fiancée.
Donovan left her destitute, and selling this run-down house is her only chance to recoup her losses. I shouldn't care, but…maybe it's her eyes when she sees me. I look strikingly like my brother, a man she loved despite everything.
So we strike a deal. We'll renovate the house together, but she'll have to convince me to sell—or up in flames it goes.
But the more time we spend in the house, the more its terrible history threatens to come out.
And even more dangerous, the harder I start to fall for Anneliese.
---
Nope. This just didn't make sense.
In love and kerosene, Annalise's fiancé Donovan is killed in a car crash. After his death, she finds out that Donovan's whole life was a lie and that he stole the money she gave him to renovate the house.  She's shocked and heartbroken and if that's not bad enough, she gets a knock on the door from a man that looks identical to her dead fiancé, a man who claims he is the brother who she never knew about. For whatever reason Donovan was hiding the fact that he had a brother named Lachlain. Since Donovan is dead, they would never know why he was hiding that fact but the more Lachlain tells her, the more she realizes that Donovan was stringing her along for her money and probably would eventually have left her when the money ran out. Something he has done time and time again with other women. Annalise has gone from heartbroken to feeling betrayed and used, but still determined to rebuild the house that was supposed to be their home, if only to sell it, reclaim her money and go home.
Lachlan only returned to town after he found out about his brother's death so then he could donate the house to the fire department so they could burn it down. Lachlain suffered a childhood trauma in the house which we really don't find out until really late in the story but honestly, he doesn't seem all that traumatized. Yes, his mother died when he was young and his father checked out on Donovan and Lachlain for a long time after her death. His childhood was screwed up and his treatment by his father and brother was atrocious, but is that enough to warrant burning the house down.
Annalise has been struggling to complete the renovations by herself and she convinces Lachlain to help her renovate while she also tries to convince him not to burn the house down. The funny part is as soon as he starts helping with the renovation, Annalise has to go help a friend and she's not helping with any more of the work. It just seemed really odd since the point of the story was that they were supposed to be working together to get the house in shape so she can convince him to sell it but she immediately stops helping and leaves it all to Lachlain. There really wasn't a great connection between the two of them.
Thoughts:
You know that I enjoy all kinds of fantasy series. I believe in the vampires. I believe your story of werewolves. I believe your magical world, and your fairies and all the other things that make up fantasy stories. If I'm into the story, I'm very content to just go along with whatever you tell me, but the actual basis of the story has to make sense, especially when we're talking the normal world of a contemporary story.
I picked up a copy of this story thinking that was very interesting premise about what would happen between these characters where she can convince him not to burn down the house but there were just things that didn't make any sense to me. Actually, all of the story drama just didn't make sense
There are two issues with this story that stand out. The first is the fact that everyone tells Annalise that she needs to prove that she gave the money to Donovan. In what backwoods are we not able to get copies of bank statements and checks? Yes the current bank account is in his name but she should be able to contact her bank in Chicago and get a copy of the check that was used as the deposit, or she can then start her her lawsuit, then get a copy of the bank statement showing that the initial deposit is from her check. She also kept records of all the things she bought for the renovations and everything was paid out of that bank account thereby proving that they were using the expenses on the house. They make it seem like there's no way she would ever prove that the money she gave to Donovan was her's and used for the renovation. She didn't give him cash when she moved from Chicago and she would've had all her money drawn out in a bank check, more than likely in her own name unless she's a complete moron. Maybe she is because she didn't understand that you need to go to the bank when you open a new bank account and sign signature cards, etc. nor did she ask for copies of the bank statements so she could keep an eye on their spending. This whole drama made no sense, nor the fact that no attorney would touch the case and help her get her money back. Especially since Donovan was dead, and couldn't claim that she gave him the money as a gift for renovating his house.
The second issue was Lachlain's desire to burn down the house. Now maybe when he still thought of his childhood house was falling apart since his father didn't take care of it. You might think it must be a shack and you need to just burn it down but you'd be wrong.   And no matter what kind of childhood trauma he might've suffered in that house, the fact that it's been renovated and the foundation was now solid, the kitchen was redone with custom cabinets and new bathrooms.  To me, once Lachlain installed custom made cabinetry in the kitchen, the question of burning it down was moot. Who would put that kind of money into a house and burn it down. Even if this is some backwoods town, a four bedroom, two bath house which has been newly renovated should get at least $300,000.00. The fact is that Lockland was just flitting around Europe for the last decade, wouldn't it be better to sell the house and have $150,000.00 to live off of rather than doing odd jobs here and there off the books. In fact, that would be the best revenge against his father and brother, to live carefree with the profits of the house. Again, this makes no sense that she had to fight him about selling the house. I could see his initial thought of burning it down made sense when it was falling down, but once he saw the improvements, it was stupid to still discuss burning it down.
And I have to ask, was I the only 20-year-old worried about health insurance because Annalise's job is thinking up baby names for a living. Yes, you heard me. People would pay her to think up the perfect names for their baby.  WTF?  And Lachlain is just wandering Europe and working odd jobs off the books. Neither one of these guys had a regular job, steady income or health insurance and a 401k. No one seems to be worried about those kinds of things? Really?
While the elevator pitch for this story held a lot of promise, the actual written story didn't make sense and left me saying "What?" way too many times.
Related Posts