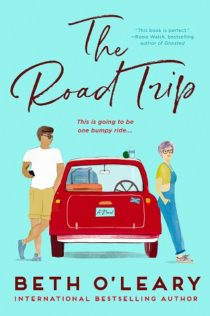 The Road Trip
by
Beth O'Leary

Published by
Berkley
on June 1, 2021
Genres:
Contemporary
Pages:
400
Format:
eBook



I received this book for free from in exchange for an honest review. This does not affect my opinion of the book or the content of my review.
This post contains affiliate links you can use to purchase the book. If you buy the book using that link, I will receive a small commission from the sale.
Two exes reach a new level of awkward when forced to take a road trip together in this endearing and humorous novel by the author of the international bestseller The Flatshare.
What if the end of the road is just the beginning?
Four years ago, Dylan and Addie fell in love under the Provence sun. Wealthy Oxford student Dylan was staying at his friend Cherry's enormous French villa; wild child Addie was spending her summer as the on-site caretaker. Two years ago, their relationship officially ended. They haven't spoken since.
Today, Dylan's and Addie's lives collide again. It's the day before Cherry's wedding, and Addie and Dylan crash cars at the start of the journey there. The car Dylan was driving is wrecked, and the wedding is in rural Scotland--he'll never get there on time by public transport.
So, along with Dylan's best friend, Addie's sister, and a random guy on Facebook who needed a ride, they squeeze into a space-challenged Mini and set off across Britain. Cramped into the same space, Dylan and Addie are forced to confront the choices they made that tore them apart--and ask themselves whether that final decision was the right one after all.
---
Absolutely not a fan of this trip.
Addie Gilbert and her sister, Debi, are the only redeeming part of this story, and any stars given are only due to the writer's ability to keep me reading to the end of a story I just wasn't enjoying.
Addie and Debi are traveling from England to Northern Scotland for their friend Cherry's wedding. Cherry was Addie's roommate at University. This is an interesting mix since Addie's family are middle class while Cherry's family at least has the money to own a large vacation villa in France and rent a castle in Scotland for the wedding. While in traffic at the beginning on their approximately 8 hour journey, Addie's mini cooper is rear-ended by a large Mercedes driven by none other than Addie's ex-boyfriend Dylan and his BFF Marcus. Their car is now toast. They are also on their way to Cherry's wedding so Addie agrees to let them squeeze in for the ride.
The book is broken up into Now and Then and as we travel up toward Scotland, which is not a smooth ride as you can imagine, not only with ex-boyfriends in the car but every kind of traffic problem you can imagine, including someone hoping out to pee on the side of the road and being left behind when the traffic stop (of course) suddenly opens up. When we hit the Thens, we learn how Dylan and Addie first met, how their relationship developed and ultimately what tore them apart.
I really liked level-headed Addie, who meets Dylan on her last summer vacation before she begins teaching. Her friend, Cherry, had Addie and her sister working as the caretakers of the French villa for the summer. Dylan's family rented the villa for several weeks but Dylan was the only one to show up as he family does not get along. Addie seems very mature and confident but eventually we do see some cracks as she decided to be carefree and sow some wild oats that last summer and worries that Dylan will be bored with average Addie once they return to England.
My biggest problem with this story is with Dylan and especially his friend Marcus. They and their friends suffer from poor little rich kid syndrome. Their families have so much money and they can't spend it quick enough. They also don't seem to have real life problems so they create them with drug abuse and undetermined futures. Dylan graduated with a English Degree in poetry and no idea what to do with his life. They get drunk, do drugs and travel mindlessly with no concerns. At first, after Dylan's vacation in France is over, he and Marcus go to Asia to backpack around and just keep extending their trip because he doesn't want to deal with this father's constant harassment of what he is going to do with his life. The father is a real piece of work who ignores the fact that his oldest son is gay, writing him out of his inheritance and when came out at 12 and not allowing his fiancé to come to any family gatherings. He is a tyrant and verbally abusive. What I don't understand is the extravagant spending. While I don't believe Dad has a title, they live in a large estate house, which the father refuses to sell to a preservation society, even though they can't afford the upkeep or heating the entire building and have wings closed up and unused. If your wife is wearing layers of sweaters in the house because you can't heat it, why are they renting an expensive French Villa for weeks? This is also why he is insisting that Dylan get an actual job. Between the abusive father who constantly tells him that he is worthless, and the lifestyle of the rich and lazy, Dylan is a mess. Maybe it is being an older reader, but I can't see the attraction to Dylan. I mean, I understand when Dylan and Addie first met that it was attraction and lots of sex, but between the social/economic differences and Dylan's many, many issues, I can't see why Addie didn't just walk away, especially considering Marcus.
Now the biggest issue I had was with Marcus. Part of the problem is that Dylan and Marcus were "like brothers" and inseparable but it comes down to Marcus living life with no boundaries, moral compass or consequences and dragging Dylan down with him. Since they shared women before, Marcus is unhappy when Addie says No Way! Marcus then spends the next two years sabotaging Dylan and Addie's relationship. The big question that kept me reading was whether that was because Marcus was obsessed with Addie or with Dylan or both? Like I said, Marcus doesn't like to be told no and he also didn't like when his buddy Dylan was otherwise engaged spending time with Addie. Marcus kept whispering in Dylan's ear about how manipulative Addie is, how controlling, all the while trying to drag Dylan down into drunken parties or simply spiraling himself with drugs and alcohol until Dylan had to run and rescue him. Dylan and Marcus's relationship was extremely unhealthy and I can't understand why level-headed Addie was allowing herself to be dragged down with them.
We do find that Now Dylan was turning his life around and was a much more grown up and interesting character so Dylan and Addie truly needed the time apart to be ready for a meaningful and long lasting relationship even though Marcus was still an obstacle to be dealt with.
I will say that although I wasn't a fan of Dylan or Marcus, the author's decision to bounce back and forth between the time line and adding issues to a simple road trip keep me going through some of the slower parts and keep me wanting to find out what ultimately destroyed their relationship. While I did read the entire story, I can't say I really enjoyed it.
Related Posts