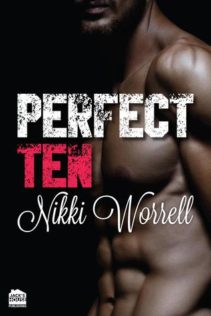 Perfect Ten
by
Michelle Craig
,
Nikki Worrell

Published by
Jack's House Publishing
on August 15th 2016
Genres:
Contemporary
Pages:
252
Format:
eBook



I received this book for free from in exchange for an honest review. This does not affect my opinion of the book or the content of my review.
This post contains affiliate links you can use to purchase the book. If you buy the book using that link, I will receive a small commission from the sale.
---
Sexy and sweet. I enjoyed the characters growth in this story and I am very happy to say I finished a very enjoyable story.
When I began reading the first few chapters of this story, I was certain that this would be destined for the DNF pile. The main character Joe Starling is an escort. He swears he loves women but it is more that he loves having sex. We start out with an accounting of his sexcapades and how the poor, struggling 19 year old couldn't resist an offer of $500 to escort a 21 year old to her birthday party. He ends up having sex and getting paid. Win-win for Joe and a new career is started.
While Joe constantly reminds himself that he is not a prostitute before his dates, he always ends up having sex since his big head isn't in charge of the body. At this point, you can't help but think that Joe is one hot, sexy jerk-off. Ahhh…but don't put the book down yet.
Enter Faith Graham a very attractive but plus-sized girl who needs a date to her sister's wedding. In the world of Beverly Hills where Faith lives with her stick-thin model sisters and disapproving mother, Faith has spent her life equating her self-worth with the scale. She doesn't see her lovely strawberry-blonde curls and beautiful eyes. She only sees a woman too fat to get a date. Her friends, who argue with her constantly about her self-worth, set up the escort since they won't allow her to go alone into the nest of viper she calls a family.
Joe who is now 27 and the top talent with the escort service is asked to substitute for Faith's date who had a family emergency. Faith takes one look at Joe and declares no way would anyone believe that someone who looked like Joe would be dating her and she wants another escort. One look at Faith and Joe feels a zing because all Joe sees are the lovely curls, the beautiful skin and the sexy curves. Joe has no intention of letting her back out of their date insisting that he is the only escort available that day.
From this point on we see and enjoy the growth of both of these characters, Joe begins to realize that he is embarrassed by his life choice of escort and man-whore. He is done with being fondled by different women and he wants someone like sweet Faith in his life. His focus becomes what do I do to earn this women's affection and what can I do to make her proud of me. With Joe's constant insistence that there is nothing wrong with her body and her curves, Faith very slowly accepts that just because her mother and sisters don't approve, it doesn't mean there is anything wrong with her.
While it was insta-attraction, it wasn't insta-love. We have many statements from Joe that he wants to have someone like Faith in his life, and he wants to give them a try to see where they can go. As they each change their lives, thanks to each other, we see their relationship grow into love. I always prefer to watch the characters fall in love vs. insta-love stories
But don't think this story is all romance, roses and hot sex. When your boyfriend-to-be is the top escort and man-whore in town, no one want him to retire, not the man who runs the escort service and not the clients who have been enjoying the E-ticket ride known as Joe Starling.
THOUGHTS:
While my initial thoughts on this story were "This guy's a jackass and I can't listen to him preen and sing his own praises for another 225 pages," I am glad I held on for the meet. Joe and Faith both needed personal growth and with the help of each other, they were able to become a wonderful couple. They certainly grew on me and I really enjoyed the journey that these characters took from start to finish.
I would recommend giving Joe and Faith a try.
---
Favorite Scene:
If I was reading Faith's body language right, and I'm sure I was, she was nervous as hell at the sight of her family's cabin.
And let me tell you…cabin is not really an appropriate word for what we drove up to–it was a huge dwelling made of logs, but the similarity to a simple cabin ended there.
There were dark green shutters on each window out front, which wasn't just a few. I counted twelve, and that didn't include the full-size triangular window on the third floor. The grassy lawn in the front gently sloped down to the lake, where a dock, big enough to tie down three large boats, and the accompanying boathouse sat. A tiki bar, complete with fire pit and ample seating, was filled with people all laughing and having a good time. Kids swam in the lake, and more adults played horseshoes off to the side.
"What's wrong, sweetheart? It looks amazing here."
"You're just going to tell me I'm wrong and I shouldn't worry. Let's just go." Her hand was on the door handle, but before she could open it, I stopped her.
"I'm sorry I do that. I'll try not to, or at least do it in a different way. Tell me what's bothering you."
"Well, you make me feel beautiful, you know?"
"Not seeing a problem so far. You are beautiful. More beautiful than anything we'll see down there." I didn't even need to look to see who as there. No one compared to Faith for me. No one.
She gifted me with a smile and then continued to tell me her fears. "On a whim, I bought a sexy bathing suit. Believe it or not, it's a two piece."
"And?"
"Oh, come on. You know how they all think I'm fat!" And that was one of the best things that'd ever left her mouth. Think about it. She said how they thought she was fat.
"And?" I was not going to give her thoughts any significance. "Oh."
"You finally got it?"
"You're worried about the men ogling you? I'll shoot them all daggers if they look at my girl the wrong way."
She gave me the laugh I wanted. "The hell with it. You're right, but let them look. If they're not put off by my…extra curves, let my sisters see how men look at me!"
How could I not fucking love this woman?
Related Posts