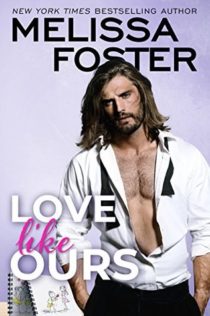 Love Like Ours
by
Melissa Foster

Series:
Sugar Lake #3
Published by
Montlake Romance
on September 11th 2018
Genres:
Contemporary
Pages:
252
Format:
eBook



I received this book for free from in exchange for an honest review. This does not affect my opinion of the book or the content of my review.
This post contains affiliate links you can use to purchase the book. If you buy the book using that link, I will receive a small commission from the sale.
One wrong move, and she meets a guy with all the right ones…

Talia Dalton lives her life on cruise control. Despite her successful career as a professor, she prefers protecting her broken heart to taking chances. She's calm, cool, collected, and steady. Until the morning she takes her eyes off that familiar road and almost runs over the sexiest man she's ever seen. It may not be the best way to start the day, but it might be the type of shake-up she needs.

Male dancer Derek Grant has goals, and nothing is going to get in the way of achieving them. As a graduate student and the sole caretaker of his ailing father, he hasn't much time for relationships. Then Talia crashes into his life. Sweet, pretty—and so buttoned-up that he can't wait to help her cut loose.

For Derek, falling in love was a beautiful accident waiting to happen. And it might be exactly what Talia needs—if she's willing to let go of the past and embrace every surprise Derek has to offer.
---
A sweet romance and a wonderful couple. This story deals with real issues of how dementia effects the whole family.
Talia Dalton knew always knew her sisters would drive her to distraction but never did she imagine that they would literally drive her straight into a mountain of a man. When straight-laced college-Professor Talia almost runs downs a student she believed her day couldn't get any worse, but then she sees gorgeous Derek Grant sitting in the back of her class and even her fantasy world can't cooperate. She hasn't been able to stop thinking of the most beautiful eyes she has ever seen and now she knows that almost hitting him with her car is as close as she is ever going to get to Derek as teachers can't date their students no matter how tempting.
Derek wandered into Talia's class after recognizing the sultry voice of his vehicular attacker and stayed because her teaching is as mesmerizing as her voice. It has been a long time since Derek was so intrigued by someone and he realizes he has to come clean about not really being a student since Talia is insisting on keeping him at a distance.
Neither Talia nor Derek have time for the complication of a romance but both realize they have finally met someone worth making some time for. Talia is busy with helping to get ready for her sister's wedding while teaching her classes as well as filling in for and taking care of BFF who is down and out after surgery.
And Derek's life is focused on caring for his father, whose Alzheimer's is getting worse. That is why Derek is finishing up his degree so that he and his friends can open up an adult day care center so they can help aging parents, like their own who need extra attention but aren't ready for a nursing home.  But taking care of his father is time consuming and doesn't give him the free time for romance that a woman like Talia deserves.
I really enjoy a romance where it is not the H/H who do something stupid as the conflict of the story, but how they work together to fight against some outside force trying to drive a wedge between them. Here Derek and Talia are sweet together and they both believe strongly in family. Derek feels bad that their relationship needs to center on taking care of his father but Talia loves to see Derek interacting with his father and being part of that relationship.
The only thing that makes Talia uncomfortable is the fact that Derek is an exotic dancer. When Derek realized his father needed more care and supervision, he quit his day job as an accountant and picked up a night job as a bartender and entertainer. He knows that Talia isn't thrilled about his dancing but the money is too good and allows him the time to take care of his father and finish his degree.
This is a sweet romance and brings to light some of the hardship of the caregivers of aging parents as well as some of the painful decisions which have to be made. I enjoyed the writing and have picked up a copy of the first story in the series The Real Thing, which is currently on sale for $1.99. This series focuses on the Dalton family.
---
Favorite Scene:
When she turned around, his eyes were drawn to a speck of something brown beside her lower lip. "Come here, beautiful. You've got something…" He reached up and wiped it off.
She covered her mouth with her hand, and her gaze shifted to a bakery box. Embarrassment shimmered in her eyes.
He chuckled. "How many doughnuts did you devour before our date?"
"It's chocolate baklava." She lowered her hand and said, "How hard did you work out before our date?"
"I actually didn't have time to work out." He stepped closer, his gaze lingering on her mouth as she licked her lips. "Can I assume this is chocolate?" He held up his finger,, and she answered with a smile. He sucked the sweetness from his finger, and her eyes flamed. "Tell me, Talia, did the sugar do the trick?"
"No," came out in a lustful rush of minty air.
"Good." He pushed both hands into her hair, framing her face between his palms and gazed deeply into her eyes. "I'm going to kiss you now, so if you don't want me to you have about three seconds to say 'Please don't.'"
Neither one of them blinked as he mentally struggled through two of the longest seconds of his life. She shot up on her toes, grabbed his jacket, and pulled him into the kiss he was already taking. He sank into her sweet, hot mouth, pulling her closer as he intensified his efforts. Her arms circled his neck, and he swept one arm around her, holding her so tight he could feel her heart beating against his chest. He'd thought about kissing her so many time, wondered if she'd kiss like she did everything else, confidently, with a measure of caution but as he kissed her harder, more demanding, taking everything she had to give, she was right there with him, her tongue searching, probing, her body shifting and arching, igniting an inferno inside him. He couldn't resist tangling his fingers into her soft, silky hair, earning the most seductive sound he'd ever heard. It wound through him like liquid fire, stoking his most primal urges.
Their kiss was endless, her mouth was magnificent, and if he didn't break their connection soon, he might never stop. He'd promised her a date, and as much as he wanted to continue kissing her—to carry her up to her bedroom, strip her bare, and devour every luscious inch of her—he forced himself to put on the brakes, easing to a series of languid, intoxicating kisses. When they finally parted, he couldn't stand it, and pressed his lips to hers once more.
They came away breathless, and he touched his forehead to hers, holding her trembling body against him. He couldn't remember a single kiss, a single connection, as powerful as this one.
"Wow," they said in unison.
He pressed his lips to hers again. "Sorry. I just had to get that over with or I might have burst."
"Me too," she said softly, running shaky fingers over her lips as if they still tingled like his did.
Her eyes fluttered open, and he was captivated by the raw emotions looking back at him.
"That was supposed to take the edge off before we met my friends."
"Oh…"
"I don't think it did," he said with a grin.
"Then you're doing better than me. I know it didn't."
They both looked at the bakery box and said, "Sugar!"
Related Posts