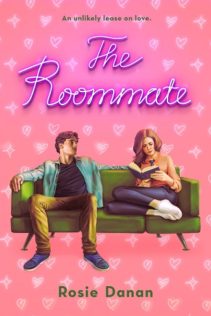 The Roommate
by
Rosie Danan

Published by
Berkley
on September 15, 2020
Genres:
Contemporary
Pages:
336
Format:
eBook

I received this book for free from in exchange for an honest review. This does not affect my opinion of the book or the content of my review.
This post contains affiliate links you can use to purchase the book. If you buy the book using that link, I will receive a small commission from the sale.
House Rules:Do your own dishesKnock before entering the bathroomNever look up your roommate online
The Wheatons are infamous among the east coast elite for their lack of impulse control, except for their daughter Clara. She's the consummate socialite: over-achieving, well-mannered, predictable. But every Wheaton has their weakness. When Clara's childhood crush invites her to move cross-country, the offer is too much to resist. Unfortunately, it's also too good to be true.
After a bait-and-switch, Clara finds herself sharing a lease with a charming stranger. Josh might be a bit too perceptive—not to mention handsome—for comfort, but there's a good chance he and Clara could have survived sharing a summer sublet if she hadn't looked him up on the Internet...
Once she learns how Josh has made a name for himself, Clara realizes living with him might make her the Wheaton's most scandalous story yet. His professional prowess inspires her to take tackling the stigma against female desire into her own hands. They may not agree on much, but Josh and Clara both believe women deserve better sex. What they decide to do about it will change both of their lives, and if they're lucky, they'll help everyone else get lucky too.
---
Nope. I just didn't see the charm of this book.
I know some books just don't resonate with one reader while another loves it but in this case, I just don't understand what anyone found appealing.
In The Roommate, Clara Wheaton moves from New York to Los Angeles because her unrequired love interest asks her if she wants to come out and stay in his extra bedroom. With a Masters Degree in art history, Clara walks away from an internship at a prestigious New York Museum for a man she knows doesn't see her as anything more than a long-time friend. She accepts his offer in hopes that he will finally, after all these years, realize how perfect they are for each other because now they share a bathroom?
Clara gets to L.A. only to find Everett leaving town on a tour with his very, very non-famous band. Everett can waste time with a band that isn't going anywhere because he and Clara are both from very old money, rich families. We will come back to this. So Clara arrives in LA with her bags in hand and receives the news that Everett is heading out of town for a few months and that he has found someone to share the house with Clara while he is gone. Someone he found on CRAIG's LIST!! Considering that you are getting your new roommate from Craig's list, where all good serial killers find their next victim, I can't imagine why this story went any further. Let's start the nit picking.
Everett has enough time to put an ad on Craig's list and interview (did he?) potential roommates but he couldn't pick up the phone before Clara left New York to give her an option of whether or not to come. He waits until she arrives in LA. Not only this but why?  Why would Everett need to sublet his bedroom? He has money. It's not like he is a working class guy who is leaving for a project for work and needs someone to take care of his apartment.   It's not like the house will be empty since he just invited Clara to come. Clara also has plenty of money to buy a return ticket to New York. If she sold all of her furniture and bought a ticket to L.A., I can understand why she would be forced to move into a house alone with a stranger. I know she doesn't realize right away that Josh wasn't a friend of Everett's but just some guy he found, but still.  Clara has an obscenely large trust fund  so she can just return to New York and stay at an obscenely expensive hotel until she finds a new apartment if she doesn't want to stay with her parents.  The reason for her move has left town.  She has no ties, no job and no uninterested love interest.  Why stay? And if she wanted to stay in LA, why not get an obscenely expensive hotel room in L.A. where she could look for a job?
Clara also doesn't drive since she had a bad car accident a few years ago. So, she leaves New York with all its subways and taxis and moves to L.A., where she needs to get a job, but can't get anywhere without a car service which will cost her whole paycheck just to get to work. She has a masters degree. She has to be smart. Really? Did she think any of this through except she wanted a man who clearly had no romantic interest in her?
But Clara is determined to make a success of all her many, many mistakes and makes a list of do's and don'ts for her and Josh, her new roommate, to abide by so they can live in harmony. Again, if everything is so well organized, how did she get herself into this mess?
Josh needed a place to stay because he was off-again with is on-again-off-again girlfriend/co-star and she tossed him out of her apartment. Josh and his co-star/girlfriend are a very popular couple in the porn industry. For a popular porn star, Josh signed a really bad contract with the leading producer of adult movies. Of course, it is too expensive to hire a decent lawyer, so finding a cheap apartment where he can crash until they are on-again makes it worthwhile for Josh to put up with all Clara's rules, like three knocks before you can enter the bathroom. Clara and Josh are coasting along semi-ignoring each other until Clara's aunt sees a picture of Josh and tells Clara that her roommate is a very popular porn star.  Not, "Hey, he looks just like Josh Love, this porn star" or "What does your roommate do for a living?" She recognizes him instantly from one picture.  Her aunt must watch a lot of porn. 
Now, here's where it went wrong for me.   Okay, the whole things was a mess but here is where it goes from not great to WTF?  Ms. Masters Degree goes back to the house, puts on her skimpiest PJ, because everything else was in the laundry, takes her laptop into the living room (not alone in her bedroom) and does a search for Josh Love and pulls up one of his movies. Clara's getting all aroused by it. So much so that Josh makes it into the house and watches her watching the show and she never realizes he is there.  Clara's caught but still tries to deny it. She finally admits it was arousing and eventually confesses that she never orgasmed with a lover. Josh, on behalf of all men everywhere, offers to help her orgasm and Little Miss Manners takes him up on it.  Really?  She needs three knocks on the bathroom door, but all hands on her vagina is okay?? Especially since Clara doesn't do casual sex.  You know this isn't going to end well. Asking a porn star to get you off is much worse than asking a mechanic acquaintance to check that weird noise your car makes. His JOB is to have sex with strangers.  Anyone want to guess how awkward things got between them after she orgasmed and he stands back like do I get O.T.?   Anyone? Anyone?
Josh is hoping to renegotiate his contract and while the bigwigs do offer his considerably more money and will allow him to take side projects, they expect him to do 52 movies the next year. I will say that again, 52 movies for them and then he can do some extras side movies.   52.  Fifty…Two… Is it me? 52 movies sounds like a lifetime achievement not one year's worth.  No wonder he is the most popular.  Is anyone else making porn?  I guess this explains the poor quality of acting in adult films since who has time to learn lines and get into character when you have to make a minimum of one film a week.  Fifty-Two!
While I will admit Josh and Clara had a few fun moments together, they were very few. There really wasn't much of a buzz between them. The rest of the story involves Clara using her huge trust fund playing producer for Josh and his adult film star friends to make videos for a website which will help women and their lovers have better sex; their battle against the big wig producers and how Clara doesn't want her family name associated with making even classy porn for educational purposes.
Amazingly, I did make it through to the end but I had so many issues with the plot of the story, and the characters didn't click with me or each other.
Related Posts