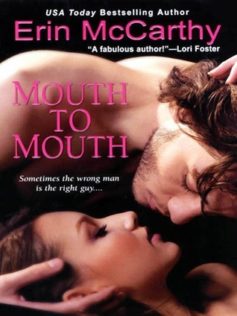 Mouth to Mouth
by
Erin McCarthy

Published by
Brava
on November 1st 2007
Genres:
Contemporary
,
Crime Drama
Pages:
315
Format:
eBook



I received this book for free from in exchange for an honest review. This does not affect my opinion of the book or the content of my review.
This post contains affiliate links you can use to purchase the book. If you buy the book using that link, I will receive a small commission from the sale.
In Love, There's No Such Thing As A Simple Plan

Rule #1: Cops maintain their distance.It was just supposed to be your average stakeout. My partner and I would scope out both the coffee shop and Laurel Wilkins, the latest target of con man Trevor Dean's scheme to meet women online and bilk them of their money--and everything else.

Rule #2: Cops think fast on their feet.So I went inside to get a better look. So she happened to be gorgeous with a body that made me temporarily forget how to order coffee. So she knew my name-Russ Evans-and hugged me like we were more than friends. So what the $#@ is going on?

Rule #3: Cops never, ever get involved.At least she's willing to offer herself up as bait. All I have to do is keep her safe--and keep my hands off. Anything else would be against the rules. And oh so tempting...
---



Sweet, Sexy romance with a bit of excitement and intrigue.
Since I no longer have any rules or deadlines to meet, I thought I would grab a book that has been in my Nook library that I wanted to read and just didn't have the time to go back to.  Turns out that is has been on my shelf for almost a decade.  This was originally written in 2005 and it was funny how things are so different now and how it would have changed this story if it was written in 2017.   Things such as the Detective not having text messaging or even an email or even having a computer, and Laurel was having a problem with her dial up internet.
Laurel met a man online in a chat room and had plans to meet him at the local coffee shop. What Laurel didn't know is that the man she was expecting, calling himself Detective Russ Evans, was really a con-man who bilked women out of their money. She also didn't know that the police had information about her intended meet and were staking outside the coffee shop.   Laurel is stood up by her con-man, but when the real Russ Evans walked in, Laurel ran up and hugged him and introduced herself, surprising Russ.
It seemed that one of Laurel's friend knew the real Russ Evans from High School and Laurel was able to look him up in the yearbook. (Again, life before social media and Facebook.)
Something about Laurel sets off Russ's need to protect and Russ decides to let Laurel know that the man she was expecting was a con-artist and that she should no longer contact him.  Laurel, who is deaf and who has secluded herself in her mini-mansion for the last few years, was mostly hoping to meet a man so they could have some sexy naked time.
Russ is shocked (life before Tinder), because he was thinking sexy naked time would be awesome, but also he had that problem with needing to protect Laurel because he sees her as sweet and innocent. But Russ also starts to obsess about how much he would like to help Laurel out with her lack of sexy naked time until his partner finally dumps Russ at Laurel's front door after about a dozen stalker drivebys of Laurel's house to make sure she's okay.
What starts out as a police drama, turns into a lot of foreplay and the aforementioned sexy times, and does eventually come back to the police drama part as the prior mentioned con-man still wants to get his hands on Laurel's trust fund.
The criminal aspect was more a side interest to the romance between Russ and Laurel.   Russ and Laurel do spend a good deal of the story naked, and after enough happy naked time with Russ, Laurel has come to the realization that she needs to make changes in her life and stop using her deafness to hide from the world. Add in the fact that Russ's parents just died and he was now raising his 14-year-old brother to round out the story.
I did have one problem with Detective Russ Evans though. Russ stalkers Laurel to a club one night when Laurel was going out with her girlfriend (Russ didn't like the idea of his not-girlfriend dancing with other men), he freaks out that he saw the man Laurel was dancing with drop something in her drink. Detective Evans drags Laurel out of the club because she is being irresponsible and could have ended up waking up after being compromised by this stranger.   Soooo, you are telling me that the police officer sees a man drop a date rape drug in a woman's drink but doesn't arrest the man and take the drink into evidence? He just dumps it to make sure Laurel doesn't drink it and drags her out of the club away from the stranger.   Even back in 2005, roofing a random woman at a club should have been illegal, right?  That part was badly written and did piss me off.
Other than the ignoring date rapist and the outdated internet references (since nowadays police have cyber crime divisions), this was a sweet and enjoyable romance.
---
Favorite Scene:
He dumped the bage of candy on top of the covers. A wide array of shiny sugar-filled treats greeted him. He picked a Pixy Stix. A pink one, since that color reminded him of Laurel.
She was watching him with amusement, clearly no idea where his sick mind was heading.
Pixy Stix in his teeth, he tore the top off.
Turned it over, and spilled the powder all over her nipples, where it clung like frosting on a cupcake.
And he wanted a lick.
****
He had dumped Pixy powder on her nipple.
Laurel stared down at her breast in shock. She had thought Russ was going to toss the candy in his mouth, like he had at the store, not pour it all over her naked body and–oh, good Lord–lick it off.
He was lapping at her, his tongue elongated as it curved towards her, lifting flecks of candy off her nipple, wetting her, the powder and his lips until all three were shiny and sticky and covered in keep pink sugar. Laurel grabbed onto the bed, tried to move back away from his questing mouth, but he resisted, held her in place.
It wasn't that she objected, or it didn't feel good. The problem was, it felt too good, so shocking and intimate and wild that she was overly sensitive, anxiously aroused. And maybe, still just a touch embarrassed.
Maybe other people doused each other in kiddie candy and licked it off on a regular basis, but she had no experience with this sort of thing.
She kind of liked it.
Now that the powder was wet, it clumped together in little crystallized balls, and pricked and pulled at her skin as Russ closed his mouth completely around her, taking in her nipple, areola, and a good portion of her breast. She groaned, the sweet scent of watermelon overwhelming her nostrils.
When he pulled back, he glanced up at her, a satisfied smile on his face. "Mmmm, I really like the pink ones."
Russ's tongue darted out to do a thorough circle around her nipple in a final cleanup.
Laurel sucked in her breath. Her nipple hovered wet and aching in front of his mouth. Her thighs shifted restlessly below the sheet, wanting in on the action. Russ was waiting for her response. What she said would either send him into a retreat, or to more traditional means of seduction, or she could give him permission to continue with whatever he had in mind.
Her hesitation lasted on a split second. She trusted Russ. She wanted Russ.
"Is pink your favorite?" she asked, rolling onto her back so her breasts rose entincingly–she hoped–in front of him.
Given the way his nostrils flared chances were pretty good he agreed.
"I'm not sure I have a favorite. Let's test it." His hand shot out, grabbed a handful of Pixy Stix.
"Purple." He tore it open and dropped it on her other nipple. Then he licked a path across the top of her breast, avoiding the powder. "It will stick better if I wet it first." He tapped his finger on an open red stix, dropping powder on the damp flesh.
He repeasted the process on her other breast, laying out green and orange on patches of flesh he'd moistened first, until Laurel couldn't decide if she wanted to laugh or have an orgasm.
"Russ…" she murmured, to what purpose she hadn't a clue.
He took a tenative lick on each color, in such quick, rapid succession that she barely felt him. "Hmmm, I couldn't tell, Laurel. I'll have to try again. Do you mind?"
She shook her head, closing her eyes in anticipation of his tongue flickering across her in that reasing little touch and retreat.
Only this time, he licked, he bit, he sucked all over everything, blending flavors and powder until her skin was sticky and slick, and exotic fruity smell clogging her nostrils, sending her salivary glands into overproduction. Laurel panted, pushing herself forward when his mouth left.
A glance down showed him pulled back, studying the glossy shine on her skin, his finger rolling across her nipple, playing with it. Laurel like the way he fit over her, the way his muscular arms could hold him hovering above her, making her feel secure, desired, comfortable.
He seemed to be thinking, tongue pulling a stray fleck of candy from the corner of his mouth.
"I like it all, Laurel, every last lick."
Related Posts