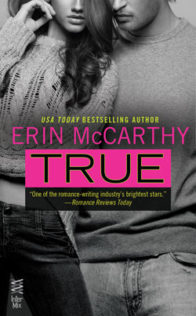 True (True Believers, #1)
by
Erin McCarthy

Series:
True Believers #1
Published by
Penguin Group (USA)
on May 7th 2013
Genres:
New Adult
Pages:
222
Format:
eBook



I received this book for free from in exchange for an honest review. This does not affect my opinion of the book or the content of my review.
This post contains affiliate links you can use to purchase the book. If you buy the book using that link, I will receive a small commission from the sale.
---
When Rory Macintosh's roommates find out that their studious and shy friend has never been with a guy, they decide that, as an act of kindness they'll help her lose her virginity by hiring confident, tattooed bad boy Tyler Mann to do the job…unbeknownst to Rory.

Tyler knows he's not good enough for Rory. She's smart, doctor smart, while he's barely scraping by at his EMT program, hoping to pull his younger brothers out of the hell their druggy mother has left them in. But he can't resist taking up her roommates on an opportunity to get to know her better. There's something about her honesty that keeps him coming back when he knows he shouldn't…

Torn between common sense and desire, the two find themselves caught up in a passionate relationship. But when Tyler's broken family threatens to destroy his future, and hers, Rory will need to decide whether to cut her ties to his risky world or follow her heart, no matter what the cost.
---
Rory Macintosh was like any college sophomore, going to class, making new friends and looking for love. Rory just happens to be premed and as socially shy and awkward as she is smart. Rory has never had a boyfriend. The boys in high school just didn't get her and so far it hasn't gotten any better in college. Although Rory doesn't intend to do as much bed-hoping has her roommates, she wishes she could finally find someone special. When fellow student Tyler Mann saves her from a sexual assault from a drunk co-ed, Rory sees that there is more to Tyler than just his tattoos and bad boy image. He is thoughtful, generous and kind with the same odd sense of humor as Rory. But Rory refuses to fool herself into thinking that someone like hot, sexy Tyler could be the least interested in an awkward geek such as herself.
Rory needs help with her Lit class and Tyler needs help with his biology and they agree to tutor each other. The more Rory gets to know Tyler and understands his goal to graduate and get a good job so he can take his younger brothers away from his drug abusing mother, the harder Rory is falling for this soft-hearted, bad boy, and the more time they spend together, the harder it is for Rory to remember why she isn't supposed to fall in love with him.
When she learns that her friends have paid Tyler to help her lose her virginity, she believes her humiliation is complete. What doesn't make sense is that for someone who is supposed to be getting paid to sleep with her, Tyler seems more interested in spending time with Rory without getting naked. Could a boy like Tyler really be interested in an unsocial geek like Rory?
THOUGHTS:
I really loved these characters and watching them bond. Tyler is a damaged hero, my favorite kind. He is the kid from the wrong neighborhood that you judge poorly when you first see him with his t-shirts and mass of tattoos. His drug abusing mother calls him a loser and after years of being subjected to that, living in the poorest neighborhood with little money after his mother buys her drugs, and struggling to keep is younger brothers safe, he doesn't feel worthy of someone as smart as Rory. Tyler likes her odd sense of humor and to him she is absolutely beautiful. Tyler just wants to be near her, even if she only wants to be friends, and it is a miracle to him when she tells him that she loves him. Rory's quiet nature is a calm haven in his stormy life.
This is an official New Adult book which "features characters who are at the stage of figuring out who they are." Generally that is post-high school, and is either entering college or just entering the work force. Rory has dated she still has some leftover teenage angst, but it is tempered by her linear thinking. She is shy and socially awkward so her angst comes out by her being afraid that the interest Tyler is showing in her is just going to set her for heartbreak as she falls for him, what would he want with a girl like her. She is upset when she learns that her friends offered Tyler money to sleep with her so she could "get over the shy virgin thing," and although she does cry about it, before she rails at him, she thinks things through and is confused that for someone who is supposed to be getting her in bed, he'd rather just spend time with her.
Once Rory and Tyler establish a relationship, it is Tyler's drug abusing mother and Rory's overprotective father who become the antagonists in this story, interfering with the lives of their children and doing their best to destroy everything.
I enjoyed the building of the relationship and the romance between these two slightly unusual characters.
My only complaint here is that I believe this story needed to have an epilogue. Rory's father doesn't want her involved with Tyler because of all his family problems. He is afraid of her being around the drug abusing mother and the issues that come up and that Tyler will be burdened with raising his younger siblings, and that is all drama that Rory doesn't have to get involved with and that she should find a "normal" boyfriend. In the end, of course, they decide they want to be together, which is easy to say at that point in the story. I do believe that even their difficulties could have been worked out with a little determination to be together. In the end, I would have like to see, for example, by the time Rory graduated from med school (6 years later), how the dynamics of Tyler and his older brother would have worked out caring for the younger siblings; how Tyler and Rory's relationship would have evolved around their more grown up responsibilities and her med school; would Rory's father look past Tyler's family issues and tattoos to see what a good man he was for his daughter; etc.
Received an ARC from netgalley.com, courtesy of the publisher. Thank you.
---
Favorite Scene:
"I'm going to the grocery story. Is there anything you want?"
"Pop Tarts," Jayden said.
"Milk," was Easton's response.
"Jesus," Tyler muttered under his breath, and I knew that he was thinking exactly what I was thinking—that a ten-year-old shouldn't have to ask for milk. Louder, he said, "Okay, be back in an hour. Lock the door."
He stubbed out his cigarette in an overflowing ashtray and pulled the nasty garbage bag out of the can and pulled it tight. Then he gestured for me to follow him out the back door.
I wasn't sure what to say to him, but he had barely gone two feet when he said, "I'm sorry. I'm so sorry. I should have never brought you here. But when Easton called, I wasn't sure how bad she was, and I didn't want to take the time to drive you back. But I should have. I'm sorry." He was fast-walking down the back steps, and in the dark I couldn't see his face.
"It's okay," I told him, because it was.
"No, it's not!" Tyler took the bag of garbage and threw it at the rusting metal cans next to the garage. It hit with a loud bang, knocking the can over, the lid spinning and coming to a stop a few feet away. "God! What the fuck was I thinking?" He reached out and kicked the can, twice, his boot making an angry dent. "Here I've been trying to impress you and then I bring you here. I'm a fucking idiot. What about my life could possibly impress you?"
His face was agonized, his anger and frustration and humiliation all written there clearly for me to read. I was struggling not to cry, because I knew that he was struggling not to cry tears of anger. I had never seen anything like what had just happened. I knew in theory that mothers could be awful and drug addition was rampant and people lived in dirty houses, but I had never seen it. Never smelled it. Never heard those kinds of words designed to hurt outside of movies.
I went over to him by the garbage cans and I put my hands on his cheeks, drawing his face toward mine, going up on my tiptoes so I could see into his eyes with more clarity. "Actually, I've never been more impressed with you than I am right now."
He stared down at me, jaw working. I kissed him. I closed my eyes and guided my mouth up to his, pouring all of my emotions into the touch. I wanted him to understand that I understood, that I thought he was amazing for the way he dealt with his life. That the fact that he still found reason to grin and laugh were testament to his true nature, that his desire to take care of his brothers spoke volumes about his character. There was no one in Streetcar like Tyler. He was trying to make the best of his life.
Related Posts