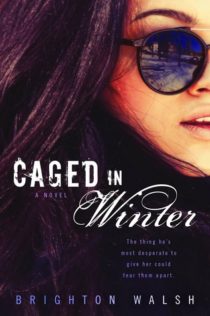 Caged in Winter (Caged in Winter #1)
by
Brighton Walsh

Series:
Reluctant Hearts #1
Published by
Berkley
on November 4th 2014
Genres:
New Adult
Pages:
304
Format:
eBook



I received this book for free from in exchange for an honest review. This does not affect my opinion of the book or the content of my review.
This post contains affiliate links you can use to purchase the book. If you buy the book using that link, I will receive a small commission from the sale.
---
I was moved by the battle of these two people finding someone special just when they are trying to finish their last few weeks of college. Both trying to juggle the workload and stresses of finals, working and trying to study and do homework and into this barely balanced life, they throw in a difficult relationship which forces them both to struggle to make the extra time and not lose everything else.
---
Caged in Winter is not exactly a simply story about two people who fall in love just as they hit the finish line towards their degrees and that is what made it more intriguing to me than just a normal romance.
Cade is in culinary school and has been working hard for his mentor and instructor to get a high recommendation for a job in a good restaurant. He has also been taking care of his younger sister and her three year old daughter since their mother died four years ago. Instead of a carefree college life, chasing girls and boosing it up, Cade had to grow up quickly and become the protector and provider of his family. Cade's need to protect, to be the white knight, is part of what always rubs Winter the wrong way.
Cade comes to Winter's rescue when she is being harassed by a drunk in the bar Winter is waitressing at but instead of a thank you, he gets a lecture from an irate Winter who's drunk, grabby customer now left without giving her the hard earned tip she was expecting to buy food with for the upcoming week. Cade is intrigued by Winter and as part of his need to protect, starts walking this girl from her job after the bar closes to the bus stop to make sure she is safe. This becomes a habit Winter doesn't want to look forward to but can't help that she really does.
Winter is not a character that is easy to like. She has had a hard life being abandoned at 7 by her mother who rarely took care of her or even remembered to feed her. Her life in foster care was not much better and the only time she thought someone might care enough to keep her, she had her heart broken and learned never to rely on anyone else. We see quite clearly that this is the basis behind all of her decisions. She starts to come to rely on Cade and want to be with him, but the past has taught her that everyone will disappoint her and she is always waiting for the other shoe to fall. Even when she starts to fall for Cade, she can't let go of the fear.  Whenever her own feelings for Cade start to overwhelm her, she waits for him to be tired of her or to walk away.   It takes her until the very end for Winter to realize that her need to always take care of herself has left her lonely and it is all by her own choice. Being too afraid to risk anyone letting her down, she never let anyone in.
In other stories with similar backgrounds, characters make friends to substitute for their lack of family. Here Winter has kept everyone from getting too close. No friends.  No prior love interests.  Whenever Cade makes a suggestion or does a kindness for her, we can see it as just that, a good idea which will help her out and be a solution to her problem, like giving her a ride home instead of taking the bus since he is there anyway.  But it is so ingrained in Winter that she has to take care of everything herself, that she frustrates Cade and the audience with her inflexibility.
I liked the story and I liked that Cade understood enough about Winter even without knowing her background that he pushed into her life, but didn't push more than she could accept.  This allows him to slip through Winter's brick wall. Although her need to only take care of herself is frustrating, we can understand why she does it and she finally understands by the end that she is responsible for her own lonely, friendless existence and needs to change if she wants more and if she wants that HEA with Cade that other people get, she has to get out of her own way and take the risk.
A very enjoyable and yes, slightly frustrating, story.
Received an ARC from the publisher in exchange for an honest review.
---
Favorite Scene:
Winter is sitting on a stool at the island, her chin in her hand as she watches me prep everything. Her eyes are narrowed, and I can practically see the wheels spinning in her mind.
"What're you thinking about?"
She raised her eyes to mine. "I'm thinking you tricked me."
I move my knife against the cutting board without thought, trimming the asparagus before I look back at her. "How so?"
"I thought you were going to try to impress me with, like, spaghetti or something. You know, boil some noodles, pop open a jar, good to go. I didn't know you were gonna" –she gestures to the spread of fresh ingredients laid out on the island–"actually cook."
Concentrating once again on what I'm doing, I laugh. "I'd get ostracized by my mentor if I did that."
"Your mentor for what? I don't even know what you're doing to school for."
"BA in culinary management."
"Really."
I glanced up at her dry tone, her mouth hanging open. "Why, is that so hard to believe?"
She shrugs, her arms folded atop the counter as she leans toward me. "I don't know…I guess not. I just wasn't expecting that from you. Fireman? Professional bodyguard? Yes. Cooking? Not so much."
"Yeah, I get that a lot, though some of the guys in my program are tougher looking than me."
Her eyebrows lift as she regards me skeptically. "I find that hard to believe."
"That there are tougher-looking guys than me or that they're in the program?"
Laughing, she says, "Both, I guess. But I meant them looking tougher than you. You're pretty scary looking."
"You weren't scared of me."
"I didn't have time to be scared. I was too pissed."
I cringe, remembering out ill-fated first meeting. "Yeah. Have I mentioned I'm sorry? Even though I hate that we met like that, I'm sorta glad, too. I doubt I would've gotten under your skin if I'd just walked up and asked you for your number after those douchebags left."
"No, probably not." She tiled her head to the side. "Wait…you were going to ask me for my number?"
"Well, I was going to talk to you, at least. Hopefully get your number. But yeah." I looked up and met her eyes. "I noticed you as soon as I got there. And I was interested immediately."
She stares at me for a minute before dropping her gaze to the food stretched out between us. "I can't exactly say the same."
"No, I guess not. I was actually a little scared for my balls. You looked pissed enough to punch me right in the junk."
A loud, unrestrained laugh erupts from her, and I grin at her, making a promise to myself to do everything in my power just so I can hear it again. "You're not far off."
"I knew it."
Related Posts