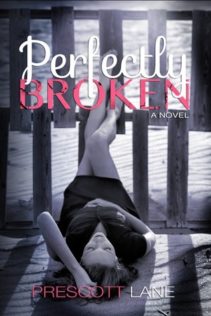 Perfectly Broken
by
Prescott Lane

on March 1st 2014
Genres:
Contemporary
,
New Adult
Pages:
278
Format:
Paperback


I received this book for free from in exchange for an honest review. This does not affect my opinion of the book or the content of my review.
This post contains affiliate links you can use to purchase the book. If you buy the book using that link, I will receive a small commission from the sale.
---
[box style="rounded" border="full"]This was a interesting story premise by new author Prescott Lane. Player Reed Langston knows what he wants and from first glance he wants Peyton Mayfield. Peyton is still traumatized from being raped and not ready to let a man into her life. But Reed isn't ready to give up. He gets Peyton to accept him into her life, but will confessing her dark secret be too much reality for this player.[/box]
Peyton is the owner of a successful pie shop in New Orleans which she named after her grandmother, Adelaide's. Peyton's open and friendly demeanor is reserved for her customers. When she is not working, the only people she interacts with is her best friend, Quinn and Quinn's brother, Griffin. Quinn and Griffin are the only ones who know Peyton's deepest secret and why she is no longer the outgoing woman they first met in college.
It has been four years since Peyton was attacked and raped after leaving a frat party.  Although she has been in therapy for PTSD, we see her still wearing baggy clothes and subject to panic attacks.  She has no interest in men in her life. It isn't until Reed instills himself into her life and begins to breaks down her walls, that we see her take off her baseball cap and wear anything other than the oversize shirts.
Reed Langston is a player, something he learned from his philandering father. Reed doesn't have girlfriends, he has a list of friends with benefits, including his long-time friend Heather. In fact, once he breaks Peyton down and gets her to agree to go with him on a date, he is as awkward about dating as Peyton. He has never even spent the night with a woman, let alone bothered to date a woman before. Reed has his moments of romantic brilliance and other moments where he is whiny that he's not getting any yet. Reed understands that Peyton has issues with men and sex and that he needs to go slowly if he wants Peyton in his life, but he doesn't know why. Peyton fears that telling Reed that she was raped will cool his desire to be with her.
Reed and Peyton already have an uphill battle building a relationship and while Reed and Peyton have their supporters in Quinn, Reed's mother and Peyton's grandmother, Reed's friend with benefits, Heather, and Quinn's brother, Griffin, try their best to break up the pair. Reed's father is also also pushing for Reed the marry Heather, who is the daughter of a business associate and also wants him to stay away from the non-rich Peyton who must be a gold digger.
Can Peyton learn to trust a man again and is Reed too much of a player to trust with her bruised heart?
THOUGHTS:
My biggest issue with this story is that it tried to do too much and therefore it didn't focus enough on fleshing out the main characters. There were moments that they were too superficial. There was enough of a story of a raped woman trying to learn to trust again and that man being someone who has never committed to a woman before. If you want to throw in Heather, the tossed aside fuck-buddy, that was enough of a villain to stir things up.
The jealous wanna-be boyfriend, Griffin, didn't make sense to me. Griffin is the one who found Peyton after her rape. He and Quinn were by her side while she was in the hospital and during her recovery, he was her anchor. She spent many nights sleeping in his arms to keep away the nightmares. If anything was going to grow between them, it would have been at this point. Four years later when Griffin is living in Chicago and is expected to propose to his long-time girlfriend and Peyton finally meets someone she is interested in, isn't the time for Griffin to finally decide he wants to make a play for Peyton. He would be been better staying as a male best friend whose closeness to Peyton made Reed a little jealous rather than a real rival. It didn't feel natural to me.  It sets Griffin up for heartache since Peyton never had interest in him romantically and makes him look like a douche for trying to destroy the first relationship that Peyton tried to have post-rape.
There is also the whole "Reed is a womanize just like his father." I don't feel that was a good fit either since Reed was much closer to his mother, the injured spouse, and you would think that Reed would have more respect for women and would treat them better than his cheating father.  He kept saying "I'm not like my father" but he was treating women as sex toys rather than people.  His father is presented as a real sleezebag. Reed doesn't want Peyton to dance with him at a party, like his father will drag her off to a corner and molest her. There is an old scandal about Reed's father but once it is finally revealed, I was surprised by how non-shocking it was. I've certainly read worse. Reed's father was more a rich, pompous ass than the boogyman that Reed makes him to be.
There were a couple of plot points which didn't make sense to me, but I can't get into them without spoilers.  I have to say that my biggest complaint was that the author tended to switch character POV from one paragraph to the next.  There was a scene where Peyton meets Reed's mother and the internal monologuing was bouncing between them and it took a few sentences to figure who was thinking what, and then it bounced to someone else.
This is not her first novel, but a little more experience would have turned this good book into a great book.
I won a copy of this book in a giveaway.
---
Favorite Scene:
"This is crazy!" Peyton cried, smiling ear to ear.
He took her hand. "You've never seen a horse-drawn carriage before?"
"Not in front of my shop! I thought they had to be in the french Quarter."
"Normally they do, but I pulled some strings. The driver, Bruce — I designed his son's house" An elderly man with a white beard tipped his hat to Peyton, as Reed took her hand, helping her up the steps into the antique white carriage cascaded in twinkling white lights. He slid in beside her and put his arm around her, then the horse began a slow trot.
"This is…" she began, pausing for the right word and caressing his hair. "Just wow."
"This is just the ride." he said, the night breeze floating in through the open top. "I promise you the date will be even better."
"In that case," Peyton said, "I'll thank you now." She leaned in and kissed him slowly, caressing his tongue with hers in a slow circular motion, as the carriage rocked up and down. She moved on top of Reed, straddling him, their bodies moving in perfect rhythm, oblivious to the fact that they were in public. She felt him grow hard, pressing against his jeans, begging to come out for a different ride. Reed's hands gripped her ass, pulling her tighter to him.
Bruce cleared his throat — loudly — as he began to point out some landmarks along Magazine Street.
"So where are we going?" Peyton asked.
"It's not far," Reed said, stroking her cheek. "We're almost there."
After a few minutes, Bruce slowed the horse, pulling the carriage in front of Audubon Park. Reed helped Peyton out of the carriage, then Bruce handed Peyton a carrot so she could properly thank the horse. Reed led her into the park around the little curve where a few majestic oaks shaded a sprawling crowd. The tuning of horns and violins filled the air as the Louisiana Philharmonic Orchestra set up for a rare outdoor nighttime performance.
"I owe you a dance," Reed said, taking her hand and navigating them through a maze of picnic blankets, tables, and lawn chairs. "I came here earlier to set up." He led her all the way down to the front where a plush blanket awaited them, sprinkled with pink rose petals, a picnic basket, and chilled wine. "I actually had to fight off a few old people to get this good spot."
Peyton didn't hear a word he said, just following along behind him, amazed how much preparation he'd done, how much trouble he'd gone to.
"You OK?" Reed asked, rummaging through the basket, slightly surprised by how quiet she was.
"I just can't believe you did all this."
"There's nothing I wouldn't do for you," he said.
Reed set up a few things, making sure to get everything right. He poured her a glass of wine, as the orchestra started up. It was rhythm and blues night, with a couple local singers crooning out a wide mixture of tunes, from classic to contemporary, with some gospel thrown in. Through it all, Reed fed Peyton strawberries and crackers, and they shared bite-size muffulettas. Then he pulled her between his legs so her back was to his front. He wrapped his arms around her and breathed in the sweet smell of her hair — vanilla, a touch of caramel, a dash of cinnamon — the welcome afterglow of her long day at work. And he waited and waited for the right song. He couldn't rush it. The up-tempo Barry White and brooding Adele, while beautifully performed, weren't quite what he was looking for. But the geriatric attendees weren't so particular; they seemed to sway and dance to everything.
Peyton kicked off her shoes and nestled her head against his chest, feeling the strength of his arms around her. She inhaled his fresh, clean, crisp scent, and her heart swelled, this stunning man taking care of her like no man had ever done before, scaring and thrilling her at the same time. As she finished nibbling a strawberry, the song came — the perfect one.
"I'm ready for that dance now," he said.
Reed pulled her up to her bare feet, right on the picnic blanket, holding her close under the stars and moonlight, without a word between them — except for his occasional Al Green impersonation. Ooo baby, let's stay together. His hand drifted to the curve of her waist, her skin soft and smooth, and he rested his hand there. He loved that part of a woman — the dip of the waist between the breasts and hips.
With his warm breath against her neck, her body tingled with needy anticipation. She noticed he hummed the lines about love and continued on without missing a beat. Let me be the one you come running to. I'll never be untrue. Peyton melted into his chest, the way he held her making her feel wanted, cherished, loved even. She smiled to herself, and shook her head slightly, feeling like a silly schoolgirl. Times are good or bad, happy or sad.
They moved together as one, as if they'd danced the song a thousand times. And it was more than dancing Reed felt himself falling hard, powerless to stop it. Suddenly they heard clapping but kept swaying in each other's arms, not realizing the song had ended.
Related Posts