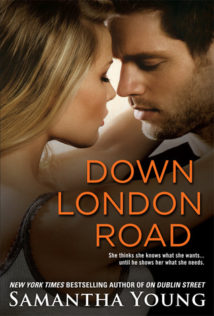 Down London Road (On Dublin Street, #2)
by
Samantha Young

Series:
On Dublin Street #2
Published by
NAL
on May 7th 2013
Genres:
Contemporary
,
Small Town
Pages:
373
Format:
eBook



I received this book for free from in exchange for an honest review. This does not affect my opinion of the book or the content of my review.
This post contains affiliate links you can use to purchase the book. If you buy the book using that link, I will receive a small commission from the sale.
---
It has always been up to Johanna to care for her family, particularly her younger brother, Cole. With an absent father and a useless mother, she's been making decisions based on what's best for Cole for as long as she can remember. She even determines what men to date by how much they can provide for her brother and her, not on whatever sparks may—or may not—fly.

But with Cameron MacCabe, the attraction is undeniable. The sexy new bartender at work gives her butterflies every time she looks at him. And for once, Jo is tempted to put her needs first. Cam is just as obsessed with getting to know Jo, but her walls are too solid to let him get close enough to even try.

Then Cam moves into the flat below Jo's, and their blistering connection becomes impossible to ignore. Especially since Cam is determined to uncover all of Jo's secrets …even if it means taking apart her defenses piece by piece.
---
When we first met Johanna Walker in On Dublin Street, she comes off as a gold digger, going from one rich boyfriend to another, and even ready to jump in and grab up Bradon if Joss wasn't interested.
In Down London Road, we learn that Johanna is the daughter of an abusive father, and an alcoholic mother, and everything she does is for the benefit of her little brother, Cole. Since her father long disappeared and her mother always in the bottle, Jo had to drop out of high school at 16 to get a job to pay the rent and buy food. Because Jo didn't finish school, she works very hard at two part-time jobs. With her lack of education and through years of mental and physical abuse from her parents, she doesn't believe she is worth much. She believes that the only thing going for her is her good looks, and the only way that she and Cole will do more than just survive in the poor end of Edinburg is for her to put her good looks to work and find a rich boyfriend who will bring them financial security.
Yet in always looking first at the pocket book of future dates, she is perceived in a bad light by those around her. Joss and Johanna have since become friends and Joss is aware that she misjudged Jo. When Cam MacCabe comes into Johanna's life, he takes one look at her on the arm of her rich boyfriend, and immediately decides that she is out for all she can get. After getting a job at Club 39 working with Joss and Jo, Cam finally learns the real Johanna Walker and encourages her to believe in herself. He especially wants her to dump her rich boyfriend and give in the pull they have for each other.
With Cam in not only her life, but becoming a close friend to her brother, Cole, Jo can finally see a life worth more to her than just being arm candy to some rich guy, and she stops trying to be the perfect girlfriend, and begins to become someone she wants to be, but when you finally live the life you've always wanted, the risk of losing it all can be so frightening.
THOUGHTS:
A brilliant follow up to On Dublin Street. Johanna doesn't come off as a very likeable character in Book #1. We believe her to be a bimbo looking for a meal ticket, but like Joss, we get to know her better and begin to understand what her young life has been like and why she feels the need to seek out rich men. Just like us, Cam walks in to the story and misjudges Jo and is actually quite nasty to her for the first quarter of the book and we hate him for it, although when he finally apologizes for being such a jerk, it is eloquent and heartfelt. At this point, we start to root for Cam and Jo to be together.
I truly enjoyed the characters and the story in On Dublin Street, so I don't know why like a teacher with her red pen, I started this book positive that it could not be as good as On Dublin Street, and I was ready to point out all the similarities to Book #1 or all the clichéd romance plot points. As I read, the discussion in my head was a bit like this…"This guy is an ass**le…ooo, nice apology." "Oh, that's the stupid mistake that's going to ruin it all…oh, that was a smart way to deal with that." "There is NO excuse for that…oh, yeah I see where that could be misconstrued."
All I can say is, nicely done, Ms. Young. Nicely done. An A+ for you.
And it didn't hurt that I could picture Jude Law bringing in an incredible Cam MacCabe performance.
I can't wait to see who is next in this series.
Received an ARC from netgalley.com, courtesy of the publisher. Thank you.
---
Favorite Scene:
The empty flat directly beneath my flat didn't appear to be empty anymore.
The door to it had been thrown open, and I watched wide-eyed as two guys carried a coffee table up the last few steps and onto the landing.
"You hit the leg." The extremely tall, dark-haired guy in a rugby shirt smirked at his companion as they leveled out on the landing.
The other guy was a little shorter, with broad shoulder and messy dark hair squashed under a beanie hat. When he turned to smile cheekily at his friend, I knew I was in the presence of a player. The guy was gorgeous and that smile told me he knew just what to do with it. "He'll never notice."
"There's a bash in the wood."
"Ach, it gives it character."
I took another step down and my movement drew both of their gazes. I felt an uneasy squirm in my stomach as I glanced at the open door to the flat. We had a new neighbor. A new neighbor who would have to endure my mum's wailing drunkenness.
Great.
The beanie hat guy grinned appreciatively at the sight of me, his eyes drinking me in from my boots to my head. I flicked a quick look at his friend and discovered I was under his smiling perusal too. My automatic flirt kicked in and I gave them a half smile back and a wave of my fingers. "Hey."
Beanie Guy adjusted the weight of his side of the coffee table as he asked, "You live here?"
"The flat above you."
He made a huffing sound and shook his head as he stared at his friend. "Cam's always been a lucky fucker."
I instantly tensed at the name.
"What's taking so long?" a deep and very familiar voice asked from inside the flat.
My mouth was already falling open when Cam stepped out of the flat to greet his friends.
"Cam?" I squeaked in disbelief.
Startled, Cam looked up at me, astonishment slackening his features. "Jo?"
"Eh…" The tall friend's head turned form me and Cam to Beanie Guy. "The lucky fucker already knows her."
I ignored them, my heart hammering in my chest now as my eyes pinned Cam to the landing. He stood before me in one of his worn T-shorts and jeans, his engineer boots on, his hair a mess and his eyes dark with lack of sleep. Despite his obvious tiredness, he seemed to hum with an energy that sucked me in. When he stepped into a room, you felt his vitality, his strength. There were few people in this world who had that kind of presence about them, Braden Carmichael was one. Cameron MacCabe was definitely another.
And he was moving in the flat beneath mine?
I couldn't get my pulse to slow at the thought of Cam being so close to all my secrets and shame. "You're moving in?"
His eyes flew past me to the floor above us. "You live here?"
The rocks settled heavily in my stomach. "The flat above you."
"Jesus." Cam sighed, seeming as unhappy about the revelation as I was. "Small world."
More like small city. "Very," I murmured. How had this happened? Did fate just hate me? Of all the coincidences in the world, why did I have to be landed with such a huge and very crap one?
"Eh, this is getting heavy," Tall Guy complained, nodding at the coffee table.
I eyed the size of his biceps and doubted he found it at all heavy.
Cam gestured to the flat. "Take it in, guys. Thanks."
"No, no." Beanie Guy shook his head, smirking, his eyes still on me. "First introduce us to Miss Scotland."
I felt my cheeks heat at the compliment, hating that it somehow added substance to Cam's opinion of me.
Cam's body tensed and he crossed his arms over his chest. "Just take it in the flat."
My God, I was so unworthy that he couldn't even introduce me to his friends. Ignoring the hurt that had gripped my chest, I smiled at Beanie Guy. "I'm Jo."
Beanie Guy and Tall Guy's mouths dropped open. "Jo?" they asked in surprised unison…as if they'd heard of me.
My brow puckered in confusion as I slid a questioning look at Cam. His whole body was rigid now as he gave his friends the tiniest shake of his head.
His friends didn't take whatever hint Cam was sending them. "Jo from the bar, Jo?"
Cam had spoken about me? I shifted uneasily, not sure in what light I'd been painted. "That's me."
The two of them grinned and Beanie Guy gave me a nod of hello. "I'm Nate and that's Peetie."
I eyed the tall guy incredulously. "Peetie?" Not the kind of name you'd expect from someone of his size.
Peetie had a nice face, friendly and open. "Gregor. My surname's Peterson."
"Ah, I see."
"Cam's told us all about you, Jo." Nate continued, avoiding Cam's glower.
Feeling a little shaken that Cam had spoken about me to his friends and far too curious about how he'd spoken about me, I decided it was time to move along so I could wrap my head around the fact that Cam was my new neighbor.
Come to think of it, he had been speaking to Joss about finding a cheaper flat.
Again…of all places, why did it have to be in my building?
I decided to pretend like I didn't care what Cam had said. "Well, don't believe word of it." I ignored Cam as I passed him, and smiled at his friends. "Cam has the unfortunate habit of forming an opinion before he really gets to know someone."
Nate nodded, "Yeah, he told us what a remarkable dick he was to you."
That stopped me in midstride, and I twisted around to stare at Cam.
He shrugged at me, his expression still deadpan. "I told you I was sorry."
My eyes swung to his grinning friends and then back to him. "Well, then, I guess I might actually believe you now. Neighbor." And with a nod of good-bye to them all, I started descending the stairs carefully.
"That's Jo?" Nate asked loudly, as I disappeared from view, his voice carrying all the way down to me, and I couldn't help but prick my ears up to listen.
"Shut up," Cam hissed. "Let's get the rest of the stuff in."
"Christ almighty, you weren't kidding, were you? How fucking long are those leg?"
"Nate…"
"How can you stand it, mate? If you're not having a crack at her, I am."
Cam's growl reverberated down to me. "Get in the fucking flat!"
His door slammed and I jumped, stalling on the last landing. What the hell had all that meant? What had Cam said about me?
Related Posts