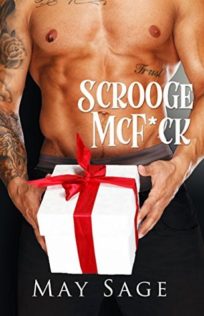 Scrooge McF*ck
by
May Sage

Series:
Some Girls Do It #2
Published by
Self-Published
on December 27th 2016
Genres:
Contemporary
Pages:
101
Format:
eBook


This post contains affiliate links you can use to purchase the book. If you buy the book using that link, I will receive a small commission from the sale.
---


It is never too late for a holiday story. This was a fun, lighthearted holiday romance and a quick read.
As a follow up of yesterday's, She Girls Write it Better, I couldn't resist continuing with the rather short Book 2, Scrooge McFuck. Again, this is not an erotic series. Piper's boss, Bennet McFinnley, is a nasty boss with no Christmas spirit. Piper's young daughter dubbed him Ebeneezer McFinnley which Piper changes in her own mind to Scrooge McFuck after a particularly stressful day.
What isn't explained well is why Bennet is such a hard-ass when his father is a sweet man and Bennet inherited the company from him. You would think you would end up with disgruntled employees when their favorite boss is replaced by the nasty, pretentious son, but we don't understand why he acts this way in general but then again, it is just a short story.
Bennet is rude to Piper since their parents were friends and he knows that Piper grew up in a privileged household. He thinks that she is just biding time until she can marry the perfect, rich, society man and stop working. What he doesn't know is that since he knew her, Piper married the "wrong man" and had a child with him and was disowned by her rich parents. The wrong husband abandoned her and her daughter and stole all their money. Bennet wants Piper to screw up so he can fire her, but he has to admit that she is an outstanding Assistant.
Piper puts up with Bennet since he pays so well to put up with him, but she intends to quit once she saves enough money to keep her daughter in the school she is in as well as move them to a better, safer neighborhood. But when the school calls to say her daughter is sick and Scrooge won't let her leave, she quits on the spot and walks out. Bennet doesn't actually believe that Piper would quit and expects to see her on Monday morning and plans to apologize. When he finds a temp in her place, he goes to find his wayward assistant and learns the truth which leaves him feeling like the bastard he was.
Piper's daughter is absolutely adorable and Bennet quickly falls under her charm, add that to the sexual tension he has been ignoring for his assistant, and Bennet suddenly warms to the idea of an instant family.
It is a fun, sweet story but again, once we get to the characters admit to their feelings and we get to the romance of the story, the story is over. These stories definitely could definitely be more successful with more substance. In the two stories I have read, May Sage proves that she has a talent to write an interesting, fun romance, they simply need more to make them great stories.
I am still looking forward to Lucy's story in Bring on the Psychobitch.
---
Favorite Scene:
Forcing himself to move away, he pulled the door halfway shut, and headed to the kitchen, where Maya was dutifully coloring the book he'd grabbed for her after work.
Glancing over her shoulder, Ben's frown morphed into a ready smile. The girl was coloring the space around the characters and leaving them blank. Clever little thing.
"Looks good, Honey Bee," he said, ruffling her hair as she beamed at him like he'd just grabbed the moon from the skies and offered it to her on a silver platter. "Want some cookies?"
"Are we making them?"
Ben turned around, intending to say something along the line of don't be ridiculous, but looking down towards her, he was assaulted by the most potent puppy dog eyes ever used on an unsuspecting man.
The girl was holding her hands folded in prayer over her heart, and her mouth was forming a little O. The big green eyes she'd stolen from her mother were bulging, and her long lashes stayed fixed, as she held her breath.
This was cheating. Unfair. Unwarranted. Probably outlawed, too.
His throat dried, and he croaked a weak, "Course. Of course we're making cookies." In his pristine kitchen that he'd never used a day in his life. With a five-year-old. "We just need to go shopping for ingredients first." Then, as the adorable little demon in a tutu skirt started dancing around, he made his escape, "Wait one minute, okay? I just need to grab my coat."
He tried to be silent, to let piper take the rest she needed as he got into his walk-in closet. Shutting the door, he took his phone out and called the only person who could help him.
"Mom? Please send me a dummy's guide to making cookies. Like, a really easy one."
On the other side of the line, Wendy was silent for so long he wondered if she'd heard.
"Mom?"
"Who are you and what have you done to my son?"
She sounded half serious.
He sighed, knowing he couldn't get away with not giving an explanation.
"I have a…sick friend at home. I'm entertaining her daughter while she recovers."
There. That was vague enough.
"Hm. Would that have anything to do with the fact that dear Piper hasn't answered your father's phone calls for a couple of days?"
Dammit. How did mothers do it? They always knew.
"Maybe."
He could hear her glee through the phone.
Related Posts