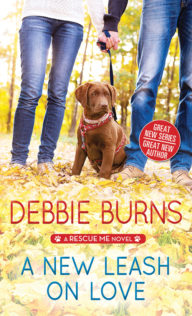 A New Leash on Love (Rescue Me, #1)
by
Debbie Burns

Series:
Rescue Me #1
Published by
Sourcebooks Casablanca
on July 4th 2017
Genres:
Contemporary
Pages:
352
Format:
eBook



I received this book for free from in exchange for an honest review. This does not affect my opinion of the book or the content of my review.
This post contains affiliate links you can use to purchase the book. If you buy the book using that link, I will receive a small commission from the sale.
When Craig Williams draws the short straw and has to take his daughter's adorable new puppy to a shelter after the holidays, it's just another painful episode in the fall-out of a miserable divorce. He needs to pick up the pieces of his life, and, after a fiery confrontation with Megan Anderson, the young woman running the shelter, he wants to put the whole episode behind him. However, when he keeps finding new ways to reconnect with her, he realizes Megan's compassionate and caring nature just might be the perfect salve for his broken heart.
---




This story brings out more than a fair share of tears, but the characters are well written and overall it was a good story.
Warning: This story involves the death of a child.
To a certain degree, this was a hard story to read because of the subject matter. Craig Williams lost his son a few years ago. The boy was born with a weak heart but at about 10 years of age, he appeared rather healthy and participated in sports. So his death was sudden and threw the family in turmoil. This lead to Craig and his wife getting a divorce and his two other children all trying to deal with the loss, first of their brother and then of their family. So there are a lot of depressing feels going on as we start our story.
Craig ex-wife allowed their daughter to get a puppy but things weren't working out well and they decided to bring the puppy to the shelter. So make things easier on his daughter, Craig brings the dog to the local shelter. Unfortunately, when Craig arrived at the shelter, he was unaware that he would be meeting Megan Anderson after a really bad day. Normally, Megan would have accepted the puppy, knowing she would be able to find a home for him quicker than some of the older dogs, but the shelter was already packed with more dogs than they could handle.
Megan took out her bad day on Craig starting with a lecture on whether he really tried hard to teach the puppy. Of course she didn't know the circumstances behind the decision to turn in the pup.
But Megan and Craig meet again when Craig's daughter wants to volunteer at the shelter and they begin to mend their first bad meeting, and while there is attraction, Craig feels that he is not in a good place right now to begin a relationship, so they simply try to build a friendship with Craig and his daughter spending time at the shelter.
There is a lot of good character building, both with Craig's family and with Megan, but also the people at the shelter. This was not a really sexy read, when they do have sex it was kind of awkward. But if you can enjoy a story with less sexy times and more get to know you, then this is a good story for you.
I was disappointed around the final third of the story with how Megan was acting and decisions she was making. While some of them made sense, others were simply handled badly and seemed to deviate from the smart, level-headed woman we had met so far. I found that threw off my momentum with the story and took me a bit to get back into it after even Megan declared that she didn't handle things well.
Overall, it was a well written story even with a slightly depressing storyline of death and divorce.
Related Posts