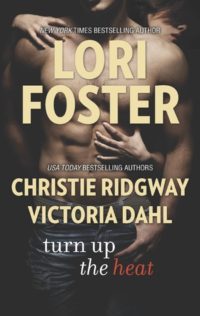 Turn Up the Heat: Love Won't Wait\Beach House Beginnings\Strong Enough to Love (Includes The Carlisles #2; Jackson, #1.2)
by
Christine Ridgeway
,
Lori Foster
,
Victoria Dahl

Series:
,
Published by
Harlequin HQN
on December 31st 2013
Genres:
Contemporary
Pages:
336
Format:
eBook



I received this book for free from in exchange for an honest review. This does not affect my opinion of the book or the content of my review.
This post contains affiliate links you can use to purchase the book. If you buy the book using that link, I will receive a small commission from the sale.
Three sizzling tales from three bestselling authors:

Love Won't Wait by Lori Foster Brendan "Brick" Carlisle is used to women falling at his feet, so shy waitress Merrily Loveland is a breath of fresh air—and an irresistible challenge. But before he can make his move, Merrily comes to him with an offer he can't refuse. If only their "no-strings" pact didn't leave him wanting so much more….

Beach House Beginnings by Christie Ridgway
She might have avoided Crescent Cove, California, for years, but no-nonsense Meg Alexander is confident she can handle a brief trip home. What she doesn't count on is the spark of desire she feels for Caleb McCall. Can a weekend in paradise convince her to give love a second chance?

Strong Enough to Love by Victoria Dahl
Photographer Eve Hill had always told herself that sexy Brian Stewart was off-limits. But now he's back in Jackson Hole, Wyoming, and Eve can't resist their long-denied attraction. When the reality turns out to be hotter than the fantasy, Eve might end up getting more than she bargained for….
---
In Love Won't Wait, Merrily Loveland has had a tough beginning in her twenty-four years. For most of her high school and college years, she had been the sole caregiver to her sick mother. This didn't allow for much time for dating and even her one long-term boyfriend didn't understand her lack of desire to get intimate. After her mother's death, she moved to new city, got a new job and is looking at the start of a new life. What better way to begin these new changes then by finding a man to help rid of her of her virginity, and she has the perfect man for the job. He comes into her restaurant almost every day and she has been drooling for a chance to get to know him better. Brendan "Brick" Carlisle looks like the type of man who know just how to please a woman. Although Brick is more than willing to teach Merrily all she needs to know about sex, he wants her to understand that he doesn't do relationships, and she needs to keep her heart out of the bedroom. Merrily is willing to take the risk, but this time around, is it Brick that will leave his heart behind?
THOUGHTS:
I enjoyed this story the most. I liked the characters. I especially love how quickly Brick turned from "don't get too attached to me" to "hey, where are you going". He thinks that Merrily is just a beautiful girl who he wants to sleep with, but you can tell that he is in way too deep before she even approaches him with her can you help me lose my virginity deal.
Christie Ridgway brings us back to Beach House No. 9, in Beach House Beginnings, as well as bringing Meg Alexander back to Crescent Cove since she lost her first love to the angry sea. Meg left Crescent Cove at nineteen after Peter's death. She has never been able to face the memories that surround her wherever she looks. If her sister didn't need to attend a wedding, she might never have returned. The last person she expected to find renting one of the cottages is Peter's cousin, Caleb. She also never expected that Caleb would be the one man to awaken her desires. But the past has taught her to protect her heart. All-encompassing love can only lead to pain. Can she separate her heart from her desires and indulge with Caleb in the passion that she hasn't felt in years and still walk away with her heart intact?
THOUGHTS:
At first glance, Meg thought Caleb was Peter and I thought this would turn into a Peter faked his death story, although I couldn't understand why a teen would need to go into hiding. But we do learn that Peter's body was recovered. I could understand why Meg would be pained by returning to her family's beach resort after losing her love as a teen, but after 10 years she was still not allowing herself to make any connection with men. It seemed like too much trauma for what was a few month summer romance as a kid. In the story Caleb dreamed about Meg (his cousin's teen girlfriend) while having emergency surgery and felt compelled to see her believing this vision meant she would be part of his future. It made for an interesting, if somewhat improbably, story.
In Strong Enough to Love by Victoria Dahl, Eve Hill lost her heart to her best friend and mentor two years ago, but he walked away from her and what they might have had. While she could admire the fact that he chose to try to save his failing marriage, what hurt the most is that he walked away from the possibility of them with nothing but a letter declaring his intense feelings for her. When he walks back into her life after his divorce hoping that they can start fresh, Eve won't risk her heart again, but there is no way she can let the man who meant so much to her walk away from her again without having a chance to know if the man lives up to her fantasies, and if he does, will she be able to pick up the pieces of her shattered heart again?
THOUGHTS:
Of the three, I didn't enjoy this one as much as the others. When Brian comes back to see Eve, she is torn between her feelings for Brian and the hurt that he chose his wife (now ex-wife) first. It was portrayed that Brian's marriage was failing for some time. I was torn between admiring Brian for attempting to honor his marriage and try again, and like Eve, disbelieving he would walk away from a woman he was so attracted to and who he had so much in common with for his wife who he was all but estranged from.  I  think that it might have poisoned his relationship with Eve if he felt he abandoned his wife for his feelings for Eve. In giving his marriage a real try, away from Eve so his effort would not clouded by his feeling for her, he could then return to her without her being the other woman who destroyed his marriage. I feel we have to give him some credit for being honorable. I didn't agree with Eve's feelings that she couldn't let Brian back in her life since they both have strong feelings for each other. She was hurt that he chose his wife first, but I think it makes him a better character than the guy who dumps his wife for someone else, even if they had a strong connection. Now Brian could return to her knowing that he tried at his marriage and that it wasn't Eve that turned him away from his wife.
---
Favorite Scene (from Love Won't Wait):
As Merrily returned to them, Brick gave a quick shake of his head. But not in time.
While setting their food on the table, she teased, "You have a temper? No way. You're always so nice."
"He would never show that temper to you," Jesse assured her. "But yeah, when warranted, it makes an appearance."
Brick gave him a dirty look. Was he trying to scare her off?
Intrigued, Merrily asked, "Is that why they called you Brick?"
She knew his nickname? Nice. Though they'd chatted casually many times, they hadn't been formally introduced. He'd seen her name on her name tag and used it as most would. Apparently she'd been paying attention when others spoke to him.
"Actually," Jesse said, now on a roll, "he got that name ages ago when he fell off a roof onto his head and was still able to laugh about it."
"Ohmigosh." She stared at Brick in disbelief. "You're serious?"
"Yes, but it's not as bad as it sounds." He'd strangle Jesse later for bringing that up. "The house was half-built into a hill, so the roof at one end was pretty close to the ground."
"Still…"
"I only dropped around ten feet."
"Ten feet?" Her eyes widened again. "And you weren't hurt?"
"Just bruised my pride." He gave a slight grin. "That is, as much pride as a nine-year-old boy can have."
"If you guys were that young, what in the world were you doing on the roof?"
Brick felt his neck getting hot.
Jesse, of course, launched into details. "He was pretending to be Batman. His brother, Evan, who's a year younger, was Robin."
She smiled, and this time, the smile was unlike any other–softer, gentler. "Awww. That's so sweet."
He snorted. "No it's not. After I fell, Evan ran home to tell our mom and she grounded us for a week." A week that had felt like a month.
"I can't say I blame her." Looking a little wistful, Merrily tipped her head to study him. "Did you and your brother wear costumes?"
"Masks and capes." He grinned despite his efforts not to. "Looking back on my misspent youth, I think it's a wonder I survives."
"Your poor mother," she agreed. Another customer called to her, so after a quick touch to his shoulder, she slipped away.
That touch–on the freaking shoulder, for crying out loud–brought his temperature up a few degrees more.
"Pathetic," Jesse said. "Get a grip, will you?"
"She likes me."
"Yeah? And you drew that conclusion…why?"
He shrugged. "She touched my shoulder."
Jesse grabbed his heart again. "Your shoulder? Damn. That brazen hussy. I guess it must be love."
Ignoring that, Brick said. "I'm going to ask her out."
That seemed to surprise Jesse but not because of his intent. "You haven't already?"
"No."
"Why not? I figured you'd hit on her from day one and just got shot down."
"No." Why he hadn't yet asked her out, he couldn't say. He'd known her plenty long enough. And he'd only recently hear that virgin business. But there was something about her that made him not want to rush things–
Related Posts