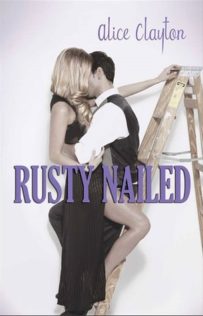 Rusty Nailed (Cocktail, #2)
by
Alice Clayton

Series:
Cocktail #2
Published by
Gallery Books
on June 24th 2014
Genres:
Contemporary
Pages:
288
Format:
Paperback



I received this book for free from in exchange for an honest review. This does not affect my opinion of the book or the content of my review.
This post contains affiliate links you can use to purchase the book. If you buy the book using that link, I will receive a small commission from the sale.
---
In this sequel to Wallbanger, the second book in the Cocktail series, fan favorites Caroline and Simon negotiate the rollercoaster of their new relationship while house-sitting in San Francisco.

Playing house was never so much fun—or so confusing. With her boss on her honeymoon, Caroline's working crazy long hours to keep the interior design company running—especially since she's also the lead designer for the renovation of a gorgeous old hotel on Sausalito. So with her hotshot photographer boyfriend gallivanting all over the world for his job, she and Simon are heavy-duty into "absence makes the heart grow fonder" mode. Neither has any complaints about the great reunion sex, though! Then Simon decides he's tired of so much travelling, and he's suddenly home more. A lot more. And wanting Caroline home more, too. Though their friends' romantic lives provide plenty of welcome distraction, eventually Caroline and Simon have to sort their relationship out. Neither wants "out of sight, out of mind," but can they create their own happy mid-ground cliché?
---
Simon "Wallbanger" Parker is still keeping Caroline "Pink Nightie Girl" Reynolds up all night banging on her walls, only now he's banging on that wall with her. Simon is still traveling around the world and Caroline is still decorating San Francisco, and the relationship is working out well for them. Unlike the women Simon has dated in the past, Caroline enjoys some quiet me time, and reunions make the Simon and Caroline time all that much sweeter.
But as they countdown the days to the wedding of Caroline's boss Jillian to everyone's hot fantasy older man, Benjamin, and Mimi and Ryan are planning a wedding of their own, not everybody is happy in Wallbangerland. Caroline and Simon's friends Neil and Sophia are on the outs and its making wedding planning rather rough going whenever they both arrive and the fights begin dragging their friends into the mix.
Caroline also gets quite the surprise. She gets a new office…so she can to do both her and Jillian's jobs while Jillian is away on her open-ended-ticket honeymoon. Interior Design is one thing, but office manager on top of that is a job Caroline is not sure she will be able to handle. As if Caroline isn't under enough pressure, she can't help notice that Simon is leaving on less and less assignments, and even cancelling a few he had scheduled. Now that Caroline is around less and less, Simon is around more and more. And no time to bake is making Caroline a little cranky (and Simon a little hungry).
Caroline's life is in chaos, with less and less wallbanging going around. Can Caroline and Simon try to adjust to their new relationship dynamic or is too much time together going to drive a wedge between them?
THOUGHTS:
I just love Alice Clayton and her quirky, fun humor. At first, everything is smooth sailing for Simon and Caroline. They are developing their own unique relationship. But when Jillian dumps all the responsibility for the design company on Caroline, she is meeting the task but she is also slowing cracking under the pressure. She sees Simon's cancelling his travel plans and something to be concerned over and she is afraid of why he is doing that, but she's also afraid to just ask him.
Simon has had no reason to put down roots anywhere since he lost his parents as a teen. So we, who are not going crazy along with Caroline, can see that Simon finally has a reason not to spend all his time away from home, but Caroline is in panic over what's going on in his head.
I thought this story was filled with as many sweet moments as funny ones. One complaint I heard was that there was not enough tension in the story, but I thought just their adjusting to their relationship along with the increasing stresses being put upon them and Caroline's mental breakdown, created an enjoyable story of these two people trying to become a couple while life is trying to pull them apart.
Oh, and how can I forget, Clive is back for more fun.  Meow!
Received an ARC from the publisher in exchange for an honest review.
---
Favorite Scene:
I hung up the phone. Because in my driveway was a white Mercedes convertible. With a red bow on it. What the actual fuck?
I parked the van, hurried up the walkway, opened the door, hurdled over a sawhorse like an Olympian, and dashed into the kitchen. Where I found Simon, on a ladder. Faded jeans. No shirt. Tool belt.
"Um, what's that in our driveway?" I asked. He turned in slow motion, it seemed, and I noticed for the millionth time just how stunning he was. Sculpted arms, broad shoulders, skipping down to that sweet spot just above his bum. And a six-pack that, when he was really worked up, gave up a seven and eight as well. And then that V on either side that just seemed to slip into those jeans.
"Well, it was the funniest thing," he started, climbing down off the ladder and setting down his belt sander. He gave great sander. "I was watching you drive off today in that ridiculous van and I though, my girl needs some wheels."
"So you bought me a car?" I asked, confused. Brain was not liking some of these words, but every other part of me was liking the walking sex coming right at me.
I couldn't let him just buy me a car, could I?  Oooh, he's walking.
He crossed to me, slowly, and I walked backward as he advanced. Before I knew it, I was up against the wall. With a shirtless Wallbanger inches from me.
Now, for the record, when I went vaulting into the house, I was pretty sure what was going on. And what he'd obviously done. And I was pretty sure I was pissed.
Remember that.
Now think about how good he must have looked to make me forget how pissed I was.
"If you don't like the color, we can go down and pick out another one," he said, now only one inch from me. I could feel the heat from his body began to penetrate mine. Penetrate? Yes, please.
But wait, he can't just buy me a car!
"Yeah, you can't just, just buy me a, ummm," I breathed, my words getting fuzzy as he leaned into me. There was so much tension in my body I was starting to vibrate like a tuning fork.
"Yes, I can just buy you a car. It's a gift—get over it," he replied, his brow furrowing as if he couldn't understand why I was giving him shit about this. And at the very moment, I couldn't tell you why either.
I'd never gone this long without having sex with Simon, not when he was in town. It was starting to get to me. And he smelled so good!
"But a car, Simone? I…uh…what is that cologne?"
"It's polyurethane."
"They should bottle that shit," I breathed, my voice going husky.
"It comes in a can."
"It's really working for you," I moaned as he dipped his head down and dragged his tongue right up my neck.
"I'll keep that in mind," he murmured, burying one hand in my hair.
"Did you do this on purpose? This whole handyman fantasy? The tool belt? The abs? The—holy fuck." I gasped when he took my hand and pressed it against his …drill bit.
"You came home early," he explained, thrusting into his hand. "I like early."
"Lucky me." I sighed and dropped my head back against the wall. He took this to be a green light, because within seconds my shirt was ripped, my skirt was pushed up, and he'd wrapped my legs around his tool belt. "I liked that shirt," I protested.
"You really care?" he asked, slipping his fingers underneath the lace of my panties. Slippery already, and he moaned at the first touch.
"Not really," I marveled at his strength; I always had. The idea of being actually wall banged always seemed impossible to me. Until Simon. He was strong without being beefcake. And he could carry my body around like I weighted next to nothing, when that wasn't the case at all.
"How much do you care about these?" he asked, tugging on the waistband.
"One guess." I smirked.
Related Posts