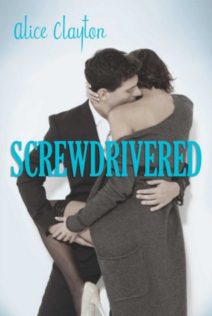 Screwdrivered (Cocktail, #3)
by
Alice Clayton

Series:
Cocktail #3
Published by
Gallery Books
on September 2nd 2014
Genres:
Contemporary
Pages:
256
Format:
Paperback



I received this book for free from in exchange for an honest review. This does not affect my opinion of the book or the content of my review.
This post contains affiliate links you can use to purchase the book. If you buy the book using that link, I will receive a small commission from the sale.
---
Readers back for a third round of the bestselling Cocktail series will enjoy a madcap romantic comedy about bodice ripping and chest heaving, fiery passion and love everlasting. Plus a dash of paperwork filing and horseshi-wait, what?

By day, Viv Franklin designs software programs. By night, Vivian's a secret romance-novel junkie who longs for a knight in shining armor, or a cowboy on a wild stallion, or a strapping firefighter to sweep her off her feet. And she gets to wear the bodice-don't forget the bodice.

When a phone call brings news that she's inherited a beautiful old home in Mendocino, California from a long-forgotten aunt, she moves her entire life across the country to embark on what she sees as a great, romance-novel-worthy adventure. But romance novels always have a twist, don't they?

There's a cowboy, one that ignites her loins. Because Cowboy Hank is totally loin-ignition worthy. But there's also a librarian, Clark Barrow. And he calls her Vivian. Can tweed jackets and elbow patches compete with chaps and spurs? You bet your sweet cow pie.

In Screwdrivered, Alice Clayton pits Superman against Clark in a hilarious and hot battle that delights a swooning Viv/Vivian.

Also within this book, an answer to the question of the ages: Why ride a cowboy when you can ride a librarian
---
Vivian Franklin's life has taken an adventurous turn. She was stuck at a crossroads between her software design company and her inner artist until she received a 1:30 a.m. call from a California attorney. Her aunt passed away and left her beach house in Mendocino, California to Viv. Viv is certain she is going to California to determine what to do with the house, until she arrives and sees the majestic house and the beautiful views, including that of the half-naked cowboy who takes care of the horses and chickens on the property. Viv realizes that maybe it is time for a change of scenery.
Now Vivian seems to think that her life is turning into one of those bodice-ripping romance novels that she's so addicted to. A destined inheritance and a trip across the country, a gorgeous, moody cowboy playing hard to get, and a villain in the shape of the local librarian and historian who is determined to keep Vivian from making all the changes that she wants to the house. Okay, maybe villain is a little harsh a description for geeky Clark Barrow. He does rock those elbow patches. But her roof is leaking and the front porch is collapsing literally under her feet and Clark wants to fight with her about materials and historical trim and the local artist who created her balustrades — which is falling apart in her hand.
Except an interesting thing happened during a telephone figh–discussion one night with Clark, it seems Nighttime Clark can be funny, sexy and slightly naughty. While Daytime Clark is a pain in the ass, Nighttime Clark makes Vivian want a take a bite out of his ass. But that leaves her with a new problem, is her romantic hero in her real-life romance supposed to be the aloof Cowboy or the geeky librarian?
THOUGHTS:
Alice Clayton gives us another hysterically sexy and delightful story. We met Vivian briefly in Rusty Nailed and she showed us that she what an outrageous and quirky character she was going to be. Clark was the perfect sexy-geek, straight-laced and romantic. So honestly no one from her friends to the readers can understand why she was putting any effort into hot cowboy Hank. Hank is a picture perfect hottie. The kind you would put on your computer screensaver, but as soon as words came out of his mouth, I was so over him and couldn't understand why Vivian continued to drool over him. Okay, I could understand the drooling, but other than being pretty to look at, Hank did nothing for me but bother me that he was distracting Vivian from Clark.
I am sure you are wondering why I gave my beloved author Alice Clayton only 4 stars for Screwdrivered. It is because she introduced great characters and a hysterical concept of Viv flaking into her romance novel narratives and the creepy dolls always 'watching,' but then she waste precious pages (it was only a 240 page story) on Vivian chasing Hank who was such a flat bore to Vivian's vivacious character that it just didn't even make sense for her to continuing chasing him. Vivian was intelligent and witty and Hank, like I said, pretty to look at but once he opened his mouth, nothing. He was a dumbass. Obviously that is what she was going for in her writing, but I hated wasting my time with him.
Nighttime Clark was all that we have come to expect from an Alice Clayton hero, and phone calls between them might not have hit the phone sex level of Grace and Jack but they had the potential.
When you read the book information saying "cowboy or librarian" you expect two equal love-interest characters and that was simply not the case. I can't imagine there is anyone who will read this story and be Team Hank. The Viv/Hank time waste what could have been more interesting Viv/Clark time and it just detracted from the overall story.
In fact, they only time we see Hank acknowledge Vivian at all is whenever she is standing close to Clark and Hank intrudes in their conversations so Clark can see that Vivian is hot for Hank. I thought we would find out that Clark and Hank had a history from high school, since they were both locals, where Hank was always taking the girl Clark was interested in. The old brains vs muscles scenario. But there really was no explanation as to why it was only when Clark was around that Hank made any attempt to converse with Vivian other than Yes, No and Hay. Yes, I mean "hay."
The parts of the story revolving around Clark and Vivian were awesome. Those parts involving Vivian and Hank were just annoying and made me lose respect for Vivian. Other than my complete dislike of Hank and time wasted on Hank, the rest of the story was delightful, flirty and funny as I have come to expect from Alice Clayton.
Received an ARC from the publisher in exchange for an honest review.
---
Favorite Scene:
Vivian gets stuck when her leg goes through the porch boards and called Clark for help.
"Pardon me, I need to get a little closer here. I just—Ah, yes, I can see it there." Clark had leaned across me, one arm on either side of me as he peered through the broken board to the ground below. His head was almost flush with the floor. And flush with what else was on the floor. Flush with my—-Oh my. I unexpectedly felt his breath on my bare thighs. I was dressed in running shorts that left little to the imagination, and my imagination was bombarding my senses with the most inappropriate images.
All I could think about was if he just moved about three inches to the left, he could probably get me off with is jaw alone. And how in the world had I never noticed that it was so very strong, so very chiseled, so very lightly covered with Sunday-evening stubble? Stubble that could so every easily drag back and forth across the inside of my legs, up and down, and right and left, and then up, up and away to my—
"I'm going to have to do down," he said, and it took all the strength I had not to bury my hand in that flippy soft brown hair and take him at his word.
"Sorry?" I asked, panting. I was panting,for Chris's sake! Over a librarian?
Mmmm, over a librarian…
"I have to go down beneath the porch. Believe me, I'm not looking forward to it. Who knows what's under there?" he said, turning toward me. All I could see was bandage, and the bruises that were fading from purple to yellow around the edges, and the spell was broken.
Still breathing a little heavy, I warned him to watch out for dolls. And watched as he hurried down the steps, around the side of the house, and began removing the lattice work cover on the side of the porch with the utmost care.
What the hell! Lusting after a librarian, when there was a cowboy on the loose? It was clear that lusting after Hank had addled my brains. I was seeing things, imagining things, getting hot over the slightest touch, even from a guy like Clark.
The wind blew more forcefully across the porch, and I shivered. What the hell was taking so long?
"Hey! You want to put a little hustle on over there?" I finally called out, when the third piece of lattice was placed carefully onto the porch.
His head popped up over the edge. "Do you have any idea how old this is?"
"Do you have any idea how much it's going to suck if you're caught underneath there in the rain?"
He looked at the sky, getting darker by the minute. "Point taken." He pried off the last of the lattice, then disappeared.
I could hear scrambling coming from beneath me, and then I could feel the ground shifting a little under my stuck foot.
"Vivian? It's just me. Don't be alarmed."
"No kidding, Clark. Who else would it be?"
"Well pardon me all over the place. I was just concerned that if you were surprised, your first instinct would be to kick. So let's see what we can do about getting this free."
Then he put his hands on my leg. Wrapped his hands around my ankle, turning it slightly. "Okay, it's wedged into a cement block, but I think I can get it loose. Bear with me a moment, Vivian."
"It's Viv. And be careful, huh?" I called down.
"Impossible woman," he muttered. His hands traveled a little farther up my leg, inside, and then around the back of my knee. And then I felt…well, it felt like…
"Clark! Did you just lick–"
"No!" he yelled, wrenching my foot free at that exact moment and pushing it up through the porch. I fell backward, my leg pulling clear of the wood and my heart pounding. I saw him crawl out from beneath the porch, dust himself off, and walk toward me.
I pointed at him. "You licked my leg."
"I did nothing of the kind," he said. But the tips of his ears were red.
Related Posts