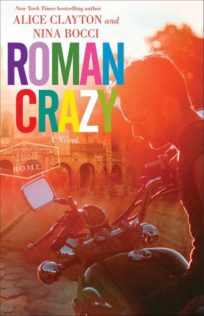 Roman Crazy
by
Alice Clayton
,
Nina Bocci

Series:
Broads Abroad #1
Published by
Gallery Books
on September 13th 2016
Genres:
Contemporary
Pages:
336
Format:
Paperback



This post contains affiliate links you can use to purchase the book. If you buy the book using that link, I will receive a small commission from the sale.
Avery Bardot steps off the plane in Rome, looking for a fresh start. She's left behind a soon-to-be ex-husband in Boston and plans to spend the summer with her best friend Daisy, licking her wounds—and perhaps a gelato or two. But when her American-expat friend throws her a welcome party on her first night, Avery's thrown for a loop when she sees a man she never thought she'd see again: Italian architect Marcello Bianchi.

Marcello was the man—the one who got away. And now her past is colliding with her present, a present where she should be mourning the loss of her marriage and—hey, that fettuccine is delicious! And so is Marcello…

Slipping easily into the good life of summertime in Rome, Avery spends her days exploring a city that makes art historians swoon, and her nights swooning over her unexpected what was old is new again romance. It's heady, it's fevered, it's wanton, and it's crazy. But could this really be her new life? Or is it just a temporary reprieve before returning to the land of twin-set cardigans and crustless sandwiches?

A celebration of great friendship, passionate romance, and wonderful food, Roman Crazy is a lighthearted story of second chances and living life to the fullest.
---
This is the kind of story that points out just how much your life sucks. Hey, wait a minute…
I finally took the time to read Roman Crazy this summer and I while I enjoyed the story, I can't help thinking that Avery's new life in Italy is so incredible.  So incredible that I end up feeling crappy about my own life and I was on vacation.   Hey!  I don't often put down a romance and end up feeling bad about myself.
Avery is an attractive woman from a rich family. She marries her college sweetheart but she was meh about their relationship. She would have continued her life of meh except she walked in to find him having sex with his secretary. So Avery leaves him and decides it is time to go visit her best friend from college who is currently working in Italy.
Avery was an artist.  It was a part of herself that she set aside to support her country club husband and become the perfect corporate wife.  Once Avery arrives in Italy, it doesn't take long before she wants to create once again.  She also happens to have the necessary experience and credentials to volunteer on the project her friend is working on, uncovering frescos and restoring art.   Avery is reborne and enjoying herself for the first time in years.  (Grumpy Lucy says: Isn't it nice to have the money to volunteer to do something you love and not worry about paying bills, etc.)
Of course, her first night in Italy, Avery and her friend, Daisy, go out to dinner with work friends and who shows up but gorgeous, Italian Marcello Bianchi and his beautiful date.  Marcello turns out out to be the man who Avery had an affair with while taking courses in Spain during college.   And yes, by affair, Avery was dating the man she eventual married and who cheated on her, but after bumping into young, sexy Marcello, they bonded and had lots of I'm-not-attending-my-classes-because-I-am-too-busy-having-sex sex.   (So yes, it turns out that Avery cheated on the man she was divorcing because he was cheating.  Hmmm.)    At the end of the semester, Avery returns home to Boston and falls back into old habits with her soon to be husband while poor Marcello waits to hear from her.
Obviously, after being left behind, the reconnection between Marcello and Avery is a bit rocky and takes some time to get back to their perfect match that Avery walked away from all those years ago. But before Marcello and Avery start with the hot and sweaty "bonding" once again, Avery takes walking tours of Italy in between her volunteer days, where  she sits around drawing lovely scenes of Italy while drinking fabulous wine and eating amazing Italian food.
Avery is so happy immersed in art and shagging Marcello, she is actually not walking around Italy, she is floating on a cloud of bliss.  Avery's cheating husband is the best thing that every happened to her.
It was an enjoyable story and I am certain it wasn't their intention to make me jealous of fictitious characters, but Avery's life was so over-the-top fabulous, it was hard not to be.
This book is noted as Book 1 in Broad's Abroad. We did meet two of Avery's friends and the one she was staying with had some background issue with her co-worker (set up for a enemies-to-lover story?) but this book was released in 2016 and sadly, there is no indication of any other books coming out.
Related Posts