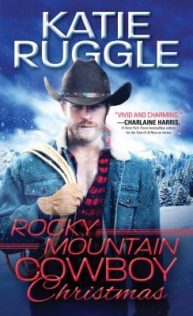 Rocky Mountain Cowboy Christmas (Rocky Mountain Cowboys #1)
by
Katie Ruggle

Published by
Sourcebooks Casablanca
on September 25, 2018
Genres:
Firefighters
,
Mystery
Pages:
416
Format:
eBook



I received this book for free from in exchange for an honest review. This does not affect my opinion of the book or the content of my review.
This post contains affiliate links you can use to purchase the book. If you buy the book using that link, I will receive a small commission from the sale.
In the heart of the Rockies In the arms of a cowboy One white Christmas can change everything.

When firefighter and single dad Steve Springfield moved his four kids to a Colorado Christmas tree ranch, he intended for it to be a safe haven. But he never expected danger to follow them to his childhood home...

Or that he would come face-to-face with the one girl he could never forget.

Folk artist Camille Brandt lives a quiet life. As the town's resident eccentric, she's used to being lonely--until Steve freaking Springfield changes everything. Brave and kind, he's always had a piece of her heart, and it doesn't take long before she's in danger of falling for him and his rambunctious kids. But as mysterious fires break out across the sleepy Colorado town, Steve and Camille will have to fight if they want their happy family to survive until Christmas...
---
Firefighter Steve is not so great at making choices since he started out at Simpson, CO in Search and Rescue before the murder and arson started, and he moved his kids to Monroe, CO at the beginning of Rocky Mountain K-9 Unit and that place went to hell and everything was blowing up, then he moves back to his hometown of Boone, CO and things aren't any safer.  Steve should have learned by now that all that snow makes people crazy and he should move his family somewhere warm.
We met Steve Springfield and his daughters in the first Katie Ruggle novel, On his Watch, when his girls get lost in the snowstorm in the mountains while on a school trip. Again, why would you take a school bus of kids out in a snow storm to visit a state park? Is is a Colorado thing?
Steve's wife died eight years ago and left him to care for their four children. We question his decision to leave his hometown and the quaint, family-run tree farm which is featured in this book and move to towns were everything blows up, but other than that, Steve seems to be a very good Dad and has four very smart and polite children.
Camille is a socially awkward artist who is simply misunderstood. Orphaned and raised by her grandmother, Camille didn't blend well with the others in school.  She has a hard time making friends and as we start the story, she is seen by the town as a hermit and an oddball.  Camille certainly remembers Steve-Freaking-Springfield.  Camille has had a crush on him since she was only a high school freshman.
When I say Camille is socially awkward, I mean really awkward.   We all have that moment when to talked to someone we just met…or babbled maybe the right word, and you really wish you had a do-over so you an erase that conversation. But Camille has that with every conversation. It is only around Steve and his children that she feels comfortable, and it is not that she entirely stops babbling, but that they seem to understand her and accepts her flaws and all.
That is good especially when Camille's house burns down and she has no where to go. Steve immediately offers to take her home with him. Camille feels so comfortable with Steve's family and for the first time she truly fits in. The problem she fears most is if they decide they don't want her around anymore, her heart won't just be broken, it will be shattered in five little pieces because she falls for the whole family.
I certainly empathized with the shy, awkward Camille, and enjoyed her getting her HEA.  Like all the other Katie Ruggle stories, this one had a nice flow and a good balance between romance, excitement and intrigue. This is also the only book she has out that seems to be a stand alone. Even though Steve has brothers for a possible series, this one doesn't have an underlying, unfinished mystery. So if you have had Katie Ruggle on your list of authors to try, pick up Rocky Mountain Cowboy Christmas for a taste of what makes her stories so enjoyable.
---
Favorite Scene:
He was kissing her. Steve-freaking-Springfield was kissing her. Despite all her unspoken hopes, Camille had never imaged in it would ever happen…or that it would be so incredibly, unbelievably good.
He tilted her face up, and her paralysis broke. Pressing closer to him, she made a sound so filled with need that it startled her. Did that come from me? Desire roared through her body, heating her skin from the inside out, and she returned his kiss with a hunger that matched his.
His teeth closed lightly on her bottom lip, and she groaned at the unexpected pleasure bubbling up inside her. Taking advantage of her parted lips, his deepened the kiss. The touch on his tongue and the firm pressure of his lips made her shiver and burn at the same time. It was so much more than she'd ever expected, ever imagined in one of her frequent daydreams. The real-life version took her breath away and set her on fire.
She needed more. Clutching his shirt with both hands, she dragged him closer. He came willingly, his chest meeting hers, and he walked her back until her shoulder blades touched the wall behind her. Kissing her even harder, he pressed into her, his hands slipping from her face and finding her sides, tracing the curve of her waist before landing on her hips.
His body holding her against the wall shouldn't have been as arousing as it was, but she loved it, loved the heavy weight of him as he kissed her deeply. It made her feel both utterly safe and incredibly aroused at the same time. Releasing his shirt, she reached up to slide her fingers around to the back of his head and pull his mouth even more tightly against her own, needing him as close as they could get.
"How's the Zoe situation? Will you wrapping thing up pretty soon?" Will's voice got gradually louder, and Steve broke the kiss, lurching back several steps until he bumped into the opposite side of the hallway. Camille panted for breath, and she could see that Steve's chest was heaving just as much as hers. Her muscles felt so watery that she didn't trust them to hold her up, so Camille leaned against the wall behind her, letting it take her weight. It was a poor substitute for being plastered against Steve, but Will's voice was getting closer, and she knew they couldn't continue making out in front of one of the kids.
"Not to make it all about me, but I'm starv–oh!" Will came into view and stopped abruptly, looking back and forth between the two of them. Even though she and Steve were several feet apart, Will's slow smirk showed that he knew exactly what they'd been doing before he'd interrupted.
"We'll be down in in a minute." Steve's voice was rough, but Camille was impressed by his ability to form an intelligible sentence. Not trusting herself not to babble endlessly if she opened her mouth, she just gave Will an awkward smile that he returned with a wide grin.
"Sorry," Will said, doing an about-face. "Never mind. We'll just go head and eat. Carry on." His words faded as he hurried back down the stairs, but his yell to Micah and Maya carried clearly up the stairs to them. "Dad and Camille are making out, so they'll probably be a while. Let's eat."
Steve leaned his head back against the wall, and she let hers fall forward, taking a second to catch her breath before she allowed herself to be mortified that a fourteen-year-old–Steve's son, no less–had almost caught them kissing. Just calling it kissing made it seem too mild, too tame for what had just occurred. Complete-body kissing? Full-contact kissing? Whatever it was, it's been mind blowing, and Camille had to admit to herself that she couldn't wait to do it again.
Related Posts