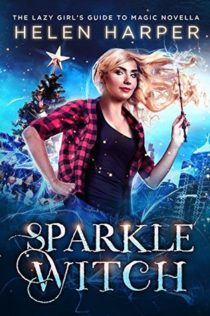 Sparkle Witch (The Lazy Girl's Guide to Magic, #3.5)
by
Helen Harper

Series:
The Lazy Girl's Guide to Magic #3.5
on December 4, 2017
Genres:
Paranormal/Urban Fantasy
Pages:
60
Format:
eBook


This post contains affiliate links you can use to purchase the book. If you buy the book using that link, I will receive a small commission from the sale.
---
Sparkle Witch is a short bonus story and a good-bye to the series.
Ivy the non-Order witch is now helping her boyfriend, Ibsissimus Winter, reorganize the Honorable Order of Magical Enlightenment. How did that happen? But the laziest witch in town is also learning the benefits of delegating. She has a whole order of neophyte witches at her back and call. Sweet! First order of business, decorate the hallowed halls of the Order for Christmas.
If only she could find someone to delegate the annoying ghosts who are still hounding her for resolutions to their curses.  As the only witch who can see the dead, Ivy is stuck trying to solve all problems of the spirit world.
When the silver angel goes missing, you know the one prophesized to bring the downfall of the Order and mass destruction if it is lost–Come on, really? Why do things have to be cursed for mass destruction?–everyone will be looking to Ivy to save their butts.
A fun, holiday-themed last chance with the world's laziest witch.  I am going to miss Ivy.
---
Favorite Scene:
I knelt down next to winter and gazed at the litter. "Five kittens," I breathed. "Wow."
He put his arm round me. "Merry Christmas."
"Are we keeping them?"
A low growl emitted from Brutus and Winter pressed his lips together as if to stop himself from laughing. "I suppose we are."
I tried and failed to imagine what it would be like having five mini-me Brutuses scamping around the house. Sure, they were tiny now but they'd grow. Their eyes would open up. They'd follow me around, snuggle up to Winter and me in the evening, play with balls of string and generally be as cute as could be.
"Merry Christmas indeed," I murmured back.
Just then one of the kittens stirred, wiggling around. It opened its mouth, obviously seeking its mother's milk. "Food," it squeaked.
The ginger kitten next to it woke up. "Food!"
A heartbeat later all five of them were at it. "Food! Food! Food! Food! Foooooooooood!"
Brutus bared his teeth in what I assumed was a proud father's beam and Winter and I exchanged glances. "We're not going to get any peace ever again," I whispered in horror.
He planted a big kiss onto my lips "Maybe not," he grinned. "But there'll be more than enough goodwill for all of us."
Related Posts