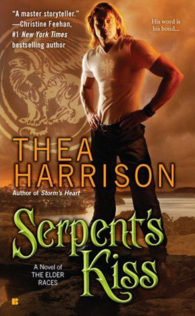 Serpent's Kiss (Elder Races, #3)
by
Thea Harrison

Series:
Elder Races #3
Published by
Berkley Sensation
on October 4th 2011
Genres:
Paranormal/Urban Fantasy
Pages:
336
Format:
eBook



I received this book for free from in exchange for an honest review. This does not affect my opinion of the book or the content of my review.
This post contains affiliate links you can use to purchase the book. If you buy the book using that link, I will receive a small commission from the sale.
---
In the latest Novel of the Elder Races, a Queen on the brink of sanity has no one to rely on except the Wyr warrior whose conviction is every bit as strong as his passion.

In order to save his friend's life, Wyr sentinel Rune Ainissesthai made a bargain with Vampyre Queen Carling—without knowing what she would ask from him in return. But when Rune attempts to make good on his debt, he finds a woman on the edge.

Recently, Carling's Power has become erratic, forcing her followers to flee in fear. Despite the danger, Rune is drawn to the ailing Queen and decides to help her find a cure for the serpen's kiss—the vampyric disease that's killing her.

With their desire for each other escalating just as quickly as Carling's instability spirals out of control, the sentinel and the Queen will have to rely on each other if they have any hope of surviving the serpent's kiss.
---
Carling Severan, is a vampyre, a sorceress, and a member of the Counsel of Elder Races. Carling was turned into vampire during the time of ancient Eygpt. Although great age brings great wisdom and power, it also brings madness. Those few vampyres who have reached such an advanced age have been lost to a type of mental deterioration and they have needed to be destroyed.
Carling is one of the oldest of the Nightkind still existing, and she has notice the accelerating deterioration of her mind. As an older vampire and powerful sorceress, her "episodes" are affecting the world around her and the King of the Nightkind has asked her to confine herself to the Other land until her death.
Wyr Sentinel and gryphon Rune Ainissesthai had made a promise to Carling to come to her in one week's time and do a favor of her choosing, if she would save a mortally wounded Tiago. Now his week was up and he needs to make good on his promise. Upon his arrival at Avalon, the first thing he noticed was the Carling's usual army of attendants and sycophants was absent. They have abandoned her during her final days.
After Carling releases Rune from his promise with only a kiss, Rune decides he will stay and help Carling try to find a solution to stop her further deterioration.
When the Carling is next drawn into one of her "episodes," Rune is surprised to find that her episodes are actually Carling reliving her memories. He is further surprised to find himself drawn into her memories and how real it all feels to him. When they finally figure out that Rune is actually interacting with Carling in the past and changing her past, they know they must be very careful because any change in the past could be detrimental to the future. But as Carling relives some of her most painful memories of her youth, Rune finds it almost impossible to sit back and allow Carling's mistreatment no matter what effect it may bring to their future.
Rune and Carling's research bring them back to San Fransciso in search of answers, but the King of the Nightkind is distressed that Carling has left her exile, enough that he will approach the Counsel to have the very powerful Carling destroyed before her madness can lead to disaster.
Rune with do whatever he must to protect Carling, even turn his back on his oldest friend, Drago. Will they be able to find a cure for Carling before the madness takes over?
THOUGHTS:
This is a great series and I am really excited to get to the next book Oracle's Moon. We meet the Oracle at the end of this story and it will also feature the Jinn prince. I also want to squeeze in one of the short stories which involves Seremela, the medusa, that we meet in the last story, Storm's Heart.
I thought I would enjoy Rune and Carling's story a little more than I did since I was looking forward to it so much. Rune is such a great, laid back character, in his worn jeans and his Jerry Garcia T-shirts. He is as old as Drago and the other sentinels, but instead of remaining aloof to the human world, Rune enjoys the music and the stylings of our world and blends in well. Carling's personality changes with her time spent with Rune, and the idea is that he teaches her how to relax and remember how to enjoy the world in what should be her last days. I found I didn't relate as well to the changed Carling hanging out in her new jeans. Her aloof, imperial and cool vampyre personality were so much of her character in Storm's Heart, it seemed wrong to have her chilling out with Rune.
It wasn't a bad story, but there was some build up of things in the beginning that I thought would be worked into the solution of Carling's problem, but they just sort of dropped off and it sort of ended with a whimper instead of a bang.  Again, not a bad story, but after the build up and the excitement in the first two books, it just didn't meet it's full potential in comparison to Dragon Bound and Storm's Heart.
This is part of my catch up with a series with audiobooks experiment which is going very well.  The only audiobook left is Oracle's Moon.  I have already downloaded the short stories which I will try to sneak in before I get to Lord's Fall which comes out in November.
---
Favorite Scene:
I couldn't make up my mind about using the fun scene or the sexy scene but since I usually use the sexy scene, I decided to go with fun this time. This scene includes Seremela when she comes to San Francisco to consult with Rune and Carling.
As a medusa, Seremela Telemar was Demonkind, although she lived in Chicago, well outside the Demonkind demesne in Houston. She was a pretty woman in late middle age. Carling guessed her to be around three hundred and eighty years old. Her head snakes had grown to the length of her thighs.
When she reached old age, they would touch the floor. Her skin was a creamy pale green with a faint snakeskin patterns, and her slitted eyes had a nictating membrane that was open for the moment. Several of her head snakes tasted the air as they peered curiously around her waist and over her shoulder at Carling.
However, most of the medusa's head snakes were more interested in Rune.
Carling watched a couple of the snakes slide up his arm. Was she imagining things, or was it actually possible for a head snake to look adoring?
Neither Rune nor Seremela were paying attention to what the medusa's snakes were doing. They were busy in conversation, talking to each other as they focused on her.
Carling cocked her head and pursed her lips.
Snakes.
She strode forward and snatched up the two head snakes, one in each hand. Rune watched her in mild surprise. Seremela jumped and blushed, and began to apologize profusely, "I'm so sorry, I wasn't paying attention. You know they have a mind of their own and, well, they like Rune."
Related Posts