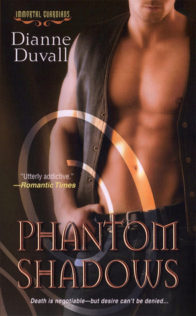 Phantom Shadows (Immortal Guardians, #3)
by
Dianne Duvall

Series:
Immortal Guardians #3
Published by
Zebra
on October 2nd 2012
Genres:
Paranormal/Urban Fantasy
Pages:
390
Format:
eBook



I received this book for free from in exchange for an honest review. This does not affect my opinion of the book or the content of my review.
This post contains affiliate links you can use to purchase the book. If you buy the book using that link, I will receive a small commission from the sale.
---
---
Bastian Newcombe has spent the past two centuries hating the Immortal Guardians. He believed that his pregnant sister was slaughtered, drained of her blood, and his brother-in-law forever changed into a vampire at the hands of a vicious Immortal Guardian. Then Bastian too was changed by his brother-in-law, a man he greatly admired, and who he watched descend into madness until he was murdered by the Immortal Guardian, Roland Warbrook, the same monster who Blaise said was responsible for his sister's death.
Bastian had spent his time raising a vampire army to destroy the Guardians. An army that he fed with a list of known criminals and pedophiles. He had also been trying to find a cure for the madness that accompanies the human's exposure to the virus that turns them into vampires.
And after two centuries of seeking revenge against Roland and the Guardians, Bastian finally learns that his entire life was a lie, that his brother-in-law murdered his sister before turning Bastian, and that Bastian was never a vampire. Bastian has the advanced DNA of an Immortal Guardian.
Now that his life has been turned upside down, he is attempting to join the Immortals in their quest to protect the humans from the maddened vampires, but not all of the Immortals are willing to forgive and forget two centuries of warring with Bastian, especially when Bastian was responsible for the death of one of their own.
But he is not concerned with making friends with the Immortals, he is happy to play the antagonist in this little group.   Bastian is more interested in their attempts to find a cure for the vampire's madness, and it doesn't hurt that the doctor heading the research is the beautiful Dr. Melanie Lipton. Not that Bastian harbors any secret fantasies of Dr. Lipton, or maybe not too many…okay, maybe a lot of secret fantasies.
Dr. Lipton might ally with Bastian to allow him access to those vampires of his former army who are working with Dr. Lipton, but he knows that even that any small regard she shows for him could endanger her standing with the Network that protects the Immortals and risks her high level clearance, since no one else is a fan of Bastian's, especially the human head of security who wants to see Bastian removed from the Immortal Guardians, permanently if possible.
Melanie has been working with the vampires for some time now, and she hears them talk of their respect for everything that Bastian has done to help vampires, and as an expert researcher, she easily observes the good man that Bastian tries to hide behind his wall of indifference. She won't be easily waylaid by Bastian's attempts to keep her away for her own good. She a big girl and she's setting her sights on the gruff and gorgeous Bastian who hides his kind heart from the world.
Now an outside force has become an even greater threat than that of a vampire army. A black ops army is now armed with the first drug that can knock out an Immortal Guardian, and why they are trying to trap an Immortal is still not known. The Guardians will need to determine if Bastian's suggestion that they need to work with the vampires to track down this common enemy is the best choice, and they will need to decide quickly before one of their own falls into the hands of this unknown enemy.
THOUGHTS:
I can't tell you how thrilled I am when a book that I have been anticipating turns out to be as incredible has I had hoped. I have had my eye on Bastian since we first see him as our antagonist in Darkness Dawns. He might have been raising a vampire army to destroy the Guardians, but he believed that they were responsible for as many deaths as the vampires. He may have kidnapped Roland's love interest, Sarah, but he did it because he thought Roland was a danger to her.   Bastian believed he was protecting her from suffering the same fate as his sister. Sarah being harmed in his kidnapping attempt was an accident and was as distressing to Bastian as it was to Roland. He was an antagonist with a heart of gold.
You have to love Dr. Melanie Lipton simply for the fact that, like us, she can see Bastian for more than the gruff exterior he shows to the other Guardians. She can see his kindness and thoughtfulness. She knows that when he killed the vampire Vincent (one of his former followers), he wasn't being vicious. He was giving a friend a chance to die before the madness progressed so far he would kill viciously and without thought. A fate the man feared most.
Melanie is intelligent and considerate, and she too sees the vampires for the humans they once were. She knows that they want to retain that humanity which is being drained away from them.
Dianne writes such interesting and touching characters with great stories and sweet romance and more than enough pulse-pounding action to keep you up reading until late into the night.
I am loving this Immortal Guardian series, and can't wait to see if her next story can top my new book-boyfriend, Bastian. Feel free to start the series right here with Bastian and Melanie. You'll keep up. But I know that before you finish, you'll be ordering the first two anyway.
Received an ARC from the author. Thank you for another great story!
---
Favorite Scene:
(I chopped this scene up a bit. It was so good, but it was several pages long, and I wanted to get the best parts in without re-typing the whole book. Sorry for editing, Dianne)
"I'm Dr. Lipton." She held out her hand. "You can call me Melanie."
Much to her surprise, Sheldon strode forward and clasped her hand. "Nice to meet you, Melanie."
Bastian moved to her side. "You can call her Dr. Lipton."
She expected the young Second to fall victim to Bastien's stern warning and acquiesce.
Instead, he said, "So…Melanie…what brings you to our humble home?"
"I was wounded earlier tonight by some of Emrys's soldiers."
"Son of a bitch!" He frowned at Bastian. "Did you get 'em?"
"All of them," he answered, some of the harshness leaving his expression.
"Good."
There was more to Sheldon than met the eye. "That's why Richart brought us here. He knew Mr. Reordon would go on a rampage and want to lock Bastien up for not leaving any of them alive."
Sheldon tilted his head to one side as he studied Bastien. "Well, you did kinda deviate from the plan. The whole point was to catch some of them and interrogate them. But I get why you killed them instead. I would've offed the fuckers, too." He nodded to Melanie. "How are you doing? Do you need anything? Should I get the med kit? I aced field medicine during my training, so if you—"
"I'm fine, thank you. Roland healed me."
"Roland Warbrook?"
"Yes."
"Wow. You really have a knack for making friends with antisocial bastards, don't you?"
Bastian's lips curled up. "Yes, she does."
He led them out of the kitchen. "Let me show you to the guest rooms." Stopping, Sheldon turned around and eyed them speculatively. "Or guest room. Are you guys together? Because when I walked in on you a minute ago, you were—"
"No."
Sheldon's eyebrows rose at Bastian's clipped response.
"It was a momentary…digression."
Now Melanie raised her eyebrows. "Says you."
Bastian smiled. "Would you stop saying that?"
"No."
"Why?"
"Because it makes you smile."
Sheldon started walking again. "Momentary digression my ass," he mumbled.
"I can hear you," Bastian reminded him.
"I know." Sheldon guided them to guest bedrooms that were next to each other. "I'll be back in a minute with some clothes, Melanie."
Once the Second as gone, Bastien stared down at her in silence.
"About what happened…"
Yep. She had figured he was obsessing over that. Poor guy. The immortals had really done a number on him, convincing him he was the evil monster they seemed to think him. Now he probably thought kissing her would taint her somehow. She was going to have to do something about that. She just needed a little time to decide what.
"I assume you mean the kiss?" she asked innocently.
"Yes."
"The warm, wet, pulse-racing, make-me-want-to-strip-you-naked-and-rub-every-inch-of-my-body-against-yours kiss?"
His eyes flared, an involuntary reflection of his arousal. "That's the one."
"What about it?"
"It shouldn't happen again."
"You didn't like it?" Okay, teasing him was mean, but she couldn't resist.
"You know I did," He admitted, voice deepening in a way that sent a sensual shiver through her. "If my eyes didn't clue you in, I'm sure other body parts did."
"Very impressively," she agreed.
"So no more kissing?" she asked slowly.
The look that crossed his face was a mixture of relief and regret. "Yes."
"Okay." Rising onto her toes, she leaned into him and captured those silken lips with her own.
No one tasted better than Sebastian. No one kissed better. And he may think kissing her a bad idea, but he didn't pull away.
He wound his arms around her waist even as she slid hers up around his neck.
Melanie pushed him back into the wall and leaned into his large, firm, muscular form.
Bastien groaned. "You're making this very hard for me."
She grinned and rubbed her hips against his. "That's sort of the whole point."
He smiled. "You aren't going to give up, are you?"
"Well…" She drew a hand down to his chest. "When it comes to us, I want you to follow your feelings, not do what you think is best for me. If you don't want to kiss me because you aren't interested—"
"You know I am," he said gruffly.
"Then stop thinking and act."
"There will be consequences."
"We'll deal with those as they arise." She couldn't help but notice he wasn't pushing her away. "So, are we going to do this?"
"Dude, I say go for it," Sheldon said as he strolled down the hall toward them. "Melanie is smokin' hot and you're…you."
Melanie laughed.
Bastien scowled. "How has Richart not killed you yet?"
"That's what his brother and sister keep asking."
Related Posts