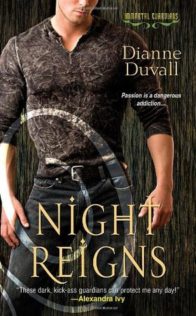 Night Reigns (Immortal Guardians, #2)
by
Dianne Duvall

Series:
Immortal Guardians #2
Published by
Zebra
on December 6th 2011
Pages:
393
Format:
eBook



I received this book for free from in exchange for an honest review. This does not affect my opinion of the book or the content of my review.
This post contains affiliate links you can use to purchase the book. If you buy the book using that link, I will receive a small commission from the sale.
---
Marcus Grayden wants to be left alone to do his duty.  Humans die so easily, or they simply leave you.  He doesn't need a Second and he doesn't need want to find a new love.   When Seth, the leader of the Immortal Guardians brings him a new Second, he  just wants her to go away.
Ami doesn't like to meet new people.  She was trusting and naive once, and then she was held captive and experimented on.  She might have been freed from her captors, but there are still others who want to get her back.
Now someone new is leading the vampires and is creating more and more new vampires. They're creating an army to take out the Immortal Guardians.   Instead of facing one or two vampires a night, they are forced to fight dozens at a time.
Marcus and Ami must learn to trust so they can work together to defeat the vampire threat.
This story rocks!  I couldn't put it down and finished it in one day.  This is book 2 of the Immortal Guardians series. I haven't read Book 1 yet, but I will very soon.
When I started this story, I thought it was very reminiscent of the Sherrilyn Kenyon's Dark Hunter series.  That is in no way a complaint.  I LOVE the Dark Hunter series.   This series features Immortal Guardians, with the help of their network of human Seconds, they protect the humans from the vampires.  The Guardians and the vampires are both infected by the same virus, but while some who are infected start to loose their hold on their sanity and become vampires, the Immortal Guardians were gifted ones whose gifts are enhanced by the virus and they are not destroyed by it.  As the vampires lose hold of their minds, they become more and more violent.  The Guardians are then forced to destroy them.
Definitely give this series a try!
---
Favorite Scene:
Marcus swallowed. "I'm sorry I've been such a bastard."
Her gaze met his, bright with surprise and something else he couldn't decipher. "You haven't been—"
"Yes, I have," he interrupted. "But that's over tonight…." He shook his head. "No Second has ever fought more fiercely. No Second has ever risked so much to protect me. To aid me. It truly was an honor to have you at my back."
Her lips tilted up. "Thank you."
"Do you think we could start over again?" he asked. "Or has my stint as a surly old curmudgeon driven you away?
Her small smile turned into a grin. "We can start over."
"Good." Stepping back, he readjusted his grip on her hand and shook it formally. "Allow me to introduce myself. My name is Marcus Grayden, and I am in dire need of a Second."
"Nice to meet you, Marcus. My name is Amiriski, and I believe I'm just what you've been looking for."
Truer words had never been spoken.
Related Posts